Q: Three years ago I married a very nice man and became the stepmother to his daughters, now aged 11 and 14.  Their mother lives out-of-state and rarely contacts the kids. They don't seem to mind not talking to their mother and have basically taken me on as their mom.
My problem is not so much with the kids, but with their father. His daughters and I have such a good relationship that he seems to have backed out of his relationship with them.
He was a single parent for two years prior to our marriage and somehow kept the family running. When I was dating him I could see that the house was chaotic, the kids' homework wasn't always completed and that they often ran late getting to school.  However, he was involved with them and seemed to be doing his best.
Now that I'm here and not working, I have the time to do the mothering and really don't mind it. My concern is that my husband's relationship with his kids seems to be becoming more distant as I take on more responsibility raising his daughters. And it's not just household stuff. I do — and enjoy doing — fun things with them. On the other hand, although he'll go to dinners and movies with us, he prefers to watch TV or read in the evenings rather than spending time alone with his kids.
He's a good provider and a nice man, and I don't want to hurt his feelings but I'm afraid that I'm becoming the parent and he's losing his role. What do you suggest?
A: It does appear that you are becoming the "psychological parent" and that the kids depend more upon you, rather than their father, to have their needs met. Although they may respect Dad, it seems as if their relationship with him has dwindled while yours has flourished. I'm sure that in large part this is due to the time and caring you are giving to his daughters, who basically have lost one mother and found another.
Try having a frank discussion with your husband, focusing on two issues:
First, he didn't marry you to be a baby-sitter — he married a woman to be his wife, as well as a stepmother to his children. It appears that you have taken on this challenge and done a good job with it; he, however, has become complacent in his role as father. Essentially, he has come to expect you to provide the discipline and the emotional needs of his children.
Second, he may not realize what his "emotional absence" is doing to the family. Although his kids are being very well taken care of, it sounds almost as if they are being raised by a single parent — you. You do not (and should not) have sole responsibility for the emotional, physical and moral development of his daughters. Yes, you do carry some responsibility in the relationship with his kids, but he is, after all, the natural parent and should become engaged with them again.
Perhaps he was overwhelmed with responsibility when he was parenting the girls alone and is impressed by your skill and dependability, leading him to feel incompetent as a parent. If this is so, remind him of the good things you saw him doing with his daughters prior to your marriage so that he may regain some of his confidence as a parent.
On the other hand, he may feel so relieved that his kids are being well taken care of — especially after the difficult times he experienced going it alone — that he believes it's okay to back out of the relationship and let you do the work, especially since you apparently enjoy it. Let him know of your concern about the negative impact this has upon his relationship with the girls. Daughters need their fathers to help them understand the male perspective on life and to feel secure in knowing that not only is he there for them physically within the home, but also mentally and emotionally.
In addition, since you've taken over much of the time-consuming responsibilities, you may be feeling overwhelmed and resentful. This has to negatively affect your marital relationship, and it's very important that you explain these feelings to him.
Dr. Peters' Bottom Line:Having a fully involved father is very important. Many studies have shown that kids raised in fatherless homes have the greatest chance of later becoming involved in delinquent activities as teenagers. I believe that it's helpful for kids to grow up with both male and female perspectives to develop a balanced self-concept. Hopefully, if you present these ideas in a positive fashion, your husband will see how necessary his involvement is and will spend more time with his girls.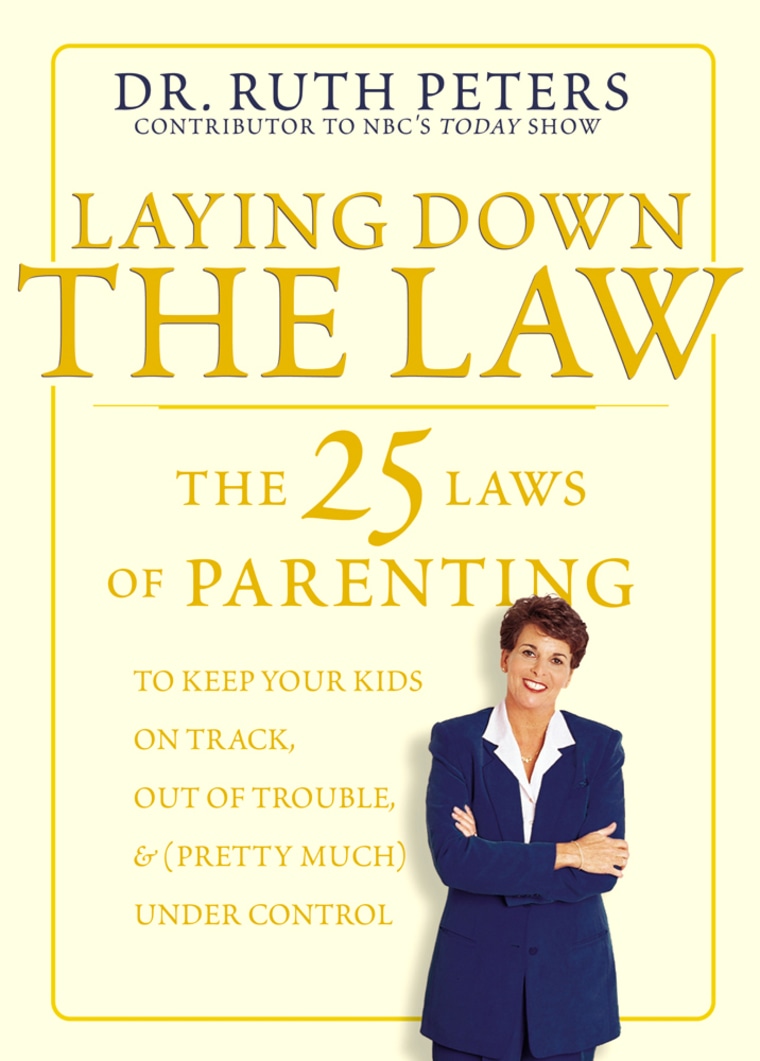 Copyright ©2005 by Ruth A. Peters, Ph.D. All rights reserved. Dr. Peters is a clinical psychologist and regular contributor to the "Today" show. Her most recent book,"Laying Down the Law: The 25 Laws of Parenting to Keep Your Kids on Track, Out of Trouble, and (Pretty Much) Under Control," is published by Rodale. (See excerpts .) For more information you can visit her Web site at .
PLEASE NOTE: The information in this column should not be construed as providing specific psychological or medical advice, but rather to offer readers information to better understand the lives and health of themselves and their children. It is not intended to provide an alternative to professional treatment or to replace the services of a physician, psychiatrist or psychotherapist.