/ Source: TODAY Contributor
Actress Jennifer Garner is used to having eyes on her, especially in the paparazzi-filled aftermath of her split from husband Ben Affleck in 2015. She just hopes their three children are watching her as well — and paying attention to her good example as well as her missteps.
"I don't think empathy is something you can drill in someone's head," Garner said in an interview with TODAY Parents. "You have to have faith that while your kids can seem to be selfish and concerned only about the word 'mine' sometimes, overall, they are watching you really carefully, and if you care about other people, they will too."
Garner said being the mother of Violet, 10, Seraphina Rose, 7, and Samuel, 4, has shaped how she views her role in the world.
"I try to be the best version of myself and to have faith that they're watching me as carefully when I do something right as they do when I roll through a stop sign," Garner, 44, told TODAY Parents.
That introspection led her to join the Diaper Need Awareness Week, bringing attention to the one in three U.S. mothers who struggle to afford clean diapers during Huggies' No Baby Unhugged event on Monday. Diapers are not included in the federal WIC program for low-income women and children or in food stamps; Huggies donated 2.5 million diapers and and 5 million wipes to Baby2Baby for families in need.
Never miss a parenting story with TODAY's newsletters! Sign up here
"Once I had kids, I began asking myself, how do I want to spend my time? How do I want to make what little impact I can on the world? And over and over again, I was wondering who was helping the kids like the kids I grew up with in West Virginia and rural America," Garner said.
TODAY Parents asked about some of the parenting issues she is currently facing in her own home. Though she has played some strong women in her career — think Sydney Bristow in "Alias" — her fellow moms know that perhaps no role or physical trainer has prepared Garner for what comes next: parenting a tween.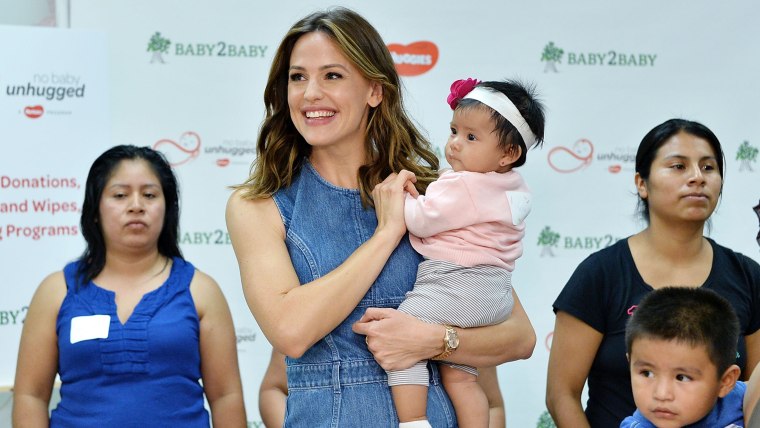 Here come the tween years:
With her oldest child, Violet, now in fifth grade, Garner knows that the tween years and all they entail are looming. "We just had back to school night, and I said afterwards, 'Do they need a computer?' They need some kind of device or computer to complete their homework. Our daughter doesn't have any of those things, and she's, like, the only kid in the class who doesn't, apparently," she said. "So I found an old laptop this weekend for her, and I am kind of panicked about it. She's not on social media yet — her school has a no social media policy until 6th grade — but I know it's coming soon."
On work/life (im)balance:
In the meantime, Garner struggles to survive the imbalance that comes with being a working mom. "I try to make bedtime sacred, to have some alone time with each kid every night, when it is possible," she said,"... Except for the nights when it's not possible. I work, and I have a job that means that sometimes I have to go out at night, and sometimes I need to go out at night just for me."
On getting kids to open up:
And like a lot of parents, Garner said that as her children grow up, she is seeing more and more how important her emotional presence is for them. "They need you to focus, and they need your attention, and you never know when they are going to drop some nugget of insight into their brains that you have been waiting for," she said.
"It's like when they were babies, and you knew they needed to burp, but they just wouldn't," Garner said of trying to be emotionally present for her kids. "You want to say to them, 'You would be so much happier if you would just burp!' It's the same when I am waiting for my kids to say something I know is bothering them. The trick now is just to be available — and in a chill way — to receive it when they finally do.
"I give it all I can."