/ Source: TODAY Contributor

It's a common assumption that kids today care more about getting than giving.
But in an emotional, viral video created by Rob Bliss Creative, kids from the Lawrenceville, Georgia Boys and Girls Club show that while they may love Lego sets and Xbox 360's, they love their parents a whole lot more.
In the video, children from low-income backgrounds are presented with a gift for themselves and a gift for their parents, and then told they must choose between the two. Rob Bliss, who owns the agency that created the video, says 80 percent of the 18 kids he interviewed chose to give their parents a gift instead of keeping the toys, laptop computers and other presents they were offered.
Aaron Freeman, 9, is one of the kids in the video, and he's shown deliberating between keeping Minecraft Lego sets for himself or jewelry for his mother. It only takes a moment before Aaron knows his answer.
"Legos don't matter," he says confidently in the video. "Your family matters — not Legos, not toys — your family. So, it's either family or Legos, and I choose family."
Throughout the video, the children list all of the things their parents do for them — from putting a roof over their heads to caring for them when they are sick — as reasons why they plan to keep the gift for their parent and return the one for themselves.
"They look out for me and do stuff for me, so I need to give back to them," says 10-year-old Dominic Lindsey in the video.
Dominic and his sister, Molly Davis, 7, both chose to give their mom, Danielle Bondi, a gift rather than keep one for themselves. At the end of the video, Bondi can be seen crying and hugging her two children.
"I felt really proud and blessed to know my children did that for me," Bondi told TODAY Parents. "I felt really loved and I just think it was really sweet. It reaffirms that I am doing something right…It's a real blessing."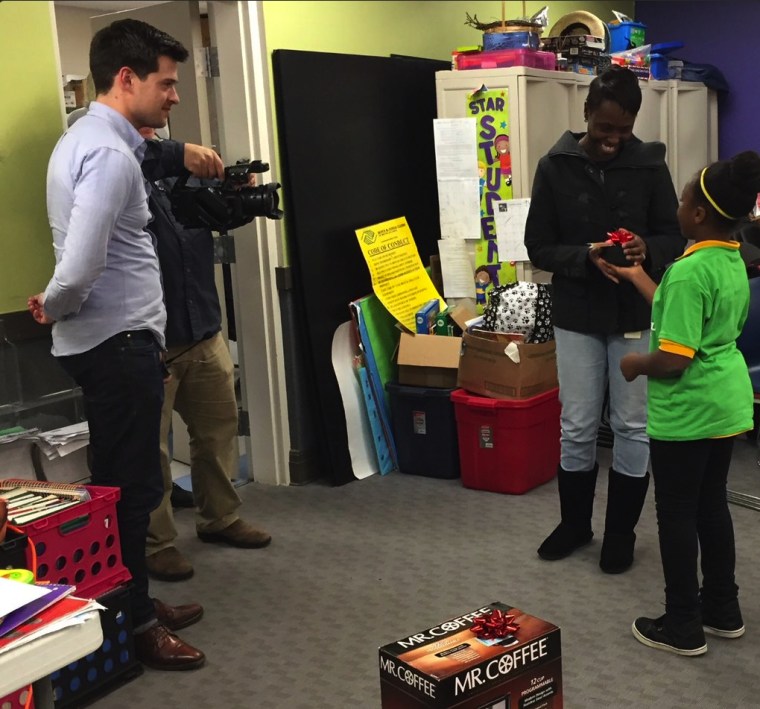 Bliss says the video was made for Up TV's Give It Up campaign, a holiday giving initiative that encourages families to purchase something they want and donate it to a charity rather than keeping it for themselves.
"I created this video because I felt that there's an assumption that all kids care about regarding Christmas is getting presents," said Bliss. "I wanted to put that idea to the test and find out the truth."
Bliss and his team were so touched by the kids' responses that they surprised each of them at the end of their conversation — telling them, ultimately, that they'd actually be able to keep both gifts.
"These kids really don't have much," said Bliss. "One of them told me how they don't have a Christmas tree because things have been tough financially for his family — so him getting the gift he wants for Christmas is likely to be slim. So, to be faced with the gift he always wanted but never got, and still pick the gift for his family instead is amazing."
Missy Dugan is president and CEO of Boys and Girls Clubs of Metro Atlanta, and she says that being a part of the project was a special moment for both the staff and kids at the club.
"We were touched by the selflessness displayed by our kids," said Dugan. "These moments reaffirm that even though they are young, they can still drive positive change through acts of kindness and generosity."
Editor's Note: This story was originally published on December 22, 2015.