/ Source: TODAY Contributor
"Do you have a minute? I've got kind of a long story," wrote Dan Majesky of Cincinnati, Ohio, on his Facebook page May 20 under the picture of an ultrasound. Majesky, 37, went on to announce that he and his wife, Leah, 36, are expecting a baby girl after years of struggling with infertility.
Majesky said that when it came time to announce Leah's pregnancy to friends and family, he chose to tell their entire emotional journey, including a heartbreaking miscarriage. "I wanted to write a little more about what we had been through on the way to that announcement," he told TODAY Parents. "Especially regarding the miscarriage, because neither of us wanted that to go unremarked upon. That was a hard time for us — a lonely time — but that baby left a permanent mark on us, and it didn't seem fair that it would get hidden away."
Initially, Majesky said, they didn't intend to share their story beyond their circle of friends. "We had been doing this thing in secret for three-plus years, and wanted to let them know what was happening with us," said Majesky. "After a few people asked to be able to share it with someone who they thought would benefit from reading it, we made it public."
The post has now been liked on Facebook more than 31,000 times. "The response has been as overwhelming as it was unexpected. We're both humbled," he said.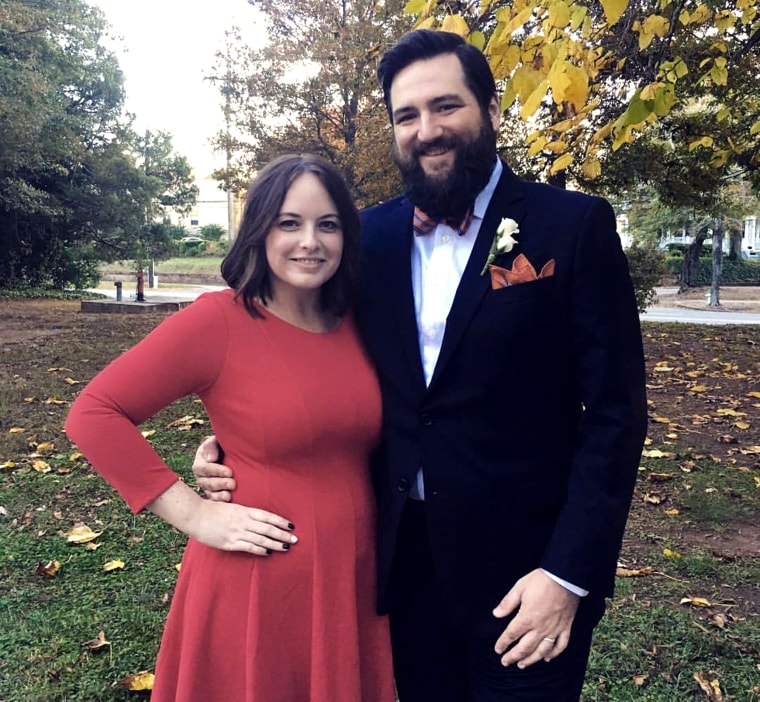 In the comments on the post and in private messages to the couple, the Majeskys are learning they are far from alone. "We've gotten a pile of messages of encouragement, but also a lot of people sharing their stories with us, some of whom have never shared their stories before," said Majesky. "People have gone on much longer, much tougher journeys than we have. I feel a bit like a pretender in the face of what we have not dealt with, but not a single person has degraded our experience in any way. If anything, people who are also doing this, experiencing this, seem to want to lift other people up to their level. There's really a spirit of being all in this together."
The Majeskys have been together for eight years, married for three. Both say that their struggle to have a child has shaped their marriage, and not just in challenging ways.
"We've always tried to be honest and communicate our feelings to each other, and when you're at a really low point, and your partner is at a really low point, and you continue to share those feelings rather than hide them away to be a rock for the other person, that's when the partnership really solidifies," said Majesky. "Neither of us tried to be life-raft for the other, and neither of us drifted away, maybe because she pulled me back, or I pulled her back in, but we hung on to each other, and we survived. And we thrived."
Majesky said he believes that discussing infertility in the open more often would help support couples going through it. "We'd like to think this is a rarity, but the doctor's office was always full. As much as the doctor might tell you 'This is normal,' since people don't talk about it — for whatever reason, sadness, embarrassment — it still feels abnormal because it's hidden away in private message boards and specific support groups, and not openly discussed," he said.
The couple said they are not sure if they will continue to provide updates on their pregnancy publicly, but they know now that a great number of people are invested in knowing the ending to their story in about 25 weeks.