/ Source: TODAY Contributor
When Hurricane Matthew slammed the South Carolina coast in October 2016, Cassie Clayshulte knew a baby boom was in the forecast.
"I'm the official newborn photographer at a local hospital," Clayshulte told TODAY Parents. "Nine months after a holiday, blackout or storm is always a very, very busy time for me."
With that in mind, Clayshulte took to Facebook in search of "hurricane mamas" for a very special project. "I am planning a group maternity session," Clayshulte wrote in a March 6 post, "to show that BEAUTIFUL things always come from not so beautiful things."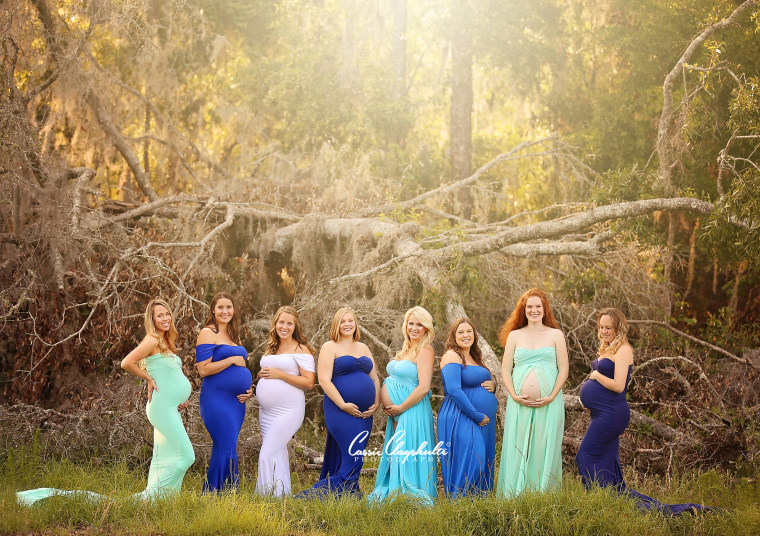 Danielle Lewis, Lindsey Binkley, Taylor Pait, Lindsey Gullett, Brittany Day, Kayla Sumler, Savanna Dorsey, and Molly Spears — all residents of South Carolina coastal towns Bluffton, Beaufort, and Hilton Head — responded to Clayshulte's call, and in May they came together for two stunning photo shoots. In the first, the eight women posed beside downed trees in a Bluffton nature preserve. For the second shoot, they gathered on the beaches of Hilton Head Island, a region that suffered extensive damage when Hurricane Matthew blew through with 105-mile-per-hour winds.
Never miss a parenting story from TODAY.com! Sign up for our newsletter here.
"Our economy depends on tourism, and I wanted to show people that you can still visit here," Clayshulte said. "The beaches are clean and rebuilt. The debris has been cleared."
Just as meaningful as the locations: the wardrobe. All eight moms-to-be wore jersey knit dresses inspired by the shades of blue and white seen in satellite images of Hurricane Matthew. "A few of them I made by hand," Clayshulte said. "They were all specifically designed to be comfortable and to help them feel and look beautiful on camera."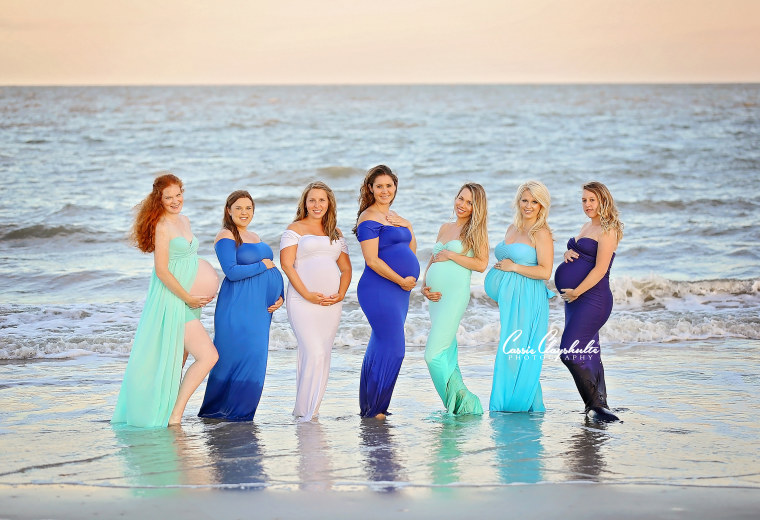 Meanwhile, Clayshulte is already planning a follow-up once all the babies — seven girls and one boy — are born in June. "I want to go back to the same beach and do the same setup, but with the moms holding their swaddled newborns," Clayshulte said. "I might let them trade blue dresses though. They were all eyeballing each others dresses at the last shoot!"
It's not Clayshulte's first time finding beauty in devastation. Back in October 2016, she offered free newborn sessions to babies born during Hurricane Matthew. Instead of inviting families to her studio, she took pictures of the infants next to fallen oaks and in front of roads blocked off with caution tape.
"So many parents were stranded and not sure if they still had homes, and I wanted to do something positive to bring hope," she said. "There is a silver lining to every storm."
Related:
• Dramatic debut: Babies born amid historic storm
• Mom's viral 'rainbow babies' photo shows the hope after pregnancy loss