/ Source: TODAY Contributor
As adults, it's easy to notice areas where help is needed, or pinpoint causes that could use a few advocates. But it's a special occurrence when a child takes notice of a need and works hard to fill it.
Here, we highlight 6 kids who inspired us this year with their big hearts and their desire for change.
1. Campbell 'Bumble' Remess
While other children play soccer or video games, Campbell "Bumble" Remess hunches over a sewing machine, crafting stuffed animals.
Over the past three years, the 12-year-old boy has made more than 800 plush toys, many of which he personally delivers to sick children at the local hospital.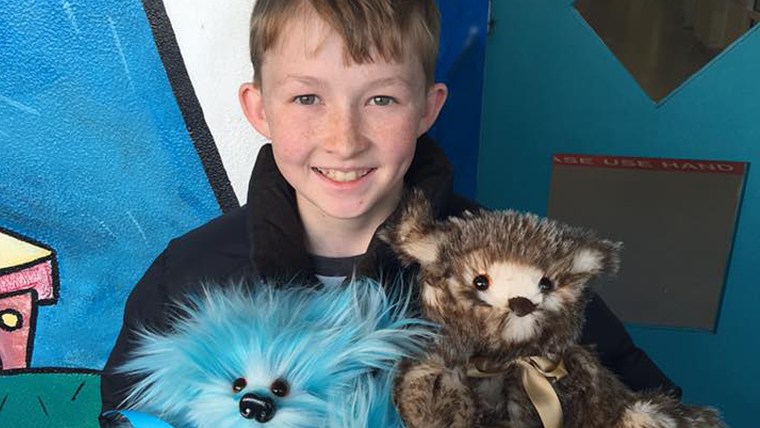 Campbell has named his endeavor Project 365 by Campbell, and works to create 365 animals each year to give to sick kids at Christmas.
Campbell told TODAY he loves seeing how sick children transform when they receive the toys.
"They smile and some hug me. It makes their whole day better," he said.
2. Jody Furrh
Being picked on takes a toll on kids, but Jody Furrh is using her classmates' bullying to inspire and educate others about epilepsy — the seizure-causing neurological condition she was diagnosed with as an infant.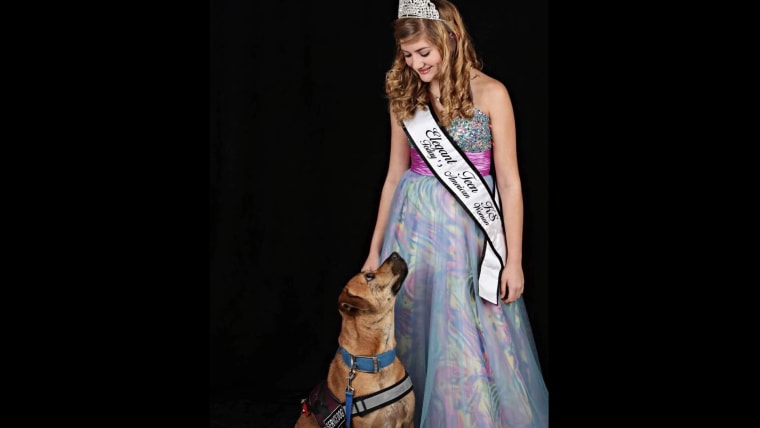 The 14-year-old Kansas girl has entered beauty pageants, held fundraisers and written a book in her efforts to tell the world about epilepsy and the people who have the condition. And she does it all with her loyal service dog, Justice, at her side: he can sense when she's about to have a seizure and alert her.
RELATED: 'More than the girl with epilepsy': Girl ignores bullies, becomes pageant queen
"I wanted to show everybody that I was more than the girl with epilepsy," Jody told TODAY Parents. "I just wanted to show them — and everyone — that I can be like everybody else."
3. Ella Tryon
When 7-year-old Ella Tryon was admitted to the hospital earlier this year, she was disappointed to learn that the pediatric unit did not keep crayons on hand due to cross-contamination. Ella wanted all kids to have their own pack of crayons while in the hospital, so she began collecting boxes of crayons from all over the world to deliver to sick children.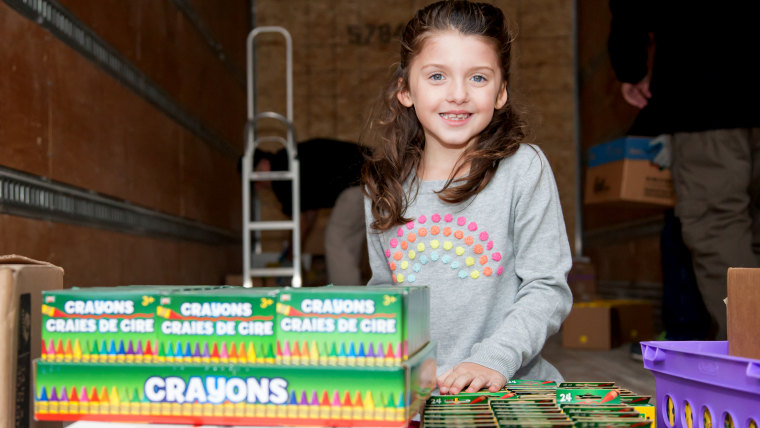 "She has definitely restored my faith in humanity," said Ella's mom, Jackie Tryon. "My husband, Chris, and I are both in law enforcement, and it is so refreshing to see just how many kind people there still are, because in our world, there aren't."
4. Matthew McDonnell
6-year-old Matthew McDonnell is battling cancer. Matthew recently hosted a hot cocoa stand — Matthew's Miraculous Hot Cocoa — to raise money for other children with cancer and earned $6,500 in two hours.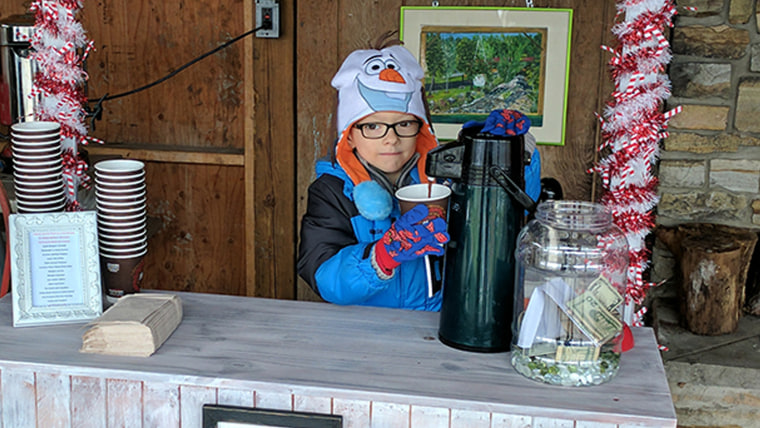 Matthew's mom, Linda McDonnell told TODAY via email that she was overwhelmed by the support her son received by their community.
Never miss a parenting story with TODAY's newsletters! Sign up here
"Seeing that many people come out to support Matthew and his cause — raising awareness and money for pediatric cancer research — was a tangible reminder of God's love in this world," said McDonnell.
5. Amanda Moore
When Amanda Moore noticed a classmate eating lunch alone, she wanted to help.
The 10-year-old girl decided to befriend Rafael Anaya, but she also noticed something else — he struggled to understand English. Instead of letting that stop her, she used the Google Translate app to hand-write a note in Spanish asking him to join her for lunch.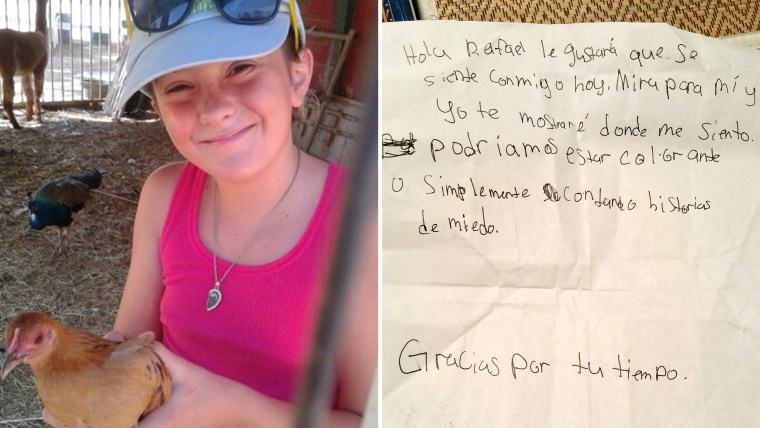 The next day Amanda handed the note to Rafael and waited for his response.
"He kind of stared at me and gave me a hug," Amanda told TODAY. The two have been sitting together ever since.
6. Sofia Sanchez
After a video of 7-year-old Sofia Sanchez describing Down syndrome as "not scary at all" went viral, her mom, Jennifer Sanchez, spoke to TODAY about her daughter's adorable message.
RELATED: 'It's not scary at all': Girl talks about having Down syndrome in viral video
Sanchez says she is proud of the strong advocate her daughter has become for Down syndrome at such a young age. Sofia has appeared in Target ads as a model, and has been thrilled to see her video go viral.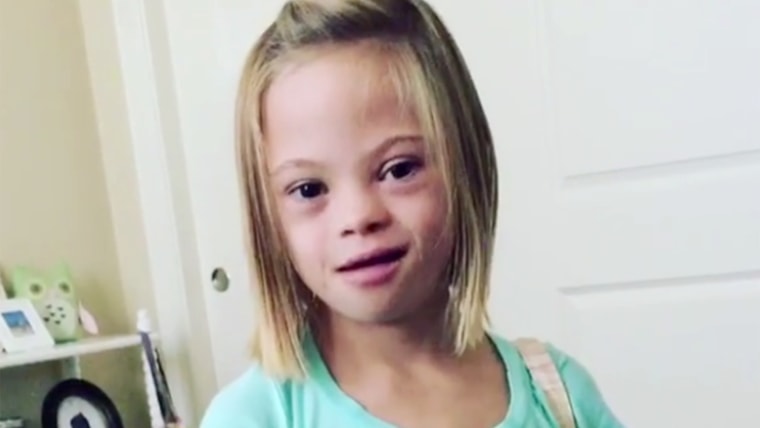 "Sofia's joy is contagious ... I think besides being adorable and just a ray of sunshine for others to share in, she is the voice of those with Down syndrome," said Sanchez. "She shows the world that she is confident, happy, capable and that really there is just nothing to be afraid of when it comes to Down syndrome."