For most young Hugh Jackman fans, talking on the phone with the movie star would be an unforgettable moment unto itself, but one Australian boy with cystic fibrosis got an even bigger surprise this week.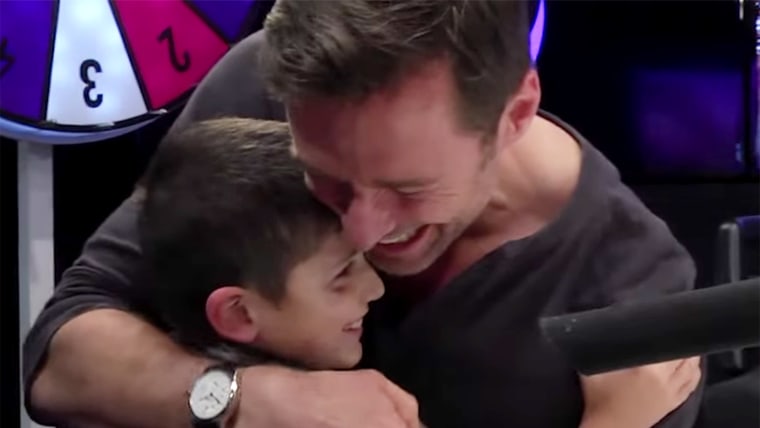 While sitting in on Australian radio's "The Kyle and Jackie O Show," 9-year-old Domenic — who was diagnosed with the disease as a newborn — discussed his favorite superhero: Wolverine, whom Jackman plays in the "X-Men" movie franchise.
"I think the good thing is that he has claws, and whenever he dies, he can heal," Domenic said on radio station KIIS. "I really like it that he can heal."
Told that Jackman was filming on a set elsewhere, Domenic beamed when Kyle and Jackie O invited him to ask the Academy Award nominee questions over the phone. He smiled while saying, "Hi, Hugh Jackman!"
A cheerful Jackman replied, "Aw, you can call me Hugh. How are you, Domenic? You don't have to call me my whole name. It's great to meet you, man."
Domenic didn't realize Jackman was calling from inside the KIIS studio when the boy asked, "What's your favorite action pose and line?" Realizing the answer would be far clearer in person, the actor marched through the studio door, posed like Wolverine, and delivered a sweet hug while Domenic grinned. "You didn't expect that, did you?" Jackman said.
Sitting beside Domenic, Jackman asked Domenic to do his best Wolverine impression. The boy obliged with "Don't make me pop my claws," which cracked up the actor.
The fast friends also laughed over one of Jackman's favorite "X-Men" lines, which Jackman sanitized as "Go frolic yourself." The studio hosts had fun with that one, joking that Domenic had said the curse word on the air, while the boy smiled and protested, "No, I didn't!"
RELATED: Taylor Swift invites boy with autism to show after he plays awesome '1989' medley
Jackman then handed Domenic a pass for him and a guest to see him perform in one of his shows, likely "Broadway to Oz," which he's performing on tour throughout Australia. "There's not a lot of Wolverine in it, but I do talk about Wolverine," the actor said. "But I'd love you guys to come."
The actor also offered high praise for one of his biggest fans: "Mate, you are awesome. It is so great to meet you. I've met a lot of fans over the years; you are one of my favorites, man."
The meeting was arranged by the Make-A-Wish Foundation, a charity that grants ambitious requests to children living with life-threatening conditions.
Follow TODAY.com writer Chris Serico on Twitter.