In nearly a year's time, the Diaper Bank of North Carolina has distributed 139,000 diapers, just barely meeting the demand of struggling families in the community.

So it was a devastating blow last weekend when the bank, housed in a church-owned building in Durham, North Carolina, was robbed of its very essence — 13,000 diapers, about one-third of its inventory.
"It was like I had been punched in the stomach," said Michelle Old, a mother of three who founded the bank last year. "It broke my heart that someone had taken them."
Old knows how important the need for diapers is: the area has seen more and more cases of severe diaper rash, the result of parents reusing diapers or keeping their child in just one per day.
"When they are faced with a decision between buying diapers or food for their children, they're going to buy food and try to stretch out the diapers and not change as often as they normally would."
Although she was forced to cancel deliveries for the week to the organizations that give the diapers to impoverished parents, donors big and small pledged tens of thousands of diapers in almost no time as part of the bank's "Re-Cover" effort.
Pampers is donating 40,000 diapers, and Huggies will donate 26,000 diapers, the companies said Wednesday.  A business owner in Fayetteville, North Carolina, Justin Freeman, pitched in with more than 6,000 diapers, and about 28,000 were purchased through the bank's online wish list, OId said.
"It has been overwhelming," Old said. "The community has been extremely generous."
Among the donors was Margaret Crites, who ordered about 450 diapers through Amazon on Monday.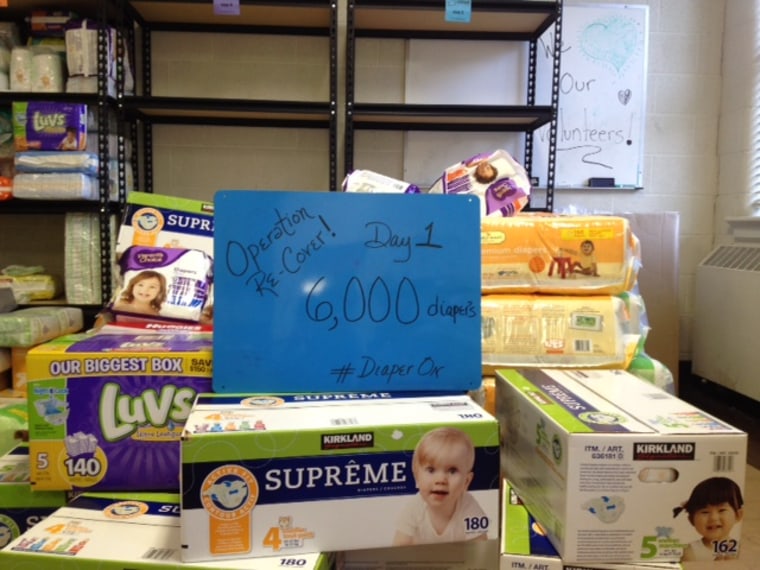 "I was annoyed and angry enough to try to replace some of those diapers," said Crites, who has donated before. "At the same time, I just find it incredulous that someone would commit a crime like this."

To add further insult, Old heard that diapers were being sold from packages that bore the bank's label. She said police are not hopeful of catching the thief.
Diaper banks have been popping up around the country in growing numbers over the last five to 10 years to help families who struggle to afford them, said Joanne Goldblum, executive director of the National Diaper Bank Network. There are now about 260 around the nation.
"Families struggling really are often left without the ability to meet most basic needs," she said, noting that they can't buy diapers through the federal Women, Infants, and Children program or the Supplemental Nutrition Assistance Program.
It was the first time she had heard of a diaper bank theft.
On Monday, Old noticed diapers strewn on the floor. The shelves had been emptied of the diapers in the bank's main area that were packaged for distribution, and diapers in their original packaging had been taken from an upstairs storage area, she said.
The thief apparently knew what to take: The larger, more expensive diapers that are in high demand, mostly in sizes four and five, were grabbed, while the smaller ones were left behind, along with a computer printer, Old said.
"They had taken every single size four, which is actually the diaper that we see the most demand for," Old said, because toddlers spend so much time in the size.
Since the bank handed out its first diaper on June 14 last year, all of its diapers have come from neighborhood and church drives and from families whose children had outgrown them. Old said she is not surprised that people in the area are coming forward again this week with more.
"We went from being devastated and heartbroken to overwhelmed by the generosity of this community and the broader community," Old said. "It's just been incredible."
Lisa A. Flam is a news and lifestyles reporter in New York. Follow her on Twitter