/ Source: TODAY Contributor
Your kids have probably been looking forward to summer vacation all year long. But here we are, at the start of those long, hot days of enjoying that summer sunshine, and already you hear it, the dreaded "I'm bored!"
To keep them entertained, look no farther than the local dollar store. All you need are a few inexpensive supplies and you can make all 11 of these easy and fun summer boredom busters.
1. Bubble up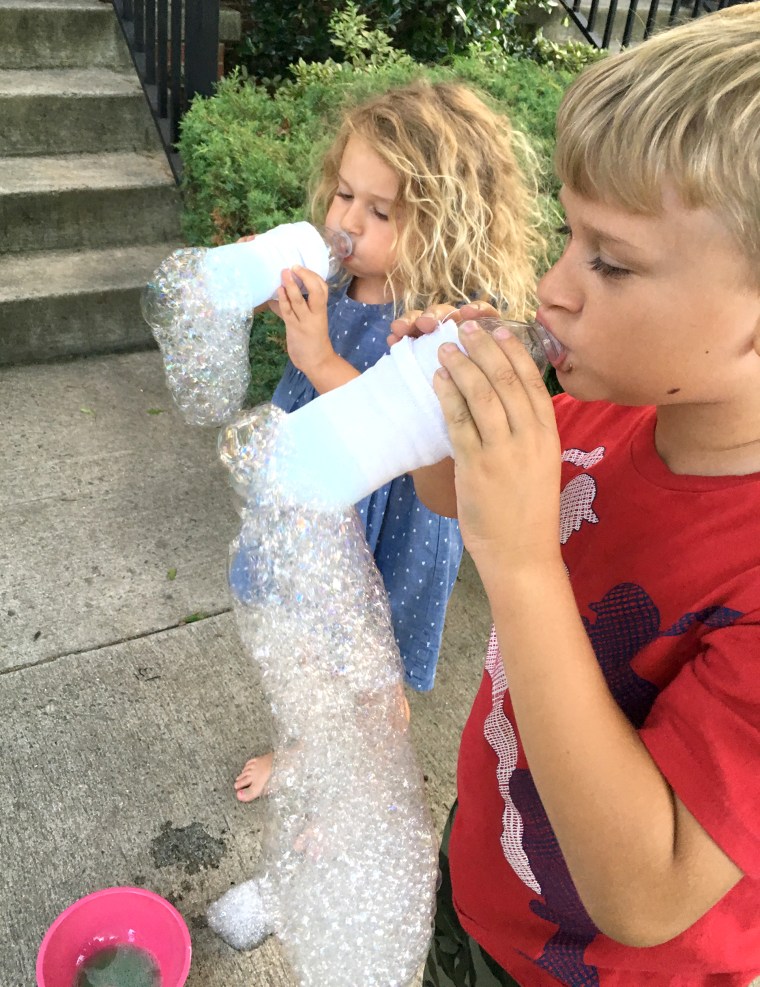 If your kids love bubbles, they'll go crazy over bubble snakes. To make, just cut off the bottom of a water bottle and pull a small sock over the bottom of the bottle. In a bowl, mix dish soap and a little water and dip the bottle, sock side down, into the bubble mixture. Have your kids blow into the bottle, and watch them squeal with happiness as they create long bubble snakes. Be sure to remind them to blow air into the bottle and not to suck air out or they'll end up with a mouth full of bubbles!
2. Sidewalk art deluxe
If your budding artist wants to take their sidewalk art to the next level, then they need Fizzing Sidewalk Paint. Just mix a box a baking soda and a ½ cup of cornstarch with water to make a thick "paint." Pour the "paint into small bowls and add a few drops of food coloring. Let your kids paint the sidewalk with brushes or sponges, but before it dries, spray vinegar on the drawings and watch all the fizzing. It's like an art and science project in one!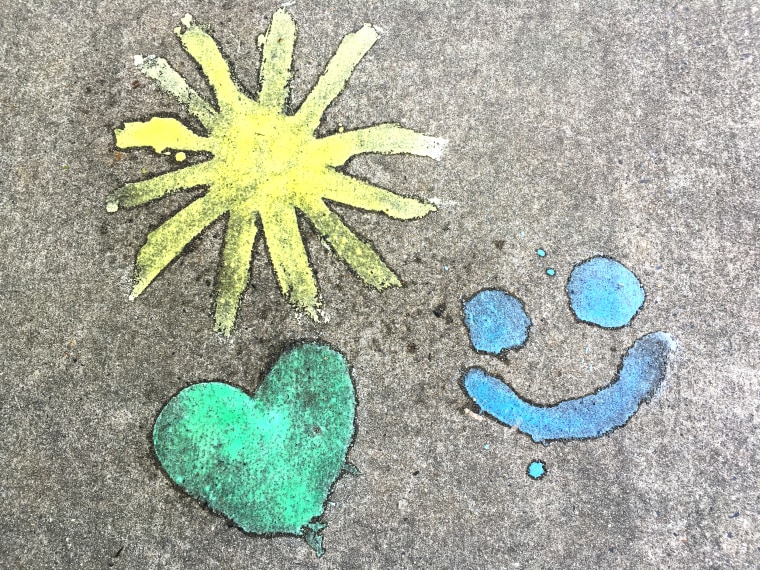 3. Water gun fun
You don't need find a carnival to play this favorite carnival game. Poke a hole in the bottom of a few plastic cups, grab some string, and get your whole family ready for water gun races.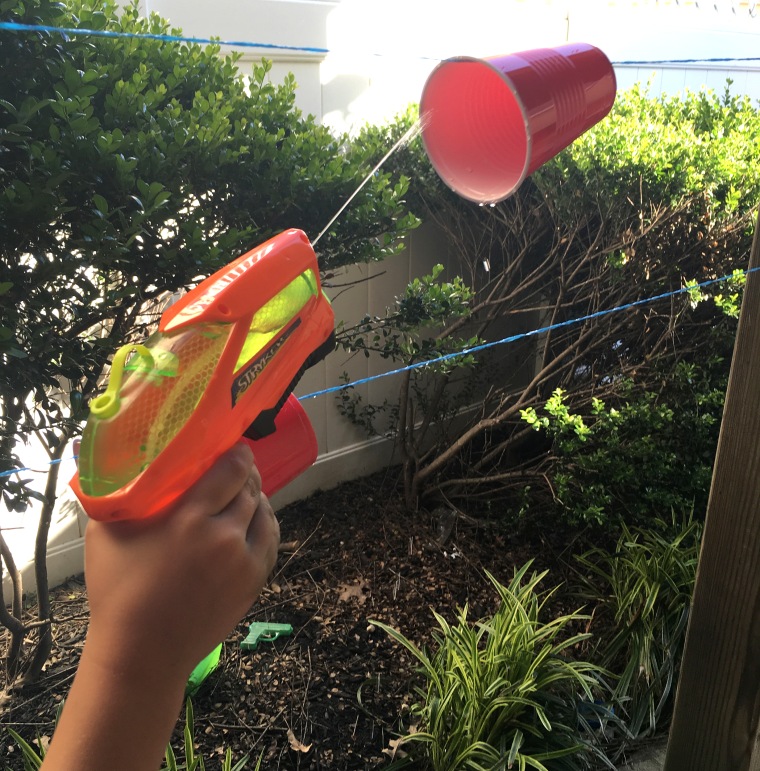 4. Suds galore
Beat the heat with a baby pool or a water table, but don't just add water. Add bubbles. Lots and lots of bubbles! Grab a bottle dish soap from the dollar store and fill up the baby pool or water table with the bubbles. Since you only paid a dollar for the soap, you don't have to feel bad using it for a little outdoor play.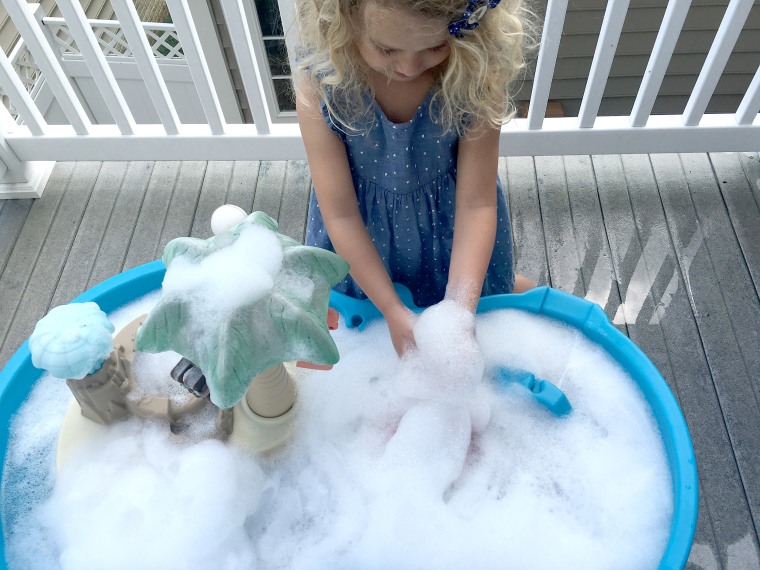 5. Skee ball for all
Whether you setu p this DIY skee ball inside or outside, everyone in your house will want to take a turn. Create a ramp from a few boxes and have your kids roll balls up the ramp and into baskets you've picked up at the Dollar Store. If your kids are younger, grab bigger baskets, but for older kids, the smaller baskets will be more challenging.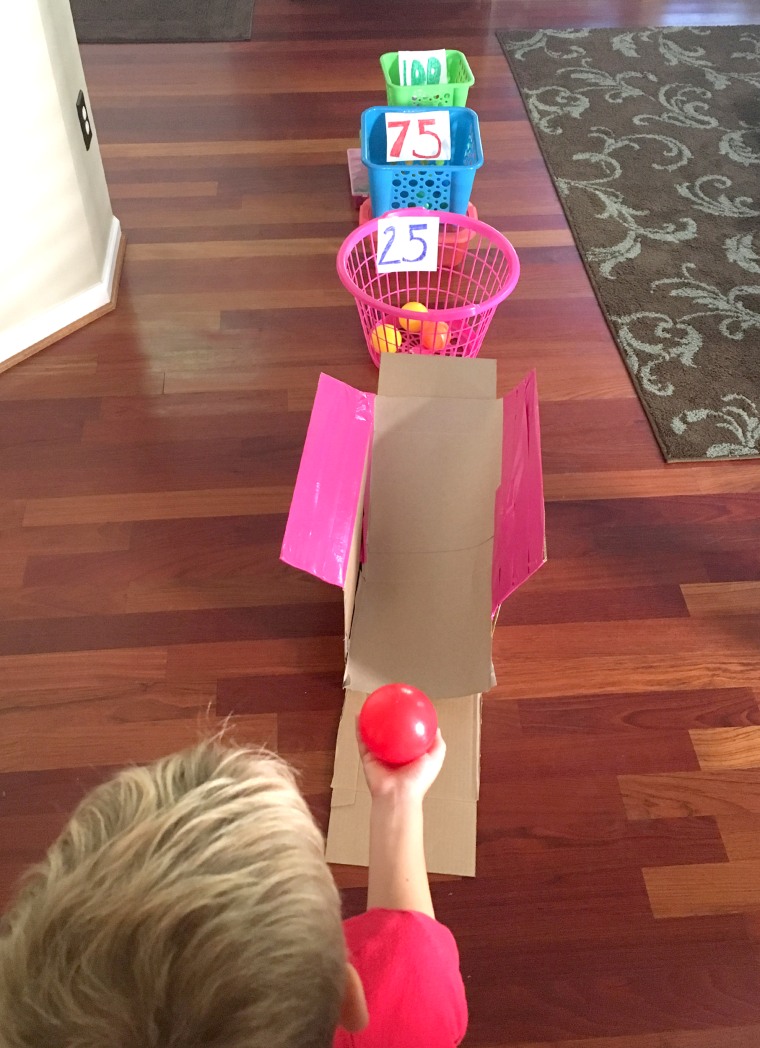 6. More S'mores?
You can't officially call it summer unless you've had a s'more. But for this summer boredoms buster, you don't need a campfire — just a little solar power. Using a box with a lid — think shoe box or pizza box — cover the inside of the box and lid with aluminum foil. Build your s'more but leave off the top graham cracker and place inside the box. Wrap the s'mores in plastic wrap and place your solar s'more maker in the sun. On a sunny day, you'll have a melty, yummy s'more in a few minutes.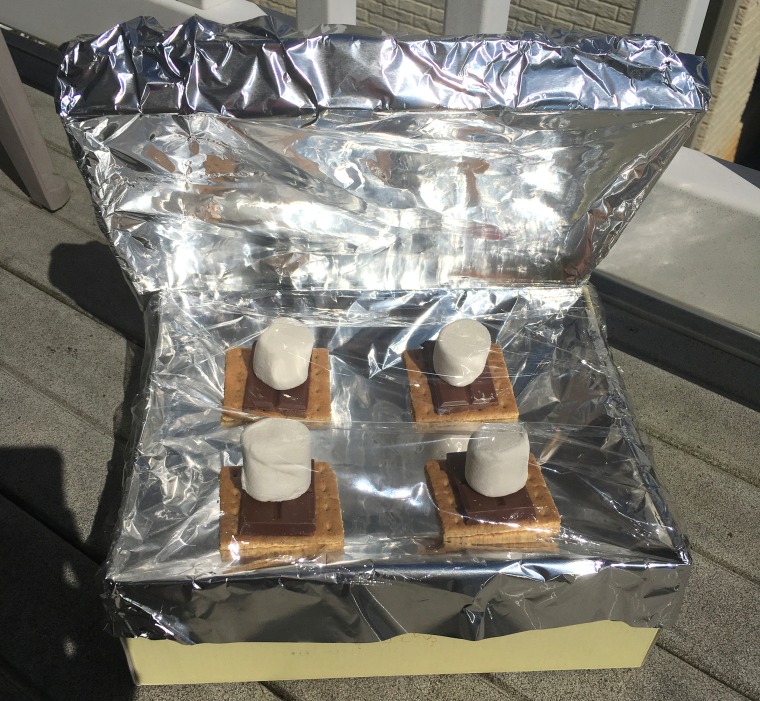 7. Noodling around
Get your kids moving with the Noodle Olympics. Grab a handful of pool noodles and cones and create obstacle courses outside to get them moving and going for the gold!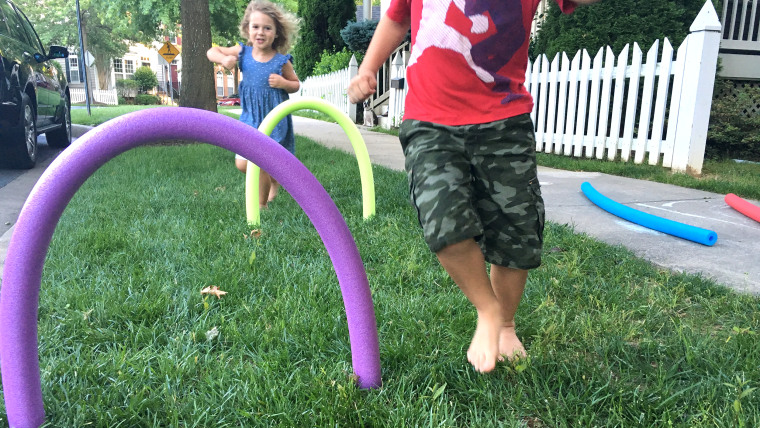 8. Boat battle
Make tiny ice boats by adding a little food coloring inside ice trays. Put the ice boats on a hot sidewalk and the first boat that melts is the winner.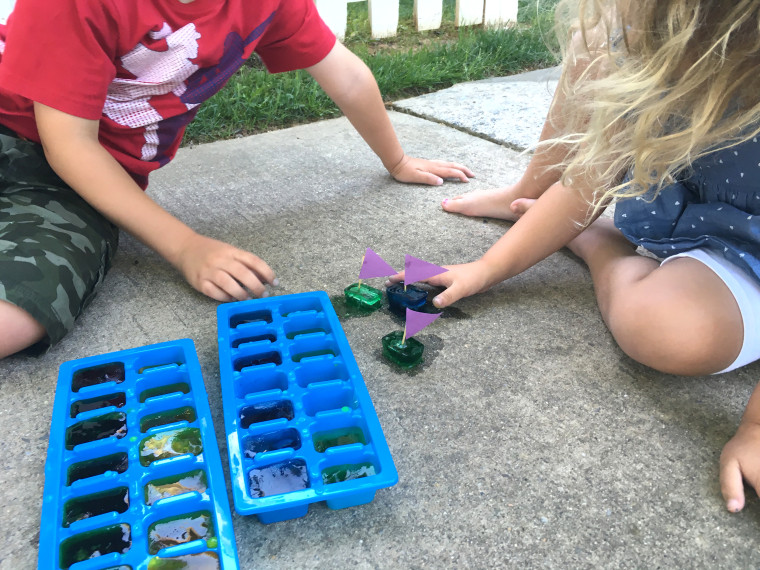 9. Draw to your heart's content
A shower curtain from the dollar store can become a huge canvas for your kids to color and draw. When they're all done, just wipe it off, and they can start all over again.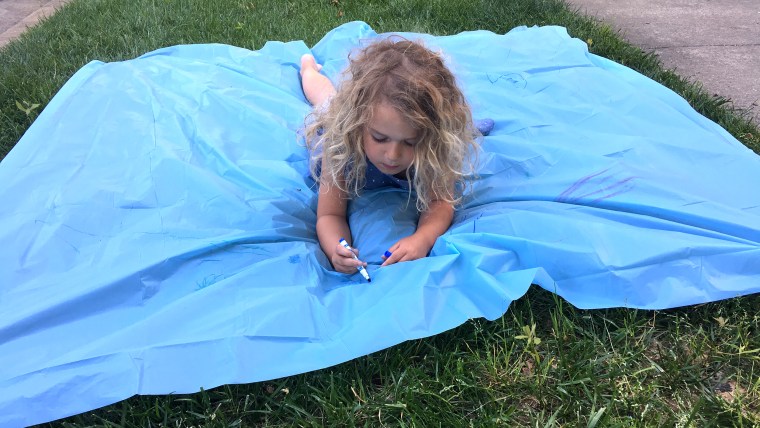 10. Soaking it up
What kid doesn't love running in a sprinkler? Turn a pool noodle into an inexpensive sprinkler by poking a few holes in it and hooking the noodle up to the hose.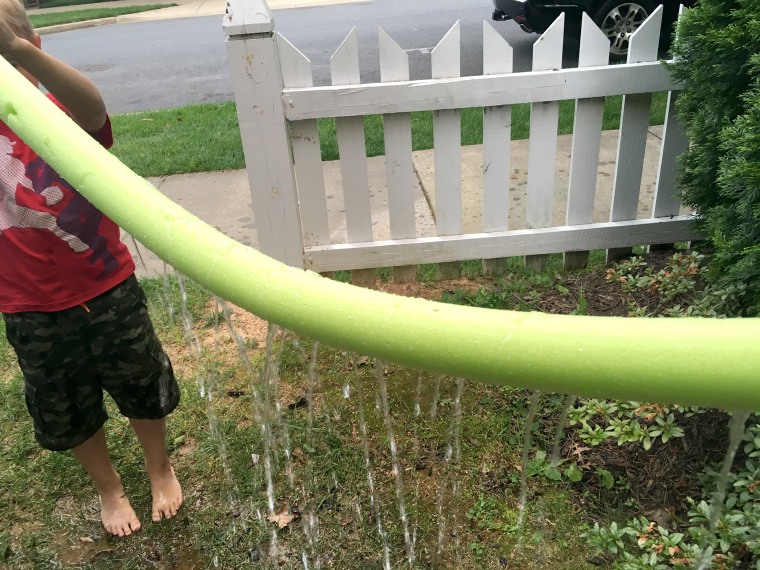 11. Get scientific
With a little sand from your sandbox and bottle of slime from the Dollar Store, you can make kinetic sand—think stretchy and flexible play dough. Things can get messy with this one, so this is an outside activity for sure.