"Where is Alex's dad?"
It's the question I both dread and fully expect, because Alex's dad, my husband, died five years ago this April, from a glioblastoma. For those not following the news, it's the same malignant brain tumor now afflicting John McCain. There's no cure. The treatment, if you want to call it that, is chemotherapy combined with radiation that maybe buys you a few more weeks or months. The average lifespan, after diagnosis, is 15-18 months.
It's a death sentence, something I couldn't process as an adult when the doctor at Memorial Sloan-Kettering Cancer Center told me that the thing growing inside my husband's head would kill him, sooner or later but mostly sooner, in perhaps the most ruthless way possible. I kept Googling, searching in vain for a miraculous magic bullet that didn't exist, as I sobbed silently and thought of all the times I put work ahead of our relationship and wished I could get those days and hours back. So five years after he died, it was with resignation that I tried to reasonably, calmly explain to the 3-year-old sister of Alex's best friend why his dad, unlike hers, is never around.
The mom looked at me helplessly, unsure of what to say and profoundly apologetic. "It's OK. It's a great question. Alex's dad isn't here because he died," I said.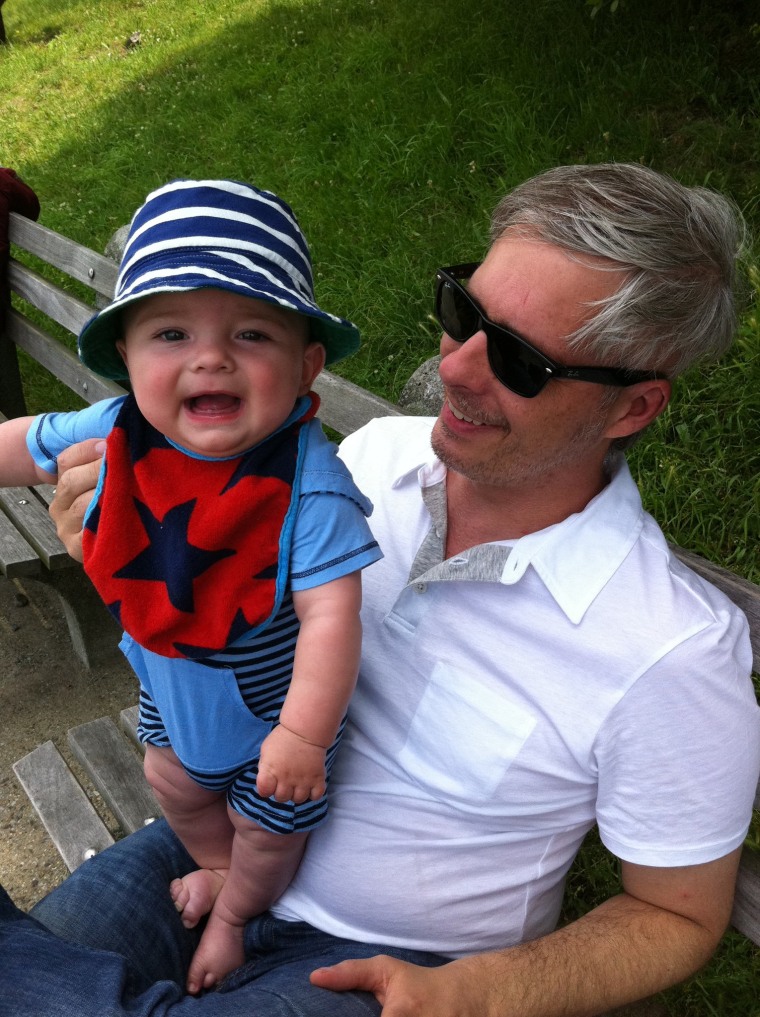 The mom intervened, adding that he'd been "sick."
Actually, no. If you tell a small child that an adult died after being sick, the kid could take that literally to mean anyone in his or her life who has a cold or complains of feeling crummy will one day disappear. That's what the child psychologist told me, as Justin was wasting away, bloated from the drugs that kept him clinging to some semblance of life.
"Alex's dad had a very rare disease called brain cancer. He got it and he died. We don't know why he got it. But he did," I told the little girl.
She nodded sagely and asked to watch more Peppa Pig.
Talking to kids about death falls somewhere between cold sores and blisters on the desirability scale. It's hard. It's painful. It's uncomfortable. And it can be downright weird.

I'm fortunate that through a friend of mine, I was connected with child development expert Nancy Carlsson-Paige right after my husband died. My son was barely 1, and couldn't verbalize that one day his dad was sort-of around, albeit mostly asleep, and then, another day, he was gone, having had a seizure and been taken to hospice, where he died two days later.
Carlsson-Paige sent me oodles of advice, most of it common sense, in kind, supportive emails. But as I muddled through those days and weeks and months as a early-onset widow, I tried my best to set a message and stick to the script. Carlsson-Paige told me to treat Alex as a peer, to never talk down to him, to tailor the wording into something he could understand, and to always, always, above all, be honest. No, Justin was not sleeping in the sky. He was dead.
For starters, I never told my son that his dad had gotten sick. Kids get sick all the time, and Alex was a champion, coming down with Coxsackievirus, multiple ear infections, and various other childhood ailments as he started daycare full-time. The last thing I wanted him to do was associate annoying but largely harmless kiddie illnesses with death. And I was terrified that I'd get a cold and he'd think I, too, would die. So I was careful to always use concrete, clear language: "Your dad got a brain tumor and he died from it. He had brain cancer." Mommy, on the other hand, just had the flu and would be fine in a day or two.
As Alex got older and understood more, he started asking questions, usually when he was in bed and we were cuddling. "Why did my dad die and no one else's did? It's not fair," he'd tell me. I would be honest right back. "I know it's not fair. Life is not fair. But you have a mom who loves you so much and friends who love you and grandparents and cousins who love you. How lucky are you?"
At around age four, he asked me why he was the only one he knew who had a dead parent. He still hasn't encountered a single other kid in the same situation. Again, I didn't sugarcoat anything. You can't hide behind euphemisms, so I didn't bother. "Your dad died. I miss him every day and it's perfectly OK to be sad and angry and upset. But he loved you so much," I would tell him repeatedly.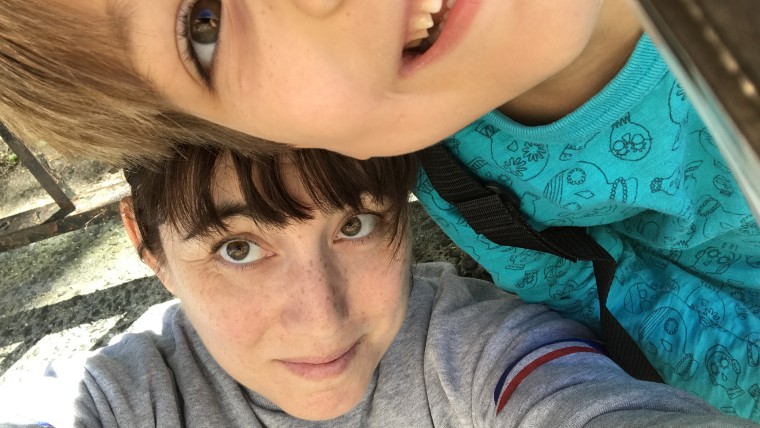 At five, he got heavy into Legos. Justin was an engineer and a pro at putting things together, from Ikea cabinets to indoor plumbing systems. Clearly, the kid inherited his genes in that department.
"Mommy, I really wish daddy could be here and see the Death Star I built," Alex would quietly cry to me. It would break me in two. "I know. I wish he was here too. But he's not and I am, so let's have fun and be a team and work together," I'd say, squashing down my feelings.
Today, Alex is six. Justin is a steady presence in our lives; our apartment walls are covered with family photos and collages. We visit Texas at least once a year so Alex can maintain a connection to his father's home state and his paternal relatives. But we don't wallow.
I tell him little anecdotes, like the time our freakishly aggressive border collie mix Buster bit Alex in the face and as I was sputtering excuses for his behavior, Justin went nearly berserk and told me the dog had to go (he was right). Or about the time I was on a bonkers organic food kick and only fed baby Alex stuff I painstakingly made myself and pureed at home — and then flipped out when Justin took Alex out to lunch at a Mexican restaurant and fed him queso, taunting me by sending me a photo. Or how we'd take walks every night along the Hudson River, watching the sunsets with Alex strapped to one of us in a carrier and trying to spot celebrities cycling on the bike path.
So to answer the question: Where is Alex's dad? He's dead. But yet very much alive, too.