/ Source: TODAY Contributor
After the mass shooting at Marjory Stoneman Douglas High School last week in Parkland, Florida, social media and the news became a constant stream of stories and pictures documenting the horror of the tragedy and featuring the victims, their families, and the traumatized students and teachers left to try to put their lives back together again.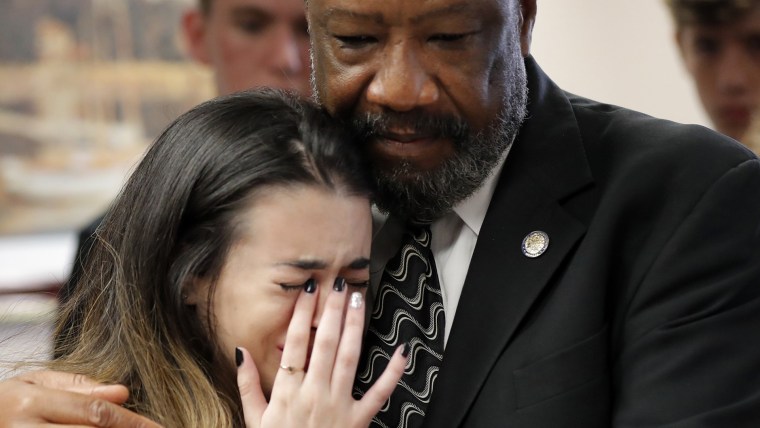 If you are feeling helpless and looking for ways to help and support the parents and children in Parkland, we have found a variety of verified ways you can contribute to them. Whether you want to help the Stoneman Douglas students finish their school year, donate toward a memorial scholarship or support the wounded with their medical expenses, these links will lead you in the right direction.
Help send the Stoneman Douglas Robotics Team to competition: When the shooting occurred last week, Stoneman Douglas students on the "Breaking Bot" robotics team were about to begin fundraising to fund their trip to the First Robotics competition in Orlando, Florida, in March. Now, the chocolate bars they planned to sell to help them afford the competition is still locked inside the school, and the students — some of whom witnessed the shooting — are in mourning and shock. Stoneman Douglas parent Lisa Barrett set up this campaign, hoping that the robotics team and the competition could provide a much-needed distraction for her daughter and her peers. "It is small, but it is important to me to raise money so they don't have to worry about paying for this trip," she wrote.
Never miss a parenting story with the TODAY Parents newsletter! Sign up here.
Buy a T-shirt that supports the Stoneman Douglas Victims Fund: Stoneman Douglas student Eric Hengber designed T-shirts supporting Parkland and the high school. All proceeds go directly to the Stoneman Douglas Victims' Fund. Hengber has already raised over $17,000.
Donate to a memorial scholarship fund in the name of one of the victims: Stoneman Douglas senior and shooting victim Nicholas Paul Dworet was set to further his swimming career at the University of Indianapolis next year. His family and his swim club team are now setting up a foundation in his name, Swim for Nick. The general link below also has memorial funds and scholarship campaigns for many of the other shooting victims as well.
Contribute towards the medical expenses of survivors: Stoneman Douglas student Anthony Borges was shot several times while he attempted to protect his classmates by closing and locking their classroom door. Borges saved 20 lives, but now he faces a long and expensive recovery. Campaign creator Royer Borges is raising money for Anthony and his family while he recuperates.
Give to the general Stoneman Douglas Victims' Fund: The Broward County Education Foundation set up a general fund to provide relief and financial assistance to all the victims and families of the Stoneman Douglas community. "There are no words to express the sorrow that we are all feeling," they wrote. The campaign has had more than 26,000 donors and raised over $1.9 million to date. "The love you have shared and will continue to share is going to help us get through these trying times," said Stoneman Douglas principal Ty Thompson in a message on the Go Fund Me campaign.
Support the students as they prepare to march on Washington: Stoneman Douglas student Cameron Kasky created a campaign to help fund the efforts for the #NeverAgain movement and the planned March for Our Lives on Saturday, March 24 in Washington, D.C. "The funds will be spent on the incredibly difficult and expensive process that is organzing a march like this," Kasky wrote. "We have people making more specific plans, but for now know that this is for the march and everything left over will be going to the victims' funds." Donations for this purpose are not tax-deductible.
Go Fund Me has compiled a list of all the verified fundraising campaigns related to the students, families, and survivors of the mass shooting tragedy at Stoneman Douglas High School here. This list includes some of the links above as well as many, many more. Though this tragedy has rocked the Parkland community, as Thompson said in his video message, they continue to be #EagleStrong with the help of those in Parkland and, now, the world.