The "Pokemon Go" craze has been linked to car crashes, grim discoveries and even reports of people falling off a cliff. But the wildly popular mobile game has also led to a beautiful awakening in a 6-year-old boy named Ralphie.
Ralphie Koppelman has autism spectrum disorder and hyperlexia. He struggles socially, doesn't usually make eye contact with strangers, has difficulty holding conversations and panics when his routine changes.
But playing the game for the first time unlocked something special inside him.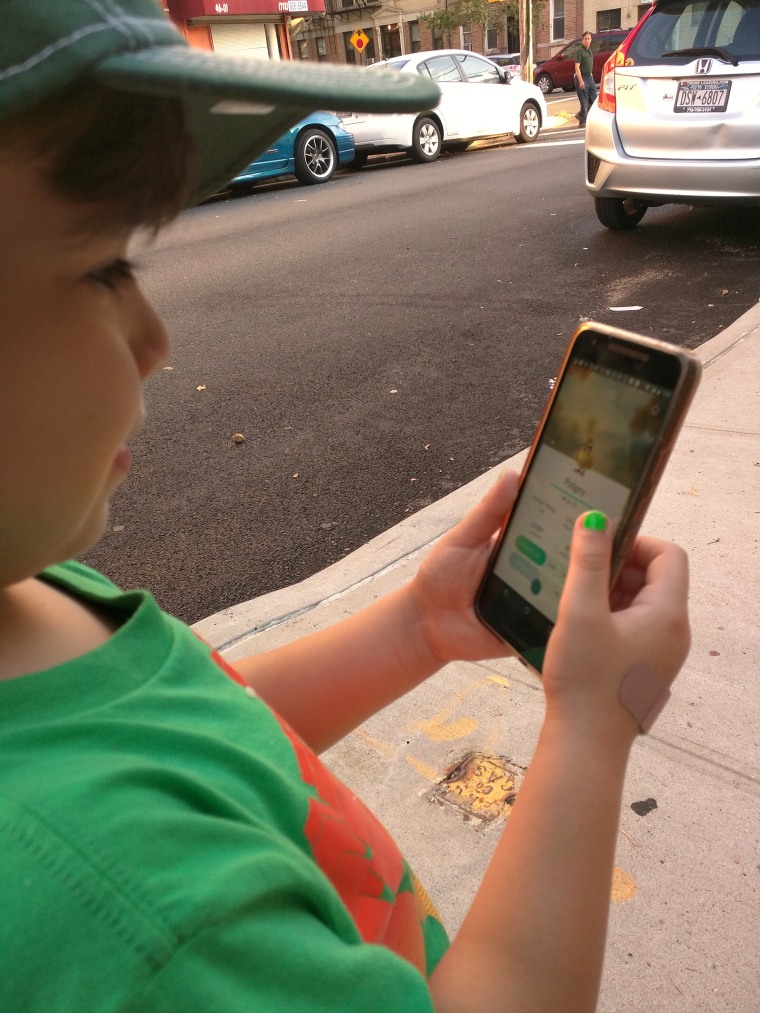 Never miss an inspiring parenting story with TODAY Parents newsletters! Sign up here
Within minutes of starting the game, his parents were thrilled — and shocked — to see him laughing, smiling and even sharing a high-five with kids he didn't know, as he joined in the common pursuit of capturing those colorful, virtual creatures.
"I would call it Ralph's first taste of what it's like to have something in common with the rest of the world," his mom, Lenore Koppelman, told TODAY, noting that her son's usual interests are drawing, world maps and flags. "He gets excited enough that he wants to reach out and communicate. It's like an awakening in his socialization."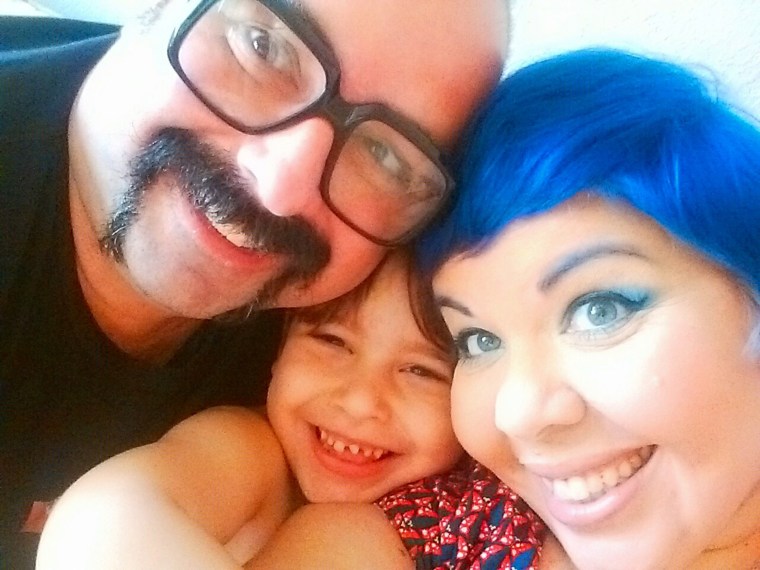 Watch: Boy with autism and Snow White share a tender moment that's melting hearts
Seeing her son play with other kids in a spontaneous way for the first time brought tears to her eyes, and she describes the game as nothing short of a miracle for Ralphie.
"This all sounds so melodramatic, but to say it's not true would be a lie," Koppelman said. "It's our own little miracle."
Though skeptical about the game, Koppelman downloaded it at the suggestion of a friend who said it helped her autistic son be more social and flexible.
"I finally introduced Ralphie to 'Pokemon Go' tonight," Koppelman wrote on Facebook. "She was right. This thing is AMAZING." She ended the post with, "Thank you Nintendo!!! ASD mama's DREAM!!!!!! I love you!"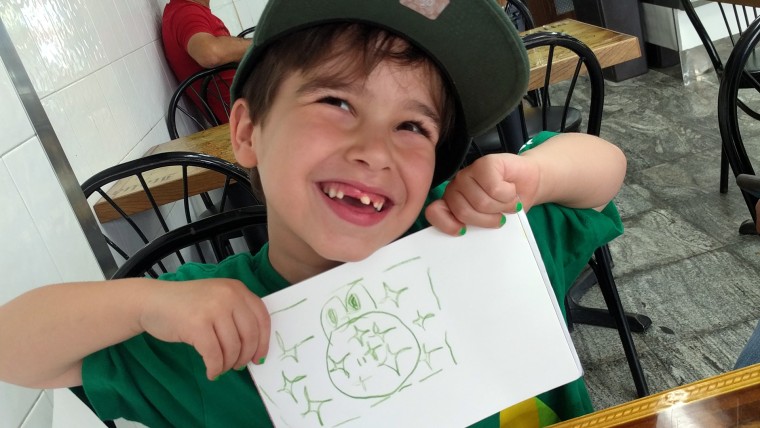 On the first night he played, Ralphie interacted with a young girl who was hunting Pokemon at a bakery in the Koppelmans' neighborhood in the New York City borough of Queens, and he later looked a boy in the eye with a smile and high-fived him out on the street. Next, the family met a neighbor who told Ralphie to head to the playground.
"Much to our shock, once she said there's a lot of Pokemon, he said, 'Let's go to the playground,'" Koppelman recalled, adding that Ralphie 's familiar routine does not usually include going to the playground at night. "That's when we knew something big was happening."
The playground is sometimes a stressful place for Ralphie. Kids ask to play with him but he responds in a way they don't understand: by scripting, repeating words from memory, flapping his arms, spinning in circles or making funny noises. Other kids make fun of him, his mom said.
But this time was different. The kids asked Ralphie if he was playing "Pokemon Go" and he screeched and laughed and jumped up and down. Then he and the crowd of kids he had never met was off and running.
"He was suddenly part of this group that was all catching Pokemon together," Koppelman said. "They included him and they were too busy to notice his strange behavior."
Overcome with emotion, Koppelman hid behind the slide and cried.
"It was this beautiful moment" when her son was like every other kid, she said. "Seeing that acceptance was great."
In the week since that first night playing, Ralphie is still chasing those creatures. If he sees someone playing, he'll talk to them about the game. "That's new for him," Koppelman said. "It's a really great tool for him to break out of his shell."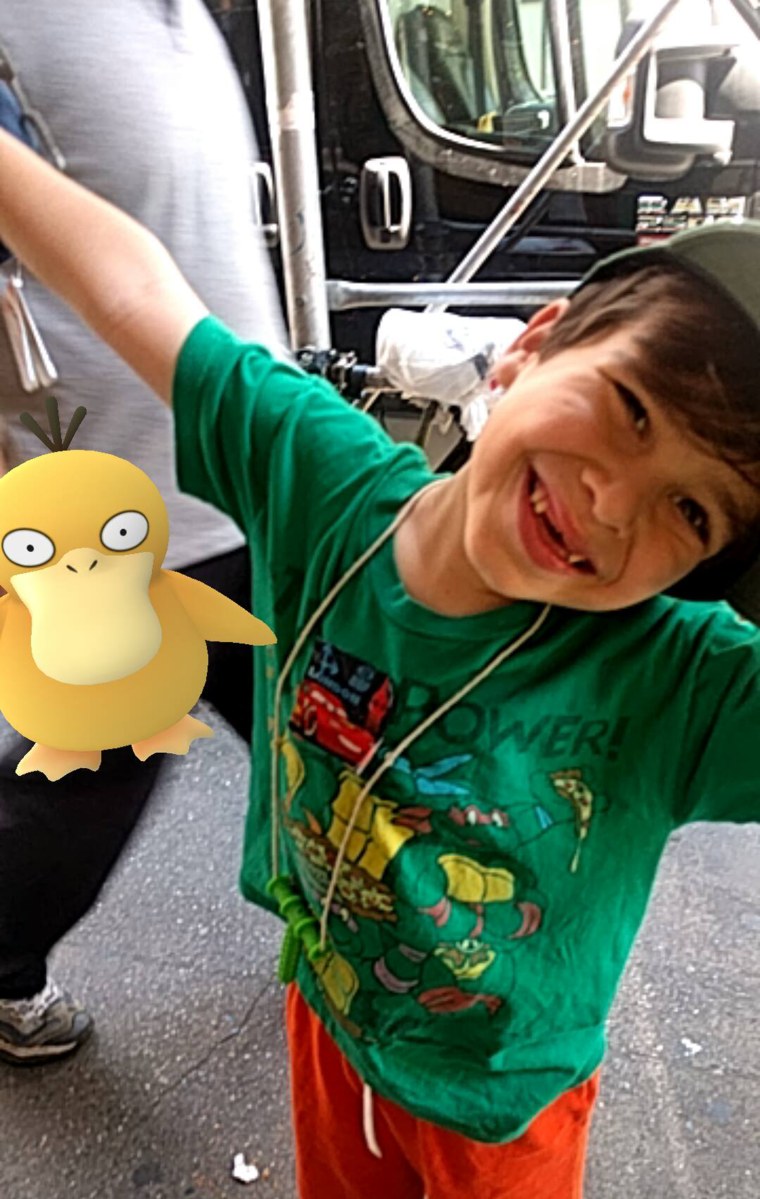 As Ralphie's story spread online, Koppelman has heard from other families with children on the autism spectrum who said they are having the same experience with the game.
"I don't understand how something like that could work or help him that quickly," Koppelman said. But, she added, "We're not the only ones."
She hopes that the effects of the game will carry over into the rest of his life, with Ralphie becoming more social, less rigid and wanting to get outside. "We're letting him enjoy the game but we're also trying to help him learn he doesn't need the game in order to do those things," she said.
As for her skepticism that "Pokemon Go" was just another way for people to be glued to their phones like zombies? Koppelman could not be happier to admit she was wrong. "I tell people I'm eating crow," she said, "and it's the most delicious crow I've ever tasted."
TODAY.com contributor Lisa A. Flam is a news and lifestyles reporter in New York. Follow her on Twitter and Facebook.