Many children love costumes, haunted houses, candy, and the chaos of Halloween, but for children on the autism spectrum, the holiday can feel overwhelming. So their parents find creative solutions to make sure the day is a treat.
Two years ago, 8-year-old Zachary wanted to be Darth Vader for Halloween. But his mom, Kadie Hoover, knew that the costume, with its synthetic fabric and mask, might upset Zachary, who is on the autism spectrum. So she came up with an easy way around it. She bought a larger size that Zachary could slip over his favorite sweatpants and hoodie. And because "we can't have anything on the face," she told TODAY, she decided Zachary could be the Sith Lord without the mask.
Once the minor adjustments were made, they did some pre-Halloween dry-runs.
"We wore the costume a couple of times for him to get used to it," she said.
Zachary's ADHD and sensory processing disorder could make Halloween stressful. But Hoover adapts. Even touching the scratchy Darth Vader costume could make Zachary feel uncomfortable, so she encouraged him to put his hand in his sweatpants' pocket instead. That familiar routine relieved him.
On top of practicing and learning new coping skills, the two chat about the holidays.
"We have been talking about Halloween now for a couple of weeks," Hoover said. "We read a step-by-step guide."
Zachary wants to celebrate and Hoover lets him lead. She goes trick-or-treating, but stays in the car. He knock on doors, collects candy, and hangs out with friends, but when he feels overwhelmed, Zachary takes a break with mom.
"Last year, he went out for quite a while with his friends. There were a couple times where he had to go in the car," she said. "I spend hours and hours planning for what could happen. Most of it doesn't happen but I plan in case."
Even with preparation, they face obstacles. Zachary feels wary about people in masks, so Hoover asks his friends to show their faces before they wear them.
For mom Jamie Davis Smith, whose 12-year-old daughter, Claire, is on the autism spectrum, Halloween planning has been a game-changer, too. Two years ago, Claire became upset when she saw her brother in his Hogwarts robes.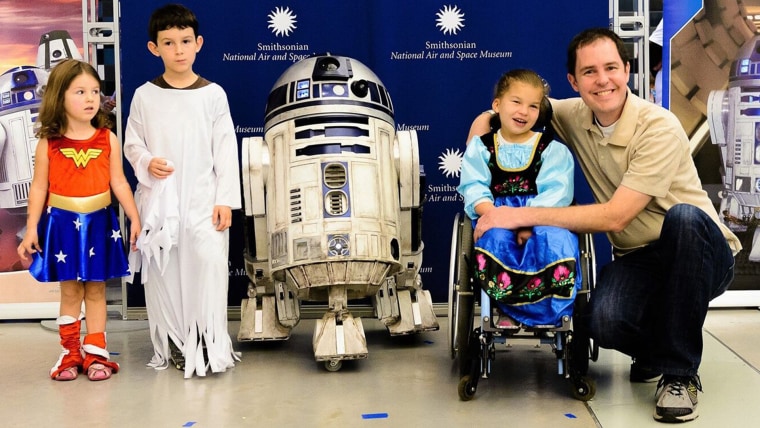 "We worked with her therapists ... to get her used to the costume by having him change in front of her and wearing it while doing ordinary things like his homework where she could see. It worked well," Smith told TODAY via email.
Claire loves dressing up, this year she'll be an astronaut, collecting candy, and spending time with friends. Smith helps to make the experience fun, by asking other children to take off a mask or hide a creepy prop.
"She also doesn't seem to mind things that are obvious costumes. But she does get upset when she sees an exaggerated face mask," Smith said.
The family stays close to home and scopes out houses for anything too scary or overwhelming. Hoover said Zachary skips the houses with flashing lights and loud noises, too.
Gretchen Kirby, whose 12-year-old son Tavish is on the autism spectrum, uses the holiday as a chance for Tavish to practice social skills, like saying "trick-or-treat" and "thank you" appropriately.
"It's more common to hear a 'thank you' from him," Kirby said via email. "If there are big crowds he does get overwhelmed … we tend to go early, while it is still pretty light."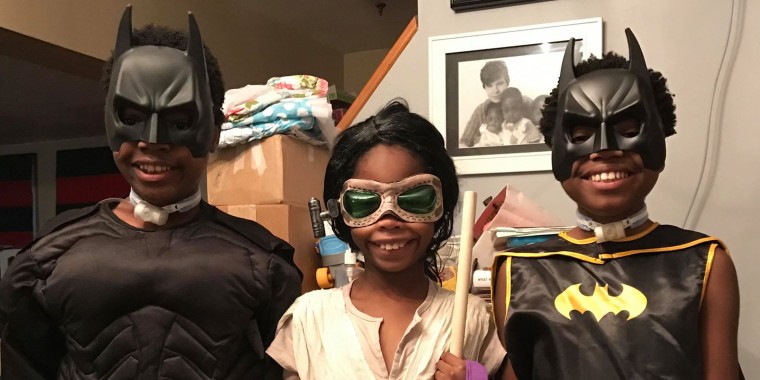 What's most important, says Dr. Deborah Gilboa, a parenting expert, is that families celebrate Halloween in a way that makes sense for their children.
"Think about your child and do what you can. What can you avoid? And what can you do your best to prepare them for?" she said.
While some children do well with preparation, others might not feel comfortable going door-to-door, even with practice. In that case, Gilboa recommends families consider alternative plans, such as visiting a senior center and handing out candy or watching a Halloween movie at home.
"Halloween is like any other holiday. It can feel like many unmet expectations and a reminder that your kid doesn't fit the usual mold," Gilboa said. "But it can be an experience for your whole family in resilience."