The famous words that Liam Neeson mutters over the phone at the height of "Taken" have been given new meaning.
"I don't know who you are. I don't know what you want. If you are looking for ransom I can tell you I don't have money, but what I do have are a very particular set of skills," Neeson says in the 2008 movie, which sends his character (a former CIA agent) on a wild goose chase to rescue his daughter from human-trafficking kidnappers in France.
Reddit user Shane Labuzan took a page out of Neeson's book and recreated parts of the monologue, posting it above his sink. It has since prevented his three kids from leaving messes in the kitchen.
Hoping that his teenagers would be riddled with the same fear of those on the receiving end of Neeson's call, he left the note as a way of encouraging them to use the dishwasher.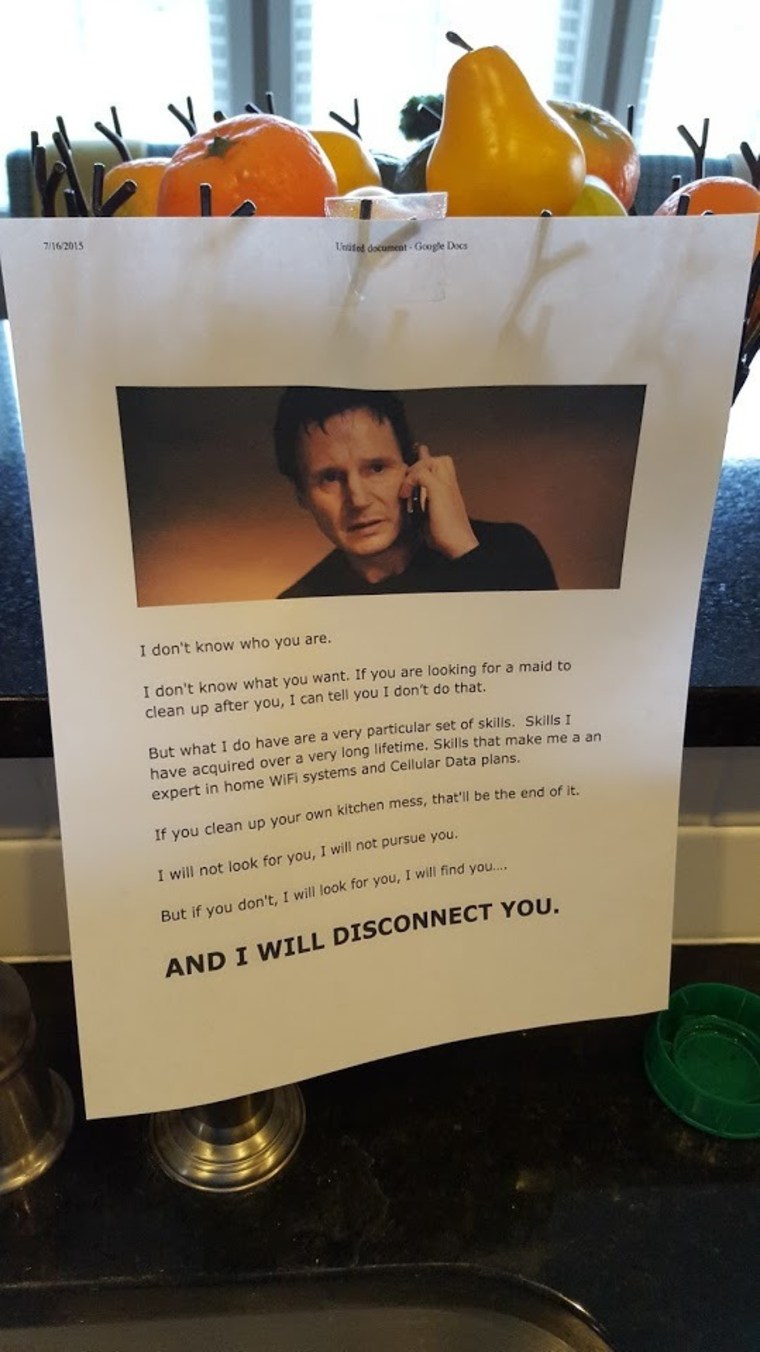 Labuzan and his wife were tired of cleaning 95 percent of the messes made in the kitchen, when the parents had caused only about 25 percent.
"Since my fiance and I work all day and they are home alone, I wasn't always around to police the matter, so I decided to put Liam on overwatch to speak for me when I wasn't around," he told TODAY.com. "Every time they might be tempted to just leave a mess in the sink for me to clean up later, they would have to look him in the eyes and question their next move."
The trio, whose ages range from 16 to 20, regularly leave out ramen noodles, spaghetti and cereal bowls.
MORE: Famke Janssen: Liam Neeson is 'dreamy' in 'Taken 3'
Though they are a little messy around the house, Labuzan says they are good kids. His only worry is the stress they'll create for future college roommates.
"When it comes to the important issues in life (getting good grades, having summer jobs, planning a college career path), they meet or exceed my expectations all the time. So I try and cut them a little slack. But as they move on to college and become young adults, they need to learn how to be good roommates, and at this point they are incredibly bad at that," he said.
Labuzan wants them to know that he's serious, which they've quickly come to realize.
"Each one has had their electronic world 'taken' for a period of time because they thought they would test my resolve," he said. "After being ordered to completely empty the dishwasher and put their neglected mess in its proper place, they were then reconnected."