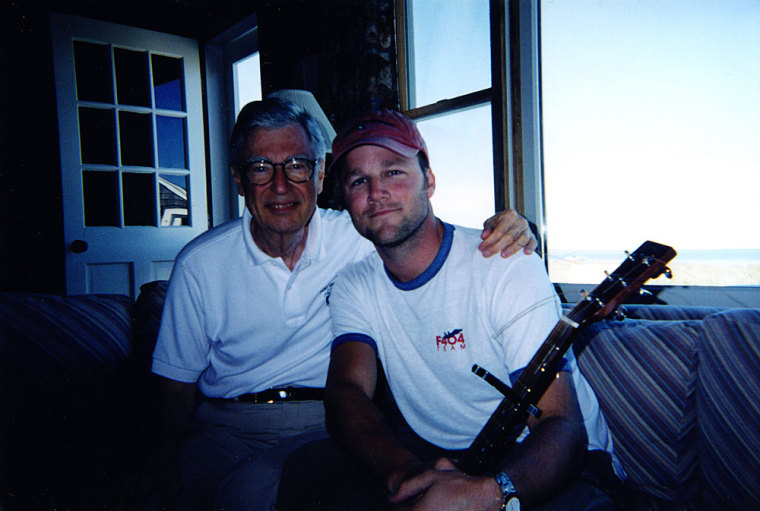 Mister Rogers summered in a modest, gray, shake-shingled house on the edge of Nantucket. My mother rented a tiny cottage next door. So Mister Rogers really was my neighbor.
I first met Mister Rogers on Sept. 4, 2001 -- my thirtieth birthday.
I was a bit lost at the time. My parent's divorce and chronic relocation left me a serial monogamist (but commitment phobe) hooked on rock 'n' roll fantasy.  Everything would be fine, I reasoned, if I could get famous for expressing my dysfunction; it seemed to work for everyone in Rolling Stone magazine and on MTV.
So I'd moved to NYC some five years prior to either write for or be on the cover of RS. It ended up the latter (sort of), though I quickly parlayed my online Weezer reviews and Jewel interviews into a producer gig at MTV News while hocking CDs at performances in rock venues from Boston to Raleigh-Durham.
I was ambivalent about all of it, seeking something meaningful amid a fast-paced, short-attention-span mediaverse.
Which is roughly when Mister Rogers stepped toward the back porch and asked, "Is the birthday boy here?"
The next day, Mister Rogers invited us over for lemonade. I played him a song. And then he showed me around his so-called Crooked House, a sparse, almost-ascetic cottage.  Mister Rogers was so real, so authentic, and so disarming, that I felt right at home.  We sat a while in his study, out back behind the garage. There was a desk, a computer and a small piano, all with a view over the pale green grassy dunes to Madaket Bay beyond. He asked me something no one ever asks. "Tell me about your father," he said. "Your mother doesn't speak about him." And so I told him about my parents' divorce, and how ugly it was, and almost cried right there on the spot; I felt safe, and comfortable.
He said, simply, "That must have been very difficult for you, Benjamin."
Then he rolled his chair over to the piano and began playing: first, the theme from his show: "It's a beautiful day in the neighborhood," he sang with a little more swing than on television, smiling. And then he sang "Happy Birthday" to me. Even now, years later, it still seems like a dream.
Later, we stood on the back porch in the Indian summer sun staring out at the water. He asked me about my job at MTV. He said he was concerned about modern pop culture. "I feel so strongly," he said, "That deep and simple is far more essential than shallow and complex."
The next summer, I told Mister Rogers how often I thought about the phrase, "deep and simple." 
"Spread the message," he said.  "Spread the message."
I was immediately transformed by meeting Mister Rogers. My music changed first. I dropped the poses, stopped trying to sound hip, cool or current, and began relinquishing the death grip on my rock 'n' roll fantasy. I embraced what came naturally, the singer/songwriter stuff I grew up on: contemplative, acoustic considerations of love lost and found.
After his death in February 2003, Mister Rogers' challenge to spread the  "deep and simple" message became too compelling to ignore. I enlisted my brother and sought out the friends and neighbors who knew Mister Rogers best to ask them what he meant by it.
In the five years it took to bring our independent documentary, "Mister Rogers & Me," to the screen (we premiered at The Nantucket Film Festival this June, and won a Crystal Heart Award at The Heartland Film Festival), I came to realize a deep, simple and essential truth: One changes the world one relationship at a time.  And -- as Mister Rogers so often said -- "There is something of yourself that you leave at every meeting with another person."
And so I took my own small measures. In 2007, I founded "A Holiday Benefit," an annual compilation CD and show featuring local singer/songwriters and benefiting 826NYC, a youth literacy advocacy group in Brooklyn.  We've raised over $10,000 since then, and will be releasing our fourth compilation on Dec. 16.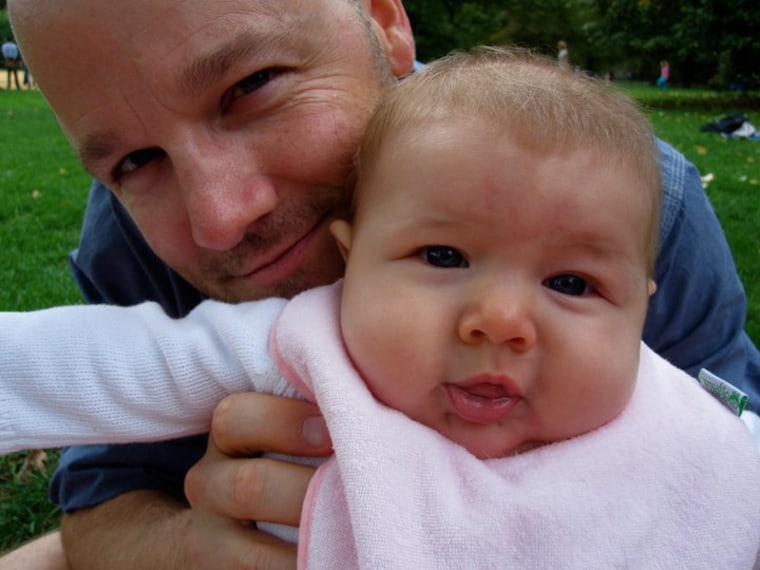 And when my daughter was born (just 10 days after the film's premiere), I buckled down on my most essential production of all (well second-most; impossible to top my gorgeous daughter), a new CD full of songs I wanted Maggie to grow up singing.  "Forever Young" is a lifetime in the making, not only because the cover songs ("Rainbow Connection," "You Are My Sunshine," "Moon River") are deep, simple and essential, or even because I enlisted my dearest, most-talented musician friends to help make it.
I would never have made "Forever Young" without Mister Rogers. In his absolute authenticity, he gave me the courage to be myself, to be sincere -- corny even.  With one simple question, he helped me begin to get over my parents' divorce.  And so when my wife tapped me on the shoulder after a show, I was able to turn to greet her with an open heart.  Five years later, when I sing "Golden Slumbers" or "You've Got a Friend" to our daughter, Maggie, I realize that my definition of rock 'n' roll was askew to begin with.  Nothing's more rock 'n' roll than love.  And there's no greater love than this.