As Matt Damon is fully aware, we're living during a time of great reckoning, when the topics of sexual assault and harassment, of inappropriate behavior in the workplace and beyond, have been making daily headlines. Men in power have been toppled from their positions on a daily basis. It all started with former Hollywood heavyweight Harvey Weinstein.
"We're in this watershed moment. You can feel everything changing," Damon tells TODAY Parents.
To that end, he's focused on teaching his own brood about limits, and what constitutes right and wrong behavior. Damon is raising daughters Alexia, 19, Isabella, 11, Gia, 9 and Stella, 7, with his wife Lucy. He and Lucy are most open with Alexia, who, at 19, can understand what's happening in the news but also talk to the younger girls.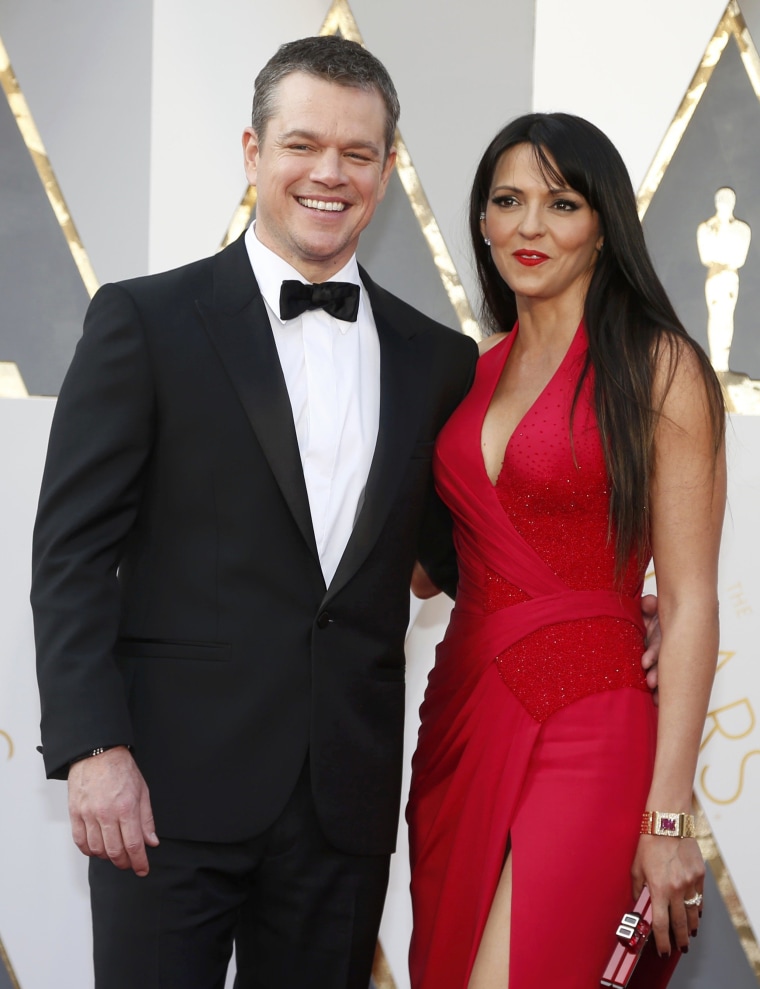 "They're very clear that their bodies are their own and no one is allowed to touch them. We're just trying to raise good kids. We're not having specific conversations about harassment. It's about trying to raise kids who are respectful of themselves and others," he says of his daughters.
He hopes that someday soon, people can speak openly, without recrimination or public attacks.
"Can we start a dialogue? Can we reflect? Can we reconcile? Is there a way to have a dialogue? That's how people grow and do better. The moment we're in right now is not that moment. I hope that we move into that direction," he says.
As a father, "I'm raising my kids to own their mistakes and do better next time and make amends for whatever they've done. Next time, you behave differently."
Related: Matt Damon's father, Kent, dies at 74
At home, Damon, despite his "Bourne" credits, is hardly the epitome of coolness. Especially after his daughters see his hip-shaking dad dance in "Downsizing," his new drama about people who become small in size in an effort to create a more utopian society. And in one pivotal party scene, Damon goes full disco.
"I got that naturally. I caught myself dancing in the kitchen the other day. That really is me at this point. I'm an embarrassment to my kids," he laughs.
The family remains bicoastal, currently living near Damon's childhood friend Ben Affleck in Los Angeles. For the most part, he and his kids are left alone, unlike Affleck and Garner's trio, who are constant paparazzi targets.
"I'm not somebody whose story moves magazines. I live down the street from Ben and Jen. There's always cars outside their homes. They want to see their kids. It's a different level of intrusion. I don't have to deal with it and my kids don't have to deal with it as much," he says.