"Mommy, how did you meet Daddy?"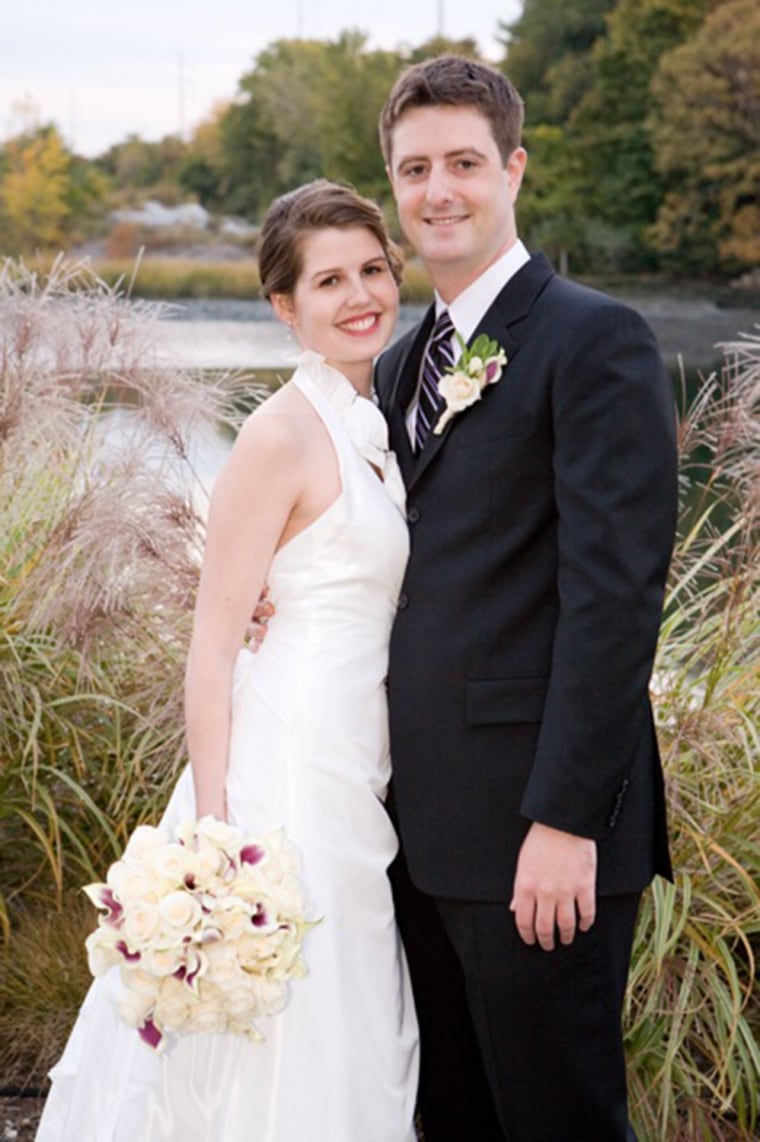 In many homes, the story of how two people came together to form a unit is an important part of family folklore. Our son is only 4, and we've already told the story of how we met one fall day during our freshman year in college more times than I can remember.
These days, the "how I met your mother" story is as likely to involve technology as it is to consist of seeing your true love across a crowded room. Do parents hesitate to tell their online meet-cute stories, or will family folklore change with the times?
Christine Whitley, an educational consultant in Chicago, Ill. discovered her husband through an online dating site a decade ago. When their 8-year-old daughter wonders about how her parents met, Whitley says, "We tell her that there are a lot of ways people meet their parents in life and [online dating] is just one of them." But mostly her daughter just wants to hear about her parents' first IRL — "in real life" — date. "We went for lunch," Whitley tells the little girl, "and I wore a saucy hat and a vintage leather jacket, which dad thought was cute."
Knowing your parents' first-meeting mythology may be important for a child's emotional well-being. Emory University psychologists found that the more a child knows about his or her family — including how mom and dad met — the stronger a child's resilience and happiness.
David Dollahite, professor of family life at Brigham Young University, explains that hearing the story of how your parents met provides a deep sense of identity and security for children, knowing that they are the product of a loving relationship that started even before they came into being.
"I don't think online dating or social media will diminish the importance of telling your kids how you met," speculates Professor Dollahite. "My guess is it won't make any difference to children. In earlier times, it might have been a dance or in a park. The power of the stories is the same, and parents should keep telling them."
According to a recent Pew study, 23 percent of online daters say they married or entered into a long-term relationship with someone they met through a dating site or app. The stigma of meeting online is abating as well: 59 percent of Pew responders, up from 44 percent in 2005, believe the Internet is a good way to meet people.
As folks increasingly connect on sites like Twitter and Tumblr, kids will be hearing more about how their parents first followed each other, or how mom reblogged some of dad's posts and then dad commented on mom's YouTube video.
L'Heureux Lewis-McCoy, professor of Sociology at the City College of New York, met his wife, Aisha, on Twitter in 2009, when a mutual friend retweeted one of Lewis-McCoy's blog posts, which prompted Aisha to scan her future husband's feed. Twitter interactions ensued and a month later they met for lunch — at which, Lewis-McCoy says his wife exhibited "all the great intellectual qualities" that drew him to her online.
"I think I'd be willing to tell [our kids] that we met as friends first, which we did, and then let it grow into a relationship," explains Lewis-McCoy, who doesn't have any children yet. "Because neither of us was online for dating, it was about getting to know each other, then deciding if a relationship made sense."
For many, online dating is about efficiency. Instead of going on fifty bad dates, adults can focus on people they have the most in common with — from favorite authors to favorite foods. And the "how mommy and daddy met" story may just shift to the first "real" date, rather than focus on the online vetting process.
Michael Bowen, of Washington, D.C., says his wife Olivia was on a list of suggested people that Match.com sent him one day.
"All the others were quite unattractive, but Olivia had one picture that stood out to me," says Bowen. She ended up looking quite different in person, he says, but just as beautiful to him. "In her profile, there were also some things that attracted me. She mentioned John Irving, and liking to cook with bacon."
On their second date, they went on a "bacon safari," looking for dishes with bacon at various restaurants — a story any kid would surely relish.  
These days, there's absolutely no shame to online dating, believes Steven Fair of Atlanta, Ga., who met his wife of eight months on JDate. "Both of our sisters met their husbands online as well. My old rabbi told me a couple years ago that 50 percent of his wedding are now JDate weddings."
Fair's cousin-in-law, Jon Levin, of Hunstville, Ala., also met his wife on JDate. Levin is the father of 1-year old twins, and says if something better hasn't been invented by the time his son and daughter are ready to "look seriously," he will definitely recommend online dating to his kids.
Jacoba Urist is a health and lifestyle reporter in NYC. Follow her on Twitter @JacobaUrist.