/ Source: TODAY Contributor
This article was updated on Sept. 7, 2017 with additional product-based opportunities (from bedding-in-a-box donations to jewelry to pillows), starting with #8 below.
As Hurricane Irma looms, charities still need your help with relief efforts in the aftermath of Hurricane Harvey. Both Texas-based and national relief organizations are listing their most pressing needs in online wish lists, and there are other ways to help out.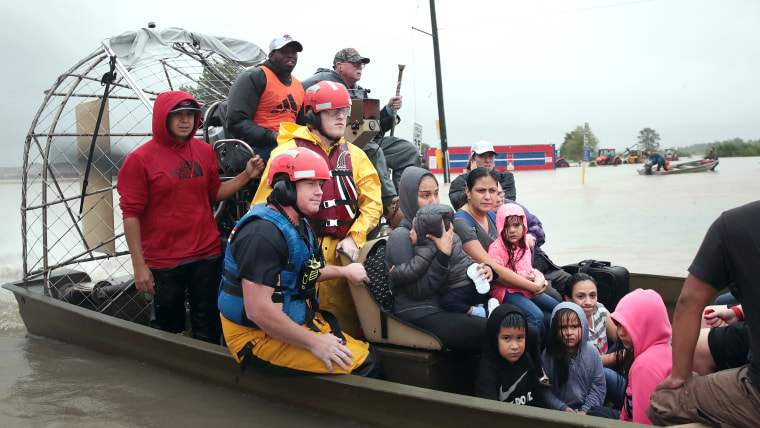 While those far from the areas affected by Harvey can feel powerless to help, a simple visit to an online retailer like Amazon can make a big difference for a charity on the front lines of the clean up efforts. You can shop directly for items that storm survivors need... or buy yourself something nice from a company that donates all or some of its profits to storm relief.
Here is a list of just some of the ways you can help.
1. Give to the SPCA of Texas/Jan Rees-Jones Animal Care Center
This Dallas-based animal shelter has created an Amazon wish list to reflect their needs — from cat litter to dog treats — as they help the pets of evacuees.
"The SPCA of Texas is working hard to help the evacuees' pets coming to North Texas," the Texas animal rescue wrote in a Facebook post. "The support we've felt from everyone across the country has been truly incredible! You all have donated hundreds if not thousands of items to help the evacuated pets in our care."
The group is using its Facebook page to update readers on relief efforts -- and has repeatedly had to deny the cruel rumor that it is euthanizing animals rescued from Harvey.
2. Give to the Animal Defense League of Texas
Used or new towels, flat sheets, non-scented baby wipes, blankets, crates, and pop-up kennels are just some of the needs listed by the Animal Defense League of Texas on their Amazon wish list.
The group also is seeking monetary donations, and those in the San Antonio area can drop off pet-supply donations. One bit of good news: Due to what the group's website calls "an amazing response," it's not currently seeking families to foster rescued Harvey animals.
3. Donate supplies to the Refugee Services of Texas-Houston
A list of supplies needed by this charity, which provides resettlement services to refugees and other displaced persons in the Houston area, can be found on their Amazon wish list. Needed items range from dictionaries to coffee filters.
4. Send donations to the Texas Diaper Bank
"Please consider purchasing items off of our wishlist to send to those that are being effected by Hurricane Harvey," the charity wrote in a Facebook post. "Every diaper and every wipe counts."
A complete list of items needed by the Texas Diaper Bank can be found on their Amazon wish list. And if you're near San Antonio, follow them on Facebook -- they've posted calls there for volunteers to come help when a large donation arrives.
5. Give to the American Red Cross
The American Red Cross has designated items, such as portable cribs and power outlets, needed for relief efforts on an Amazon wish list specific to Hurricane Harvey.
6. Support the Junior League of New Orleans Diaper Bank
The Junior League of New Orleans is helping Hurricane Harvey victims by accepting donations to their own diaper bank and passing them on. On Aug. 31, the group posted that 30,000 diapers were headed to the Texas Diaper Bank, and more are being accepted.
"Many agencies will be providing aid, and JLNO is uniquely positioned to help families through its Diaper Bank," the agency wrote in a Facebook post."We are accepting donations of diapers, baby wipes, diaper cream, and feminine products."
A complete list of the needs of this charity can be found on their Amazon wish list.
7. Shop with Amazon Smile
By choosing a charity, such as the Red Cross, through Amazon Smile, a portion of all everyday purchases made on Amazon will be donated to a chosen organization.
Local businesses have also banded together to create products that give back to the community - if you don't want to send something to a larger charity or make a purchase through Amazon, supporting one of these companies is good way to give right to the source.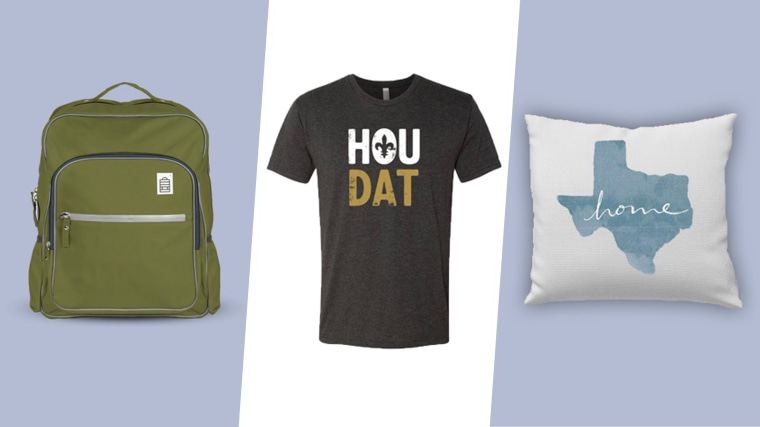 8. Purchase a #TexasStrong Necklace
You can wear symbols of the Lone Star State's strength and help out at the same time.
The #TexasStrong Necklace was designed as a symbol of Texas unity by local designer Christina Greene. It features the state's shape with a turquoise stone marking Houston. All proceeds from its sale will be donated to the J.J. Watt Fund, Houston SPCA and individuals without a home, or you can also specify a charity of your choice.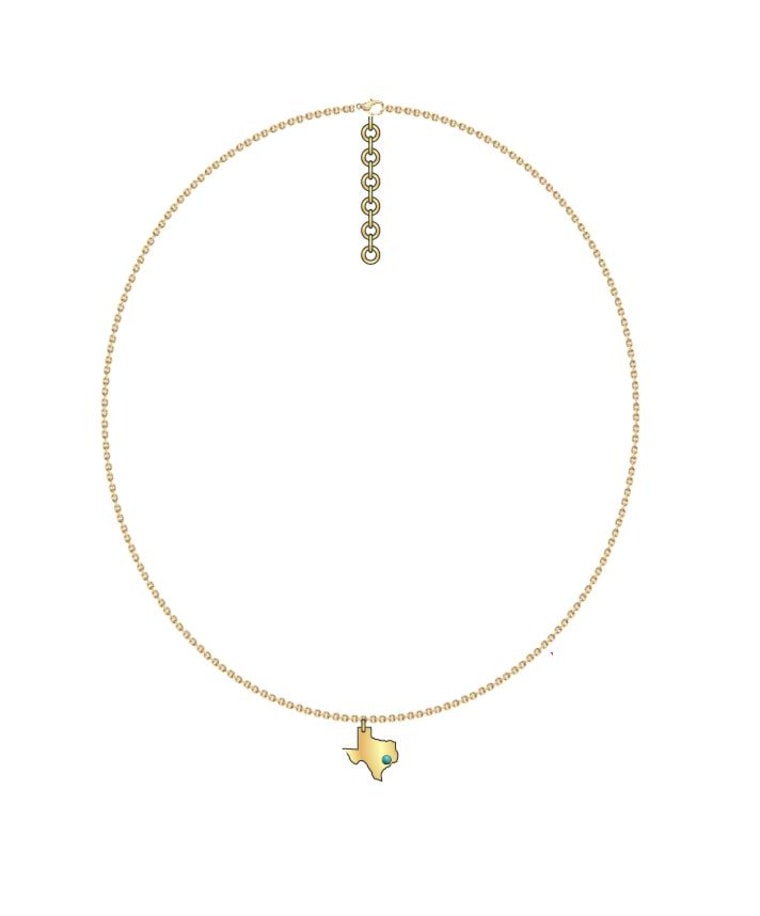 9. Help people ReStart with bedding-in-a-box
Some families have lost everything: help them start over with a ReStart box ($99) from local company Remodo. Remodo sells collections of affordable, yet chic bedroom decor that comes in a single box and can outfit an entire room. Their ReStart box includes bedding, a pillow, a blanket, storage bins (to hold clothes, toys, diapers), a picture frame and a tray that will all go directly to a family in need. "By donating one of our ReStart boxes, you are giving the gift of an entire room to someone who has nothing and you know exactly where your money is going," the site notes.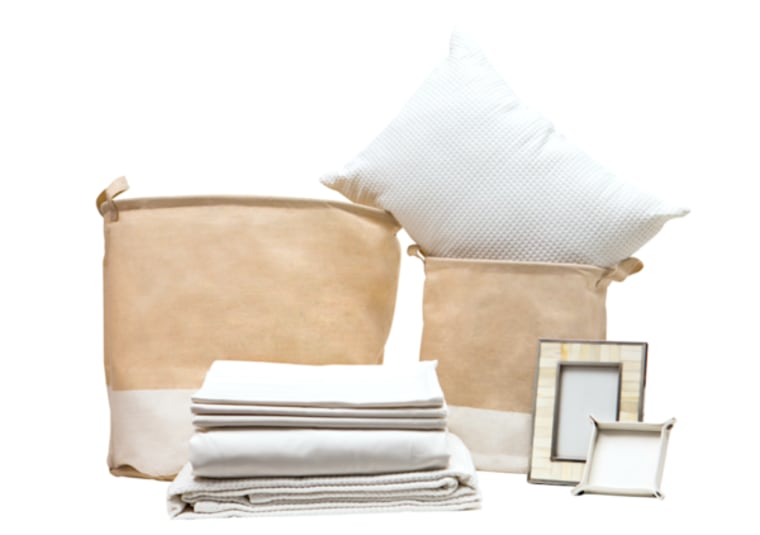 You can also donate a ReStart pillow for $28 or order one for yourself and have the proceeds go directly to a family in need.
"We will update you with photos of where your donations are being sent as we work with the Red Cross and local organizations," the site promises.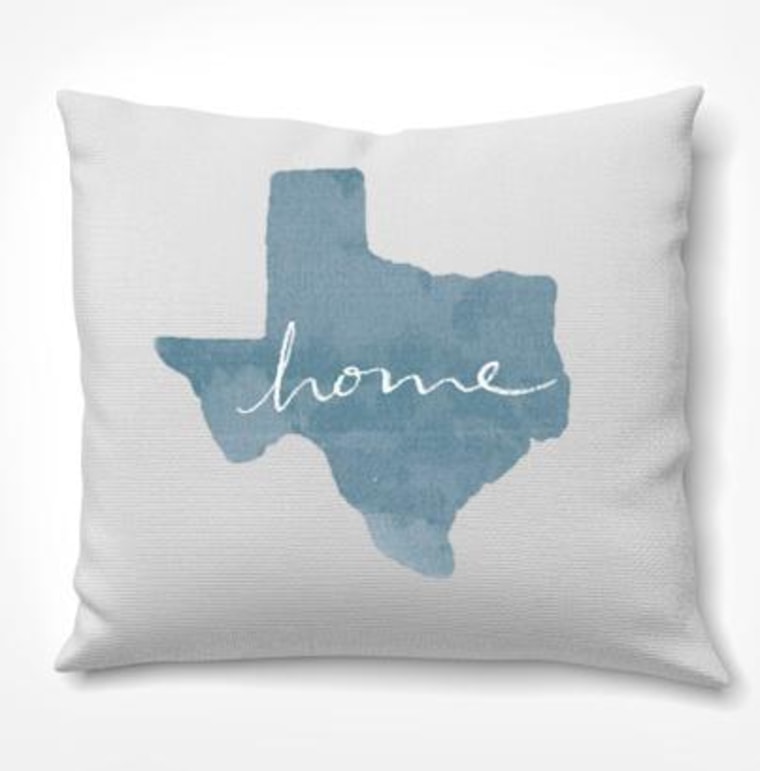 10. Give backpacks & school supplies to local kids
Kids and schools are especially vulnerable in disasters like Harvey. Buy a HERO backpack and another one filled with school supplies will be sent to a child in need.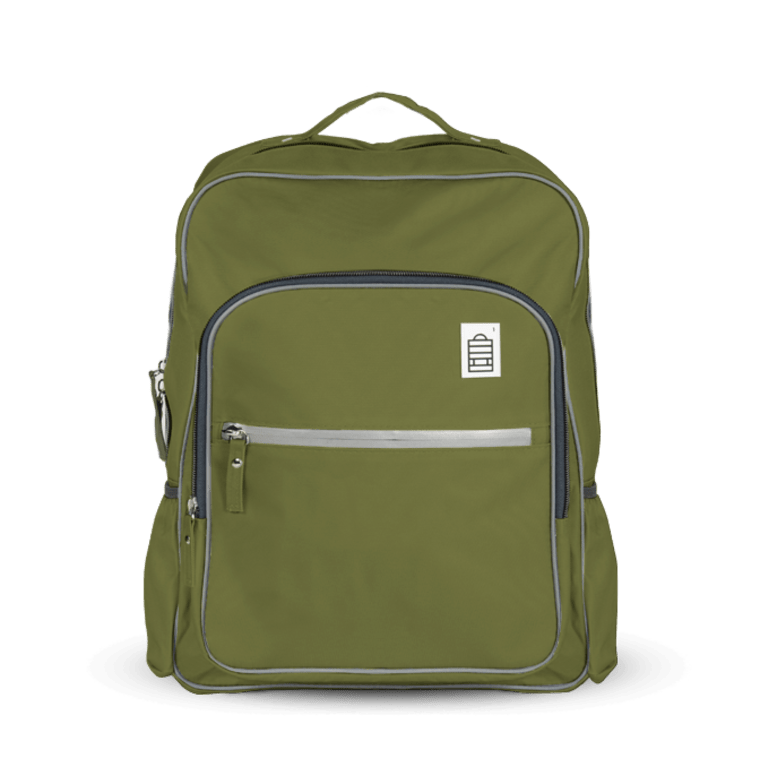 "The backpacks will be sent to the Houston-based Rick Anthony Athletic Foundation who will fill them with supplies and distribute to the 160+ school districts that have been shut down," the site notes. In addition to supplies, the 12,000 children displaced by the storm need hope. Since each HERO backpack carries the story of an inspiring hero, with your help, we have a real opportunity to make a big difference."
11. Rock this shirt for New Orleans loves Houston
New Orleans and Houston are close in distance, and also in friendship. NOLA site Fleurty Girl has designed a T-shirt playing off the famed New Orleans Saints' football chant, "Who Dat?", changing it to "Hou Dat."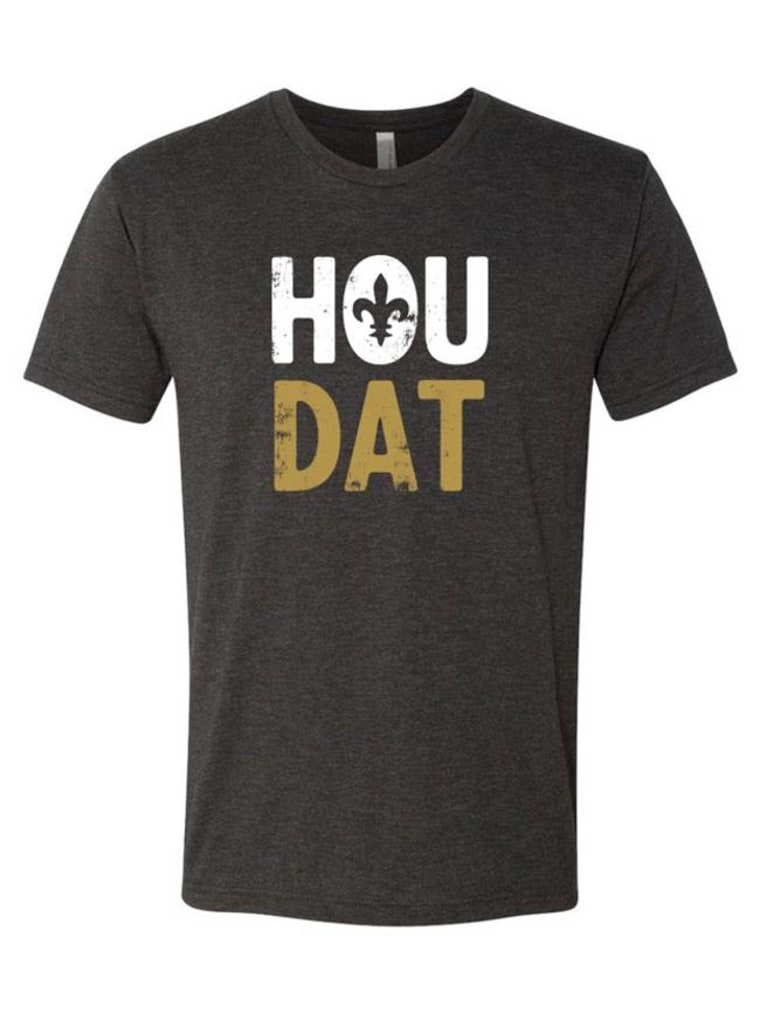 Proceeds from the sale of the $20 shirt will be donated to the Feeding Texas food bank helping affected areas.
"We haven't forgotten that Houston helped New Orleans during Hurricane Katrina," the site reads. "Now it's our turn to help them."
Gael Fashingbauer Cooper contributed to this story.