As Hurricane Irma continues its destructive path toward Florida, it can be a worrisome time for college students in the crosshairs of the storm — and their parents back home.
Decisions about whether or not to travel home, or how to find a safe place to stay if that's not an option, can be overwhelming without some help.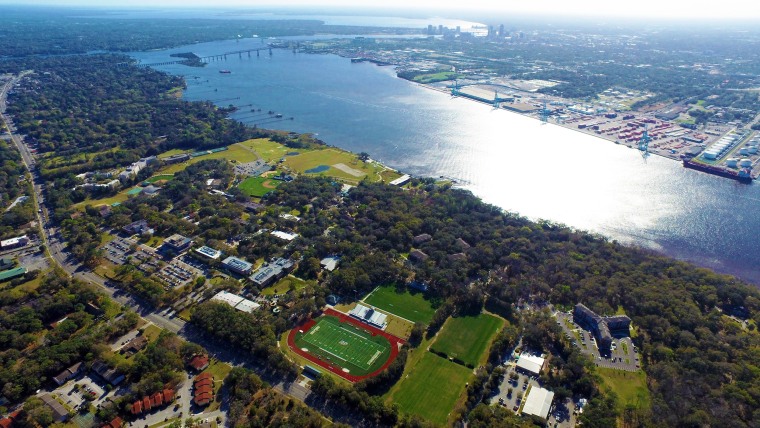 "We've got students from almost all 50 states and about 30 foreign countries, so this is a little different from a state school where everyone drives an hour home back to mom and dad,'' Tim Cost, the president of Jacksonville University, told TODAY.
"If you're living in Bangalore or Shanghai and your child goes to Jacksonville University and you hear 'state of emergency' and any newsfeed says 'biggest hurricane ever,' those two are going to have me talking to you." Cost said. "The sense of fear dissipates as (parents0 get more information and they get it sooner."
Never miss a parenting story with TODAY's newsletters! Sign up here
In preparing for a storm of this magnitude, colleges need a detailed plan of action in place and to quickly disseminate that information to students and parents.
For many Florida schools, planning for a hurricane is a regular occurrence, including Hurricane Matthew last year.
"Many times the parent's No. 1 concern is just, 'Are you able to keep my kid safe, or should I bring my kid home?''' Cost said.
At Jacksonville University, which has about 4,100 students, there is a detailed plan on the school website about the school being closed from Friday through Tuesday, along with directives for students whether they are leaving campus or staying.
Cost even gives out his personal cell phone number to all students and parents in order to quickly answer any questions. The school also provides regular updates through mass emails, text messages and social media, as well as Facebook Live updates with university officials.
"A hundred percent of our students are mobile, and they don't want to read a 16-paragraph email,'' Cost said. "They want a quick hit, and they want regular updates from us. Facebook Live has been a great tool for us."
Several schools have either already cancelled classes or evacuated their campuses ahead of the hurricane, which is expected to hit land in Florida with winds potentially over 155 miles per hour on Sunday morning, according to TODAY meteorologist Al Roker.
The University of Miami in Coral Gables is closed to non-essential personnel through at least Sunday and will relocate any students not leaving campus to a government shelter.
Bethune-Cookman University in Daytona Beach issued a mandatory evacuation of its campus on Wednesday.
The university posted a checklist for students on its website about covering electronics and cleaning out residence-hall refrigerators in advance of leaving and provided updates on social media about procedures. There also is an online contact form that students were required to fill out before leaving campus.
"We managed something similar through (Hurricane) Matthew last year, so we're in regular communication with parents and family members about the severity of the storm and what could take place,'' Bethune-Cookman spokesperson Ursula James told TODAY.
The university's emergency management officials have been working closely with Volusia County officials to help any students who do not have the option of returning home. Those students will be transported to designated shelters in the area.
"The campus feel isn't too bad,'' James said. "Students aren't panicking because we've communicated to them what's taking place and making sure we're preparing them."
The University of South Florida, a school of 40,000 students in Tampa that also has campuses in St. Petersburg and Sarasota, is closed from Thursday through at least Monday. Officials started communicating with parents and students on Tuesday to outline the plan for the approaching storm.
"Our messaging to family members is if your student can't go home, don't worry, because we're going to take care of them,'' Danielle McDonald, the University of Florida dean of students, told TODAY. "We prepare all year for the worst and just hope we never have to use it."
The university is keeping a residence hall open and staffed to provide its population of international and homeless students a place to stay, along with any others who are not leaving campus. If Hillsborough County officials declare any mandatory evacuation, the school will transport students to a designated shelter.
Coordinating with government officials is crucial for universities given the uncertainty of where the storm will ultimately hit. Florida Atlantic University in Boca Raton has cancelled classes through Sunday, but is keeping residence halls open.
"We work with authorities at the state and local level to ensure we can provide our community accurate and timely information to help them properly plan for the impending impact of a tropical weather event,'' FAU spokesperson Joshua Glanzer said in a statement to TODAY. "Hurricane forecasts can change however so we are always monitoring the situation and updating our community as needed."
Follow TODAY.com writer Scott Stump on Twitter.