Amy Krouse Rosenthal made headlines in March 2017 when she wrote a heartbreaking personal ad for her husband weeks before she died from ovarian cancer. Her daughter, Paris, spoke to TODAY for the first time since Amy's death and wrote the exclusive essay below about how she's carrying on her mother's legacy with a project near to Amy's heart.
My mom and I wore matching silver thumb rings, we both have small tattoos on our right ankle, we drink our coffee super hot and with almond milk and we wear the same Fracas perfume. (Well, that last one is really more about me trying to be like my mom.)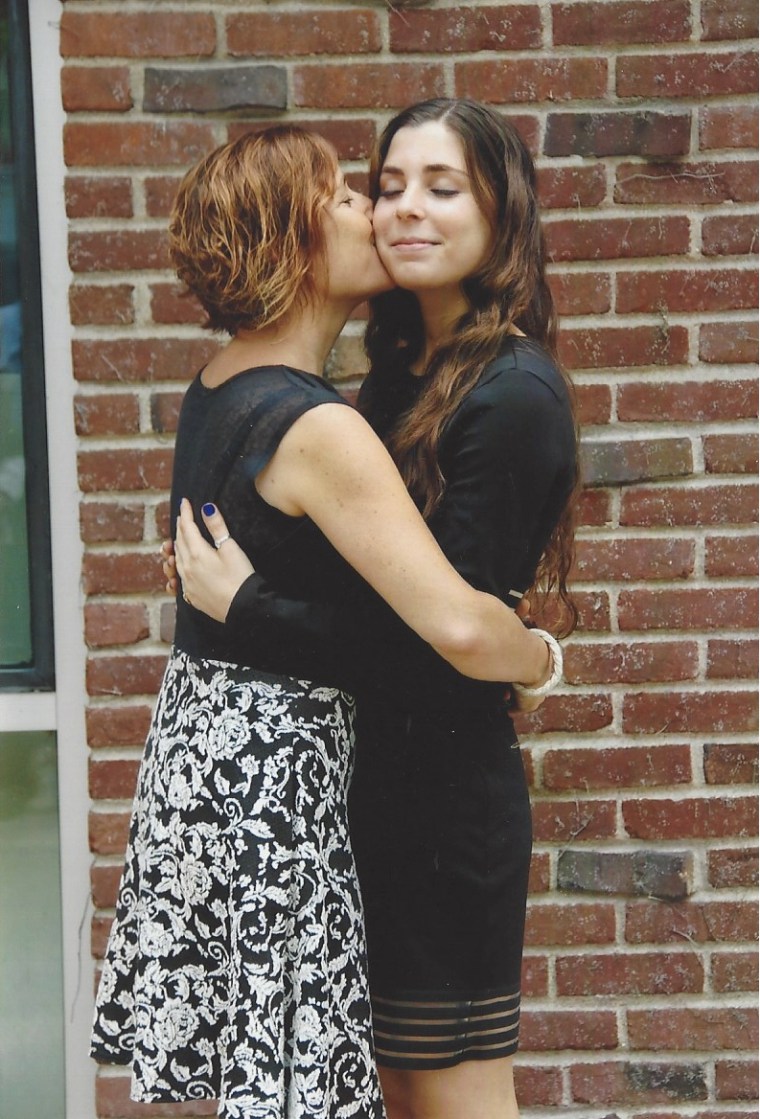 Our views of the world were synchronized. We reacted the same way to joyful or difficult moments in our lives, we approached our relationships in the same way and our organizationally-inclined personalities have manifested by way of constantly making lists— it's in our DNA.
This leads me to Project 1,2,3. Amy challenged herself to come up with something new every day that could be expressed in a list of three, just because. She is determined person, she is creative, she is unique, and again, she is a list person.
I was able to spend over two months at home with my mom, every single day while she was in hospice. For that unmatchable time with my mother, I am forever grateful. During those weeks, I watched the 1,2,3, process intimately as ideas percolated in Amy's brain and then turn into beautiful pieces of art on paper.
As Amy's health started to decline, I became a more integral part of the 1,2,3 Project. I helped her solidify which concept to post that day. I helped draw out the ideas when her handwriting failed her. I helped take the photos to post when her energy was limited. I was honored to be mom's helper, to say the least. I watched the really good days of the project, but I also watched the project come to an end when Amy realized "there are other things I need to be tending to, creating and focusing on with my limited time," as quoted in her post informing people that the project was ending.
I was home alone, staring out the window, which happened to be the windowsill in which a mini version of Amy wearing a button dress, holding a yellow umbrella, made out of yarn rested. Our home is a place where symbols of Amy are omnipresent. No longer able to touch or see my mom anymore, this moment wholeheartedly ignited something within me.
I must continue this project, but with my own twist.
My project is about sharing our relationship with the world, it's about letting everyone know how I feel about her. It's about representing all that encompasses the Rosenthal family. And it's about tangibly acknowledging my mom in some way everyday. It's the only way I know how to get through this.
RELATED: Dying woman writes heartbreaking personal ad for her husband
"You are linked in my thoughts and heart in a way that is so constant, it's almost like I'm breathing you with every breath," my mom once wrote to me. Well, she is linked in my thoughts and heart in the exact same way — and that's why I need to do this.
You can follow along with Project 1,2,3 on Paris' Instagram page. You can also learn more about the family's AKR Yellow Umbrella Foundation here.