Which baby names are hottest right now? Nameberry.com compared views of our name pages for the first month of summer 2016 with the same period last year in search of the names that had made the most dramatic leaps. We only considered names that had received at least 100 views and calculated the percentage jump over last year. The results: Ten surprising girls' names and ten for boys strongly influenced by pop culture.
The 20 hottest baby names of summer 2016 are:
Girls
Thomasin
What made this obscure — no babies were named Thomasin in the US in 2015 — female version of Thomas leap more than 1000 percent this summer? Thomasin is the appealing protagonist of the highbrow horror movie "The Witch."
Leire
The Basque place-name Leire is one of the most popular girls' names in that region of Spain but virtually unknown in the US. Pronounced LAY-ree, this name jumped 850 percent on Nameberry this summer, perhaps due to the influence of singer Leire Martinez.
RELATED: Oh baby, baby! In just over two years, mom has three sets of twins
Rae
The resurgence of Rae — it's up 425 percent — may be thanks to the Star Wars character Rey or Pioneer Woman Rea Drummond or its status as a stylish middle name à la singer Carly Rae Jepsen. In the Top 500 a century ago, Rae fell off the US list a generation ago but is now making a comeback.
Eden
Nevaeh and Heaven may be slumping, but Eden is hot, in the Top 200 in the US, England, and Australia and up over 350 percent on Nameberry this summer. Along with its lovely meaning, Eden is a cute route to adorable short form Edie.
Wren
It's a bird, it's a name, it's one of the hottest choices in the middle. The girls' name Wren is up over 260 percent this summer, in line to become the Ann or Lynn of the next generation.
Ruby
Can you be popular and hot at the same time? Ruby proves you can, with views up 250 percent this summer and already ranking in the Top 100 in the US and the Top 25 throughout the rest of the English-speaking world. Ruby is sure to climb even higher.
Cala
Cala is a simple-yet-distinctive Arabic name meaning castle, attracting 225 percent more attention this summer than last. It also means cove in Spanish and may be a fresher substitute for the biblical Kayla.
Bernice
Biblical Bernice gives proof to the Hundred Year Rule: It peaked in the US in 1921 and fell of the list completely in the early 80s, just in time for the new generation of parents to rediscover it. Bernice is up over 200 percent this summer.
RELATED: Cute overload: Snoozing identical quadruplet girls star in new baby photos
Vega
This astral name with an animal meaning — it means "swooping eagle" in Arabic — is popular in Spain and also hot for summer 2016, up over 200 percent.
Francine
To the uninitiated, Francine may seem like a Mad Men-era throwback, but it's newly cool — and hot — since It Couple Casey Neistat, a Youtube star, and jewelry designer Candice Pool chose it for their daughter. It's up over 200 percent over last year.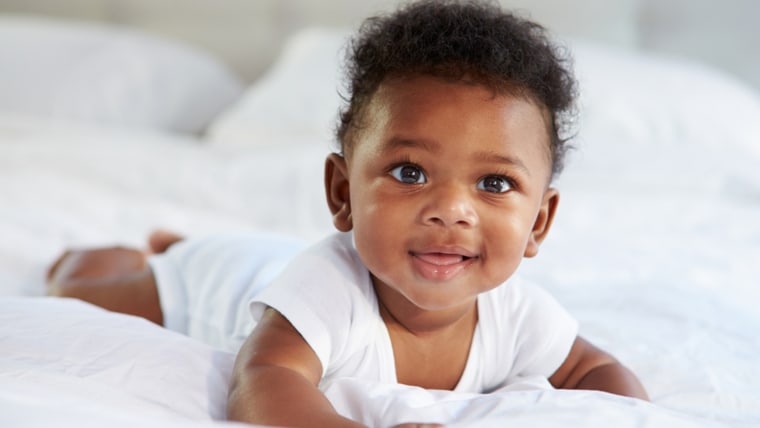 Boys
Kylo
Our Number 1 hottest boys' name is easy to track: Interest in the name Kylo exploded with the Star Wars character played by Adam Driver. Views of Kylo spiked nearly 1500 percent this summer, which will undoubtedly translate to lots more baby Kylos.
Corin
Corin is the opposite of Kylo, a name whose popularity is up 500 percent for no apparent pop culture or celebrity-related reason. It may simply be that the boys' name Corin has both a Shakespearean pedigree and a stylish two-syllable n-ending sound. It's simple yet unique, given to only 23 boys last year. Expect to meet many more little Corins.
Rex
It's a wonder Rex has stayed so quiet through the popularity of Max, Pax and other x-related names, but now interest in Rex is up nearly 300 percent.
RELATED: Could baby name trends predict the election? See which candidate is ahead
Colm
Irish writer Colm Toibin and actor Colm Meaney helped make this name famous. Pronunciation is like Colin with an m at the end. The Anglicized form, Callum, is popular in England. Colm is up this summer over 250 percent.
Oak
Most botanical names fall on the girls' side, but the strong and simple Oak is an exception. Up 230 percent, this name was given to just 25 boys in the US last year though Oakley is a rising star for girls.
Jace
Does it sound like Chase or like the initials J.C.? That may be the question that sends so many people to the name on our site, with views up over 200 percent this summer. This Top 100 name, a successor to last generation's Jason, is usually pronounced with one syllable.
Theo
Theo has risen more than 500 places on the official lists in the past five years and is wildly popular throughout Europe. And all signals point to Theo rising a lot higher, with views up 184 percent.
Dane
Dane may be the Wren of the boys' side, a short simple name that makes a perfect middle for the new parents who want to move beyond John. Dane racked up more than 160 percent more views this summer than last.
Orion
Baby names from the heavens are rising stars right now, with mythological Orion shooting up 134 percent in Nameberry views and reaching its highest point ever on the official charts. Furthering Orion's appeal is its Harry Potter connection and its status as one of the brightest constellations in the sky.
Jude
The Biblical Jude owes its rise to a single celebrity, actor Jude Law. It's in the Top 100 in England and Scotland and at its highest place ever at Number 156 in the US. And we see it climbing even higher, based on is 130 percent jump in views over last year.
Never miss a parenting story with the TODAY Parents newsletter! Sign up here.