/ Source: TODAY Contributor
Katie Reed, a parent of three boys with a fourth on the way, found herself struggling with a question many parents have faced: How does she show her young children how good their lives are compared to others' and teach them the importance of giving back?
The Salt Lake City, Utah, mom of boys ages 3, 4, and 6 told TODAY Parents she would be "100 percent on board" with giving her children toys that could help teach them the empathy and kindness she seeks to instill in them. "I'd love real toys that focus on this specific element of emotion and interpersonal play."
Reed might be in luck. This year, a new trend in toys and play is (politely) joining the long-time obsession with STEM skills with warmer and fuzzier lessons, like how to care for others and develop compassion.
Dr. Deborah Weber, director of early childhood development research at Fisher-Price, told TODAY Parents that after listening to experts and parents, her company is tweaking existing products and creating new ones that will help children develop skills identified to help them be successful in life and careers, like collaboration and communication.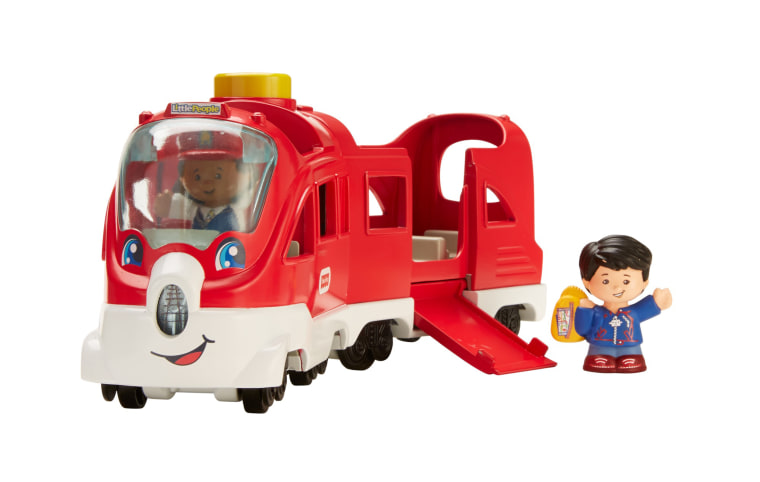 "We found that parents value happiness and high emotional intelligence equally as much as IQ," said Weber, who is a mother of two teenage daughters herself. Armed with that information, Fisher-Price designers and researchers have been working to deeply integrate emotional intelligence into products such as the company's beloved Little People line.
"We've redesigned the iconic Little People toys to help children learn more about emotions and be part of making the world kinder and gentler," said Weber. The Little People figures now feature a variety of facial expressions instead of the same happy expression on every face. Their accompanying playsets and music also now feature music with lyrics and themes centered on sharing, caring, taking turns, using manners, and helping others.
Never miss a parenting story with the TODAY Parents newsletter! Sign up here.
The classic Little People farm, for instance — an all-time favorite for generations of toddlers and preschoolers — has been renamed the Caring for Animals Farm and now includes information for parents about helping others and how they can guide their kids in this play pattern directly. The playset features new "surprise and delight buttons" in the set to guide storytelling. "Prior to this, the sound buttons prompted animal sounds and appealed to kids' love of animals without really leveraging the farm as a tool to learn how they can be caring," noted Weber.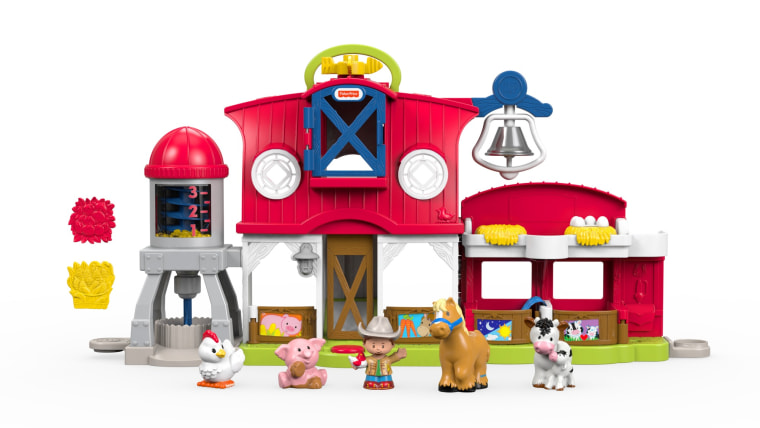 The Moodsters, a line of toys and books about five animated detectives who come to the rescue whenever their friends, Zach and Zoey, have a "feelings emergency," is designed to help build emotional intelligence skills.
Apps have jumped on the empathy trend in children's play too. Daniel Tiger's Grr-ific Feelings app features songs and activities to help kids express, recognize, and understand emotions much like the songs in the children's animated series "Daniel Tiger's Neighborhood." The show is a favorite among parents specifically because of those songs.
"After we watch an episode of 'Daniel Tiger' — for example, the one about self-calming in a bout of anger — when a real life situation mimics the challenge presented on TV, I simply sing the applicable song, like 'When You Feel So Mad That You Want to Roar, Take a Deep Breath and Count To Four,'" New Jersey mom of two Elly Lonon told TODAY Parents. "It brings the lesson clearly into focus. Or swap out 'Use Your Words' or 'It's OK to Feel Sad Sometimes' or really ANY of the songs for whatever specific lesson suits your needs."
Lonon said she often finds her 6-year-old son singing songs from "Daniel Tiger's Neighborhood" to his 3-year-old brother to help calm him down.
Children's play expert Meredith Sinclair, author of "Well Played: The Ultimate Guide to Awakening Your Family's Playful Spirit," told TODAY Parents she first began seeing empathy appear in children's games and toys several years ago with a line of board games from Peaceable Kingdom, which emphasize working together and understanding the views and feelings of other players.
"Since then, I've definitely seen a bend toward the concept of working together instead of always competing against one other," Sinclair said. But though Sinclair said she feels empathy is "vital, and anything that encourages that can only bear good fruit," she also wanted to remind parents that children don't necessarily need a game or app to learn kindness and compassion through play.
"Let's not forget the beauty and rich learning field that is straight-up pretend play for young kids," she said. "Setting up pretend play scenarios that are open-ended and age-appropriate allows kids to explore what it might be like to walk in another's sneakers."
Sinclair suggested providing young children with "plenty of diverse, unstructured time for dress-up and pretend role-playing. Role-playing provides the perfect launch pad for contextual discussion, and exploration of how other people feel and view the world around them." And, even better: It doesn't cost a thing.