It's a given: Babies are expensive. But one new dad's gripe about being nickel-and-dimed over the cost of bringing a child into the world is prompting a lot of head-scratching from fellow parents.
"I had to pay $39.35 to hold my baby after he was born," the man posted to Reddit, along with a photo of the family's labor and delivery bill, which included a specific charge for "skin to skin after c-sec."
The man, who later identified himself as Ryan Grassley in a tongue-in-cheek GoFundMe page he created to pay off the $40, made it clear that he and his wife had a "very positive" experience last month at the Utah hospital.
He did think, however, the bill's unusual charge was worth a laugh on social media.
"During the C-section the nurse asked my wife if she would like to do skin-to-skin (contact) after the baby was born. Which of course anyone would say yes to," Grassley wrote in his Reddit post, which has been viewed more than 4.5 million since it went up Tuesday.
"The nurse let me hold the baby on my wife's neck/chest. Even borrowed my camera to take a few pictures for us," he said. "Everyone involved in the process was great, and we had a positive experience. We just got a chuckle out of seeing that on the bill."
Several Reddit users found it more annoying than amusing, and took the charge as a reflection of problems with the nation's health care system. One person suggested creating a page where "people post their medical bills and compare the ridiculousness."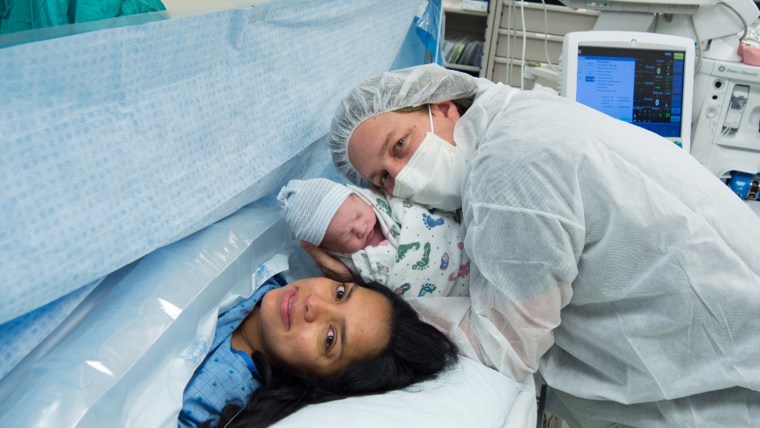 But a labor and delivery nurse offered Reddit commenters some context and an insider's perspective.
"I didn't know that hospitals charged for it, but doing 'skin to skin' in the operating room requires an additional staff member to be present just to watch the baby," the person wrote. "We used to take all babies to the nursery once the NICU team made sure everything was okay. 'Skin to skin' in the OR is a relatively new thing and requires a second Labor and Delivery RN to come in to the OR and make sure the baby is safe."
RELATED: More hospitals get rid of nurseries in 'baby friendly' move
Grassley's baby was born at Utah Valley Hospital, which advocates skin-to-skin contact between mother and child immediately after birth, said Janet Frank, a hospital spokeswoman. Although she said she couldn't comment on the specific bill without permission from the patient, she offered general background on charges involving newborn deliveries.
"Skin-to-skin is a best practice with proven benefits for both mom and baby. We do everything possible to allow skin-to-skin after both vaginal and C-section births," she said in a statement to TODAY. "In the case of a C-section, where the bedside caregiver is occupied caring for the mother during surgery, an additional nurse is brought into the OR to allow the infant to remain in the OR suite with the mother. This is to ensure both patients remain safe."
RELATED: Texting mix-up over new baby results in hilarious hospital visit from strangers
"There is an additional charge associated with bringing an extra caregiver into the OR. The charge is not for holding the baby, but for the additional caregiver needed to maintain the highest levels of patient safety."
Never miss a parenting story with TODAY's newsletters! Sign up here
On his Gofundme page, Grassley repeated his assertion that he and his wife had a positive experience with the medical staff and wrote, "I wasn't complaining or trying to send people on a witch hunt for the hospital."
"I posted the bill to Reddit because I thought it was funny," he said. "It has been interesting to see the shock from people around the world at the cost of medical expenses in the USA."
He noted that if he reaches his fundraising goal of $39.35, he would use it to "pay off this 'ridiculous" fee."
Any money donated beyond the goal "will be put towards a vasectomy because I never want to go through these sleepless new baby nights again," he wrote.
As of Wednesday afternoon, he had raised $50.