Cori Salchert had one main prayer for the foster child she nicknamed T Bear: that the terminally ill boy would live long enough to know the love of his forever family.
Salchert began adopting foster children in hospice care in 2012, when she and her husband, Mark, adopted a baby girl named Emmalyn who lived for 50 days before dying in Salchert's arms. In 2015, the Salcherts, who also have eight biological children, adopted a son named Charlie, who was not expected to survive past his third birthday. He has defied medical expectations and now is almost 5 years old.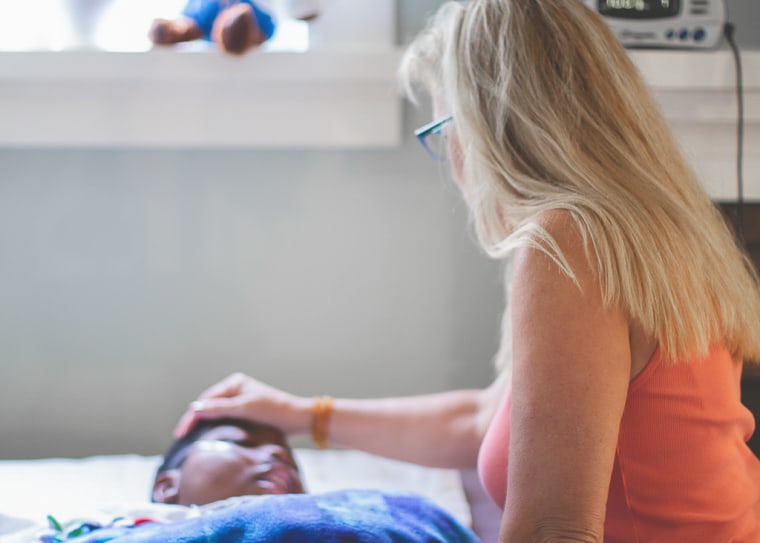 When Salchert, a former perinatal bereavement nurse, learned of T Bear two years ago, she couldn't care for the then-13-year-old due to other fostering assignments. In January 2017, the Salcherts found themselves with room in their home and asked to become foster parents for the teen, now named Samuel, who was born with leukodystrophy, a genetic disorder that causes the brain to degenerate.
"Samuel was not a baby," Salchert told TODAY Parents. "But he had a terminal disease and my heart wouldn't let me leave him at the hospital just because I thought I was a 'baby' hospice mama. I found myself saddened to think he wasn't wanted because of his many physical disabilities as well as his age and size, but then I realized it wasn't that he was not wanted, it was that he was waiting for us."
In March of 2017, the Salcherts brought Samuel home. Through numerous hospitalizations and a failed reunification effort with his biological mother, Salchert prayed Samuel would one day be their legal child and that when the time came for him to die, he could do so in their home surrounded by a loving family.
As Samuel's brain disease continued to progress, the Salcherts learned they would be able to adopt him.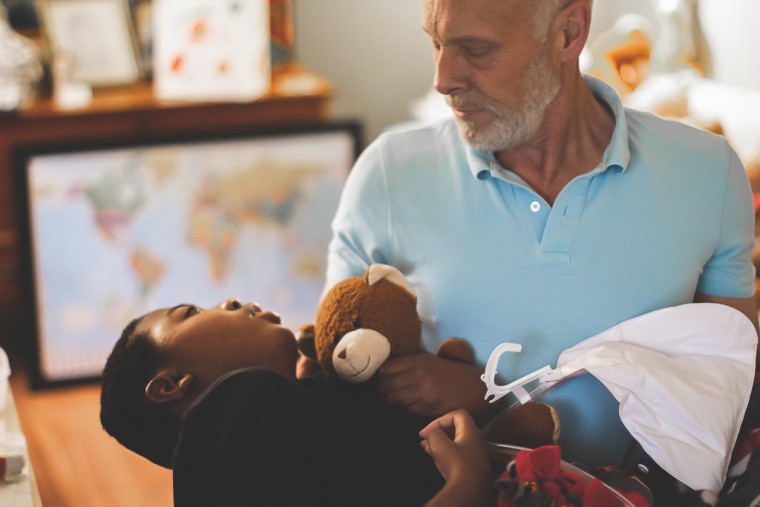 "The foster care system is broken, no one would argue with that, but there are times when it works and does exactly what is needed for a child," said Salchert. The judge handling Samuel's case even came to their Wisconsin home to perform the legal adoption, so that medically fragile Samuel would not need to be transported.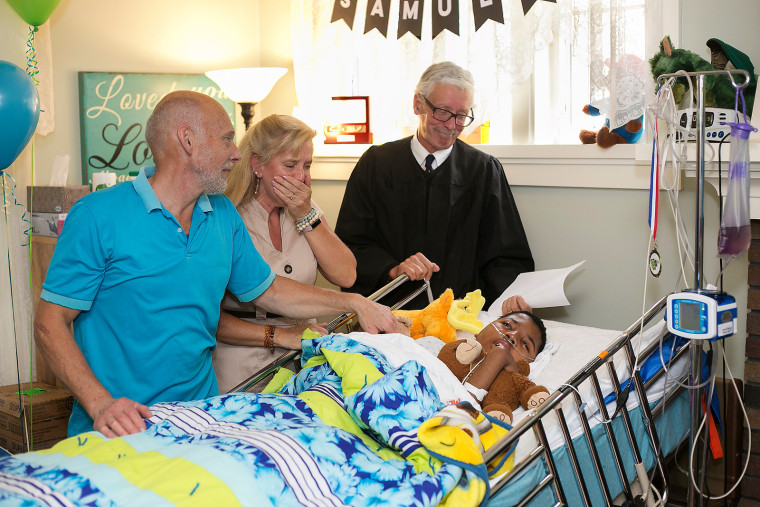 In September 2018, the Salcherts officially adopted 15-year-old Samuel surrounded by family, friends and members of the Sheboygan Fire Department and local police department. (The local EMT community are frequent visitors to the Salchert house, given their love for severely ill foster kids.)
"After declaring Samuel Salchert our own forever and always, the crowd clapped," Salchert recalled. "And Samuel had been wide-eyed during the ceremony but then broke into the most beautiful smile which everyone in the room could see."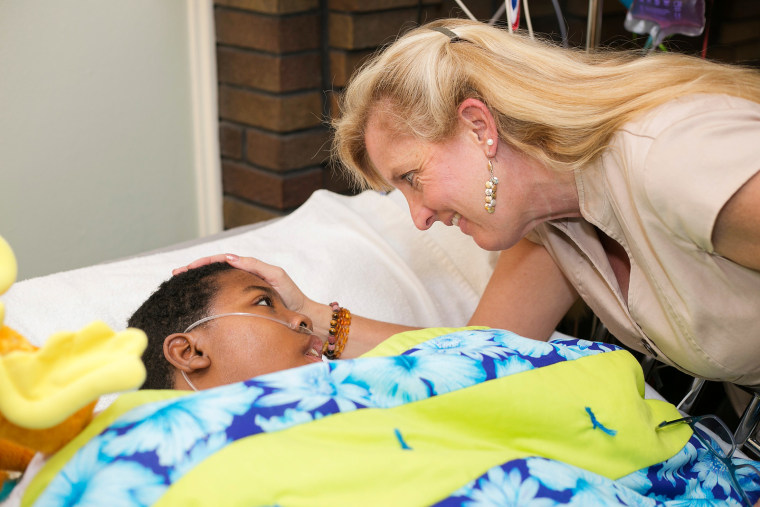 "We gave him the name Samuel because it means, 'God heard my prayers,' — fervent, tearful, hopeful and constant ones," Salchert continued. "This child, who hadn't spoken a word in more than two years, bought a community of people together and initiated perseverance, kindness and love."
Nearly three weeks after his adoption, Samuel died in the Salcherts' home — a bittersweet answer to Salchert's years of praying.
"I lay next to him holding his arm against my chest and my arm next to his. I could hear the gurgling and knew my suctioning efforts weren't effective," Salchert explained. "I laid there with tears streaming out of my eyes and pleaded with God to please take him already."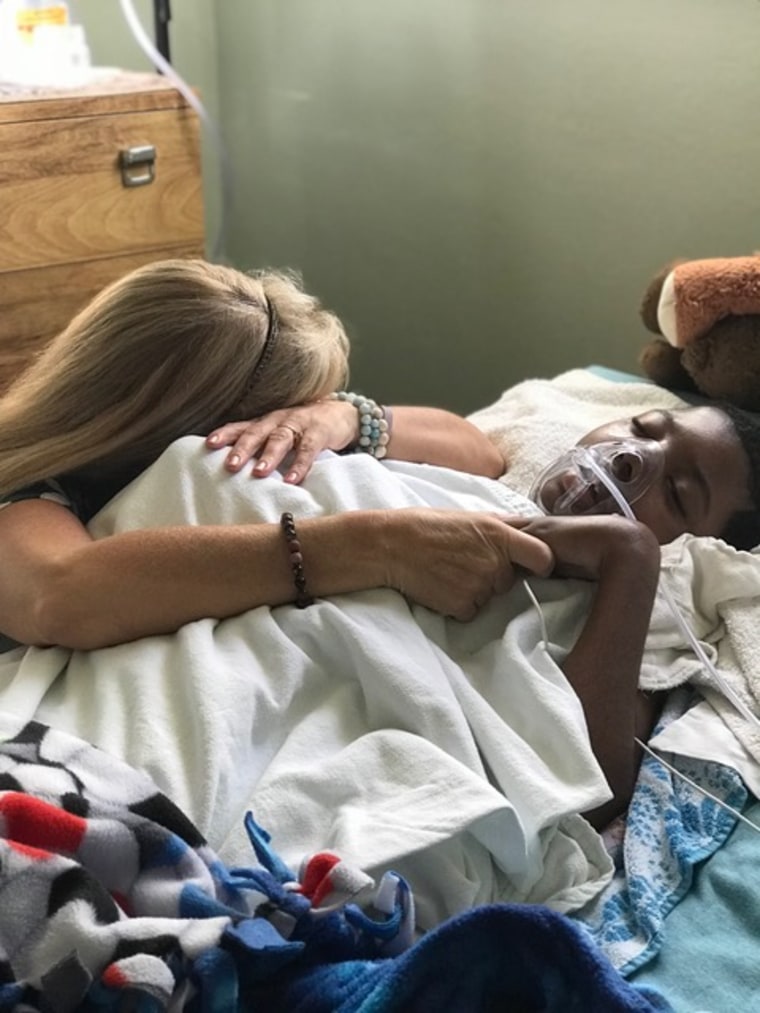 Soon after, Samuel took his final breaths.
"I cried and thanked God for the fact that I wasn't losing my sweet boy, but giving him to the one who was going to make it possible for us to be together forever," said Salchert. "My hand was resting over his heart, and I felt it stop...there is nothing pretty about watching a child die. It was not a beautiful experience, but I prayed his death would be able to be at home with our family present, and not chaotic and full of procedures and painful interventions. God heard my prayers and did exceedingly, abundantly above all I could have asked for or thought."
In Samuel's obituary, Salchert writes, "What a privilege to carry him through this life until he left to awake whole and well in his Heavenly Father's arms. There's no resting in peace for this kiddo. Samuel Laevell finally has a perfectly functioning body able to run, and dance, and possibly fly."
As she and her family plan for Samuel's funeral services, the author of "I Will Love You Forever: A True Story about Finding Life, Hope, and Healing While Caring for Hospice Babies" is making a special plea to those wishing to honor Samuel.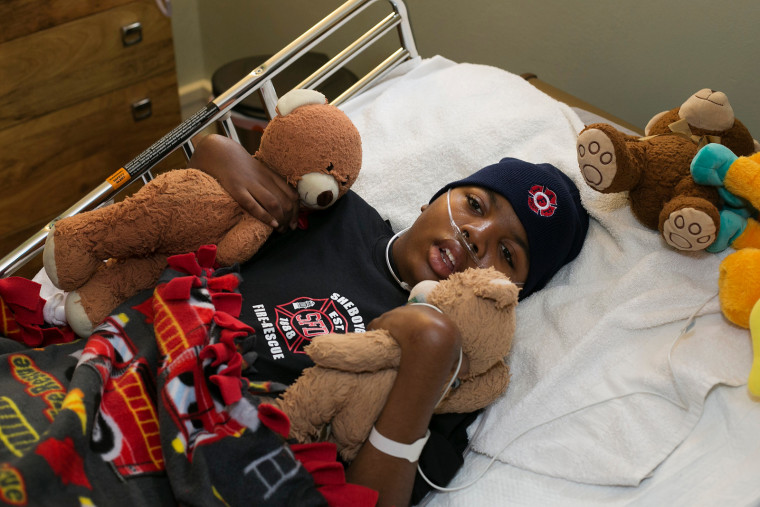 "When I first met Samuel, he reminded me of a teddy bear," said Salchert. "I told my husband I was going to call him 'Teddy Bear' as a nickname but he said, 'He's 13. He's a guy. He needs a guy's name. We'll call him T Bear.'"
The nickname stuck and the Salcherts also used stuffed teddy bears as a comforting mechanism for Samuel, and as a splinting agent to keep his spastic hand muscles from curling up too tightly.
Because of this, the Salcherts are requesting that, in lieu of flowers, those wishing to remember Samuel donate a stuffed teddy bear to the Sheboygan Fire Department, the Orange Cross ambulance service and the local police department to be given as "trauma bears" to children in crisis situations. An Amazon wishlist has been created for those who wish to donate on his behalf.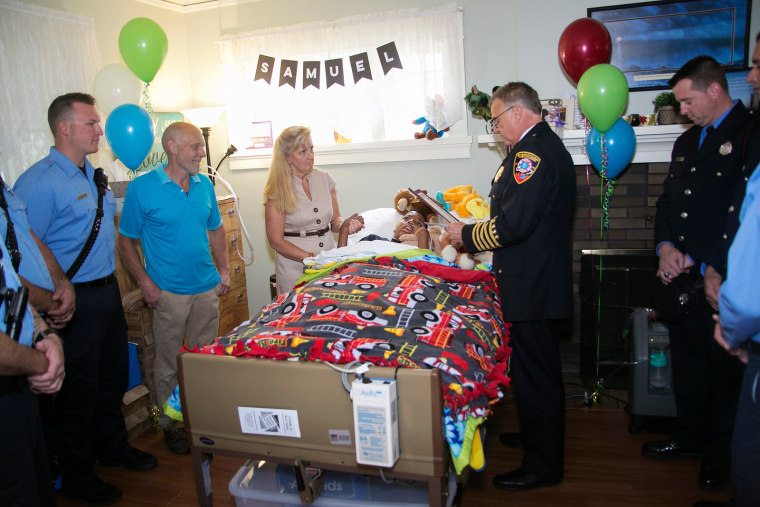 Amid her grief, Salchert says she and her family will continue caring for children with terminal illnesses.
"One child at a time," said Salchert. "I'm not aiming to change the world, but I will walk humbly with my God for as many days as he gives me, and I am confident he knows full well what he can do with the steady faithfulness of a mom, dad and family committed to do the next thing for a child in need who comes across their path."