The members of Girl Scout Troop 6000 can be often be found dancing, working with arts and crafts and building bonds of sisterhood like any other Girl Scout troop, but their connection goes beyond friendship.
They are all part of the first troop in New York City organized exclusively for homeless girls.
"It kind of feels like you're not alone,'' a scout named Sinai told TODAY. "It shows you that you're not the only one who has the same problem."
The approximately 20 girls and their families, who are part of the estimated 62,000 homeless people living in shelters in New York City, live with 100 other families in a Sleep Inn motel in Queens.
RELATED: NASCAR's Danica Patrick helps Girl Scouts race cars on the plaza
There have only been a handful of troops in Georgia, Florida and California over the past 30 years that have been formed for homeless girls, according to The New York Times.
Giselle Burgess, a single mother of five who lost her home in August, helped create Troop 6000 in February with the help of the Department of Homeless Services.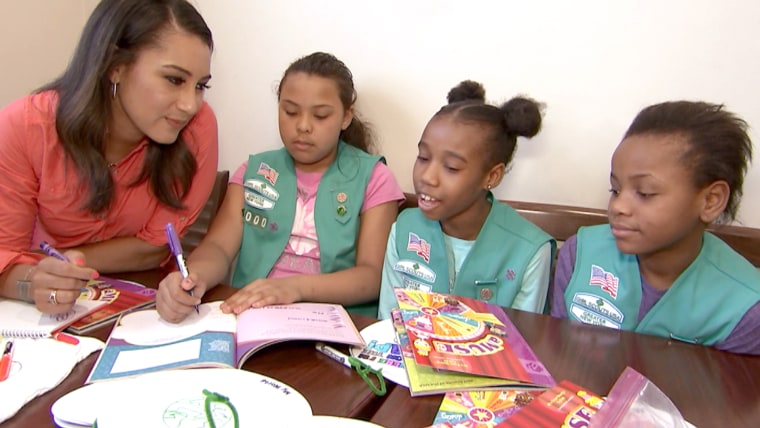 "Our mission is to instill girls with courage, confidence and character,'' Burgess said.
The $25 membership fee, the $20 dues and the $75 starter kit for each member is covered by the Girl Scouts of Greater New York. The group is also accepting donations to help with funding.
The Girl Scout troops in New York's other five boroughs are each labeled with 1000s, 2000s, 3000s, 4000s and 5000s, so the badges of Troop 6000 set them apart and are worn with pride.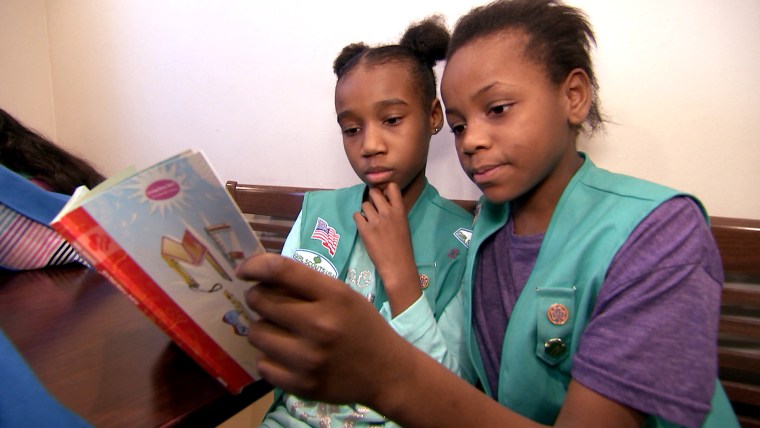 "We're all Girl Scout sisters,'' a scout named Karina said. "We're all a pack. And if you see a girl with 6,000 on, it just makes you like, we've gone through the same thing or you're still going through it."
RELATED: 8-year-old girl gives her meal to homeless man and receives extraordinary call days later
Troop 6000 is one of several initiatives aimed at helping homeless children in the city.
"Shelter used to be just three hots and a cot, but now that we've got 70 percent of the shelter system is families, we have to help children not end up back in the shelter system when they become adults," New York City Department of Social Services Commissioner Steven Banks told TODAY'S Morgan Radford.
Thanks to the program, the girls from Troop 6000 have become more than friends as they lean on one another during difficult times for their families.
"We all act like we're real sisters,'' Sinai said.
Follow TODAY.com writer Scott Stump on Twitter.