She's the co-anchor of TODAY, the co-host of TODAY with Hoda & Jenna, a busy mother of two, and she even has a wedding on the horizon. But as Hoda Kotb just told Ellen DeGeneres, she can envision an even fuller life.
In fact, there's a chance that she and fiancé Joel Schiffman are considering making room for one more bundle of joy.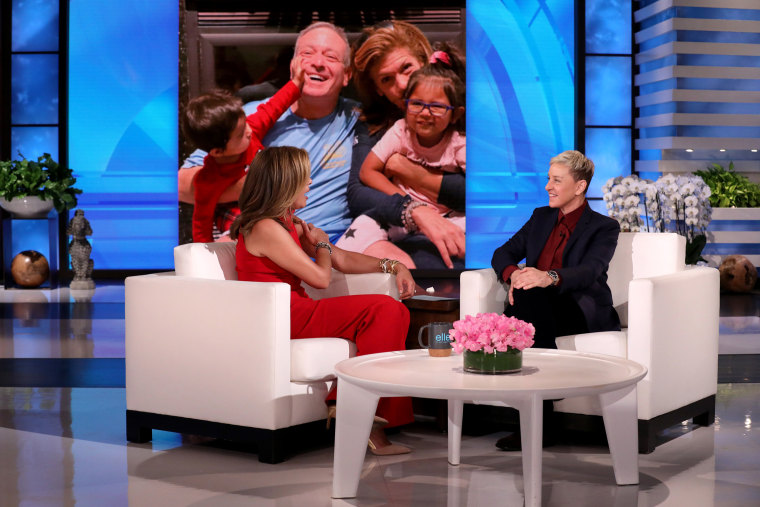 During a chat on Wednesday's episode of "The Ellen DeGeneres Show," Hoda, who's mom to soon-to-be 3-year-old daughter Haley Joy and soon-to-be 1-year-old daughter Hope Catherine, was asked about the possibility of baby No. 3, and her answer started with a big grin.
"I don't know," she said at first. "I'm not (100%) sure. I'm a sign person. I always look for signs, and I feel like there are some signs out there ..."
She's already seen a few of them — in her very own journal.
"I'll tell you, I was scribbling in my journal, and I was asking myself that question," Hoda said of having a bigger brood. "And I wrote in there, 'I'm wondering if we should.' I wrote, 'Do we have enough love?' I wrote, 'Yes.' And I said, 'Do we have time?' And I wrote, 'Yes.' And, 'Would our family be more enhanced?' I wrote, "Yes.'"
Her conclusion about a new addition? "I was thinking, maybe the answer is yes."
In a chat on TODAY Wednesday morning, Hoda weighed in further on the topic: "I have to tell you, I keep seeing stories of kids who don't have what they need. ... Every time I turn around, I'm like, 'Is this another sign?'"
Asked by Carson Daly just how sure she and Joel are about adopting again, Hoda responded: "We're pretty up there."
Hoda told DeGeneres that she had concerns about thinking that way, given her and Joel's ages — 55 and 61, respectively. But with age comes certain perks and a lot of clarity.
"I was scared, because we're older," she noted. "But then I realized, they'll have each other. … When you're parents later in life, like, watching Haley and Hope grow together, all I really want is for them to have someone to hold their hand forever. That's it. That's all I want."
Hoda elaborated more on the topic during TODAY with Hoda and Jenna saying, "I think it's not even in our hands. I think you just put it in the universe and come what may. I'm overwhelmed with how much joy I have. So, I don't want to seem greedy, but I do think sometimes you wind up not only helping your own family but someone else."
"You feel like your heart has room for more?" Jenna asked.
"There's room. There's always room, don't you think? The heart does expand," Hoda said.
And another baby would mean another hand to hold.