Go ahead and grab a box of tissues now! Trust us — you're going to need it.
Hoda Kotb returned to TODAY Monday after two months away on maternity leave, and she not only brought baby photos with her, she also brought her baby's story.
And it's a tearjerker.
Hoda — or Hoda Mama, as Kathie Lee Gifford has dubbed her — can't believe how her life is now that Haley Joy is part of it.
"I've loved her ... I think since forever," she gushed.
And the process of discovering that love started with just two words Hoda heard over the phone one day: "She's here."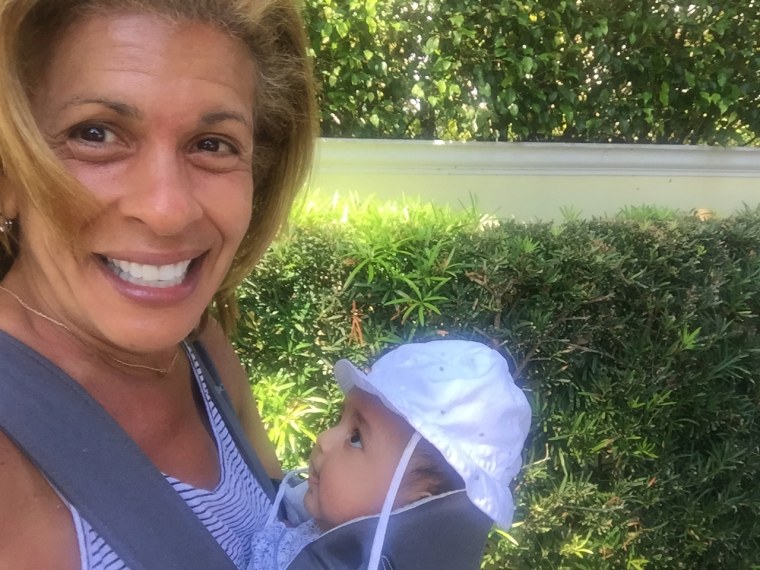 Hoda wasn't sure if or when she'd ever get the news she hoped for from the adoption agency, until "one day, I'm sitting in my dressing room," she recalled. "I was FaceTiming with somebody for a work thing and my phone buzzed. For the adoption, I had the word 'project' written in my phone ... and I saw it said 'project,' like, someone from the project was texting me.
"I sat in my office, and I took a pen and I wrote down '11:54 a.m.' Like I knew that was the moment my life was going to change, so I scribbled it down and I dialed the phone. And the woman on the other end said, 'She's here.' Like... that's all. 'She's here.' And that was it. And everything changed."
Hoda is so filled with happiness now, even the toughest moments are a pure pleasure. Stress? Baby's crying? Dog mess on the carpet? All at the same time? Great!
"I'm going to say 'thank you' right now," Hoda said she tells herself in those moments. "I'll take the bad ones. I would have begged for that kind of a day, if I could just have a child."
RELATED: Hoda Kotb is back on TODAY! Anchor and new mom returns — with baby pics
As she said that, she wept. It's sort of a normal state of being these days.
Hoda dabbed her eyes and added, "I cry over everything. I'm usually not like this, but I've become crazy."
It's a good kind of crazy, though.
And there's plenty of laughter, too.
For instance, when Hoda took Haley on her very first flight, they barely got off the ground before the baby's comedic timing kicked in.
"So she's sitting on my lap, and everyone has the face they make when they do a No. 2. ... Well, I know hers very well," Hoda said. "So she starts to do the face, and we are on the ascent, and I'm like, 'Oh, God! No. No.' I don't know what to do and I'm already panicking, and there it comes in its full glory."
RELATED: Dylan Dreyer predicted Hoda Kotb would be a mom — and that's not all!
Hoda's first reaction was to wonder how long she could get away with waiting before the other passengers suspected something, but "it was bad.
"Most people were sniffing and wondering if the old man in front of me had let one go," the new mom laughed.
Of course, ultimately, she headed to the tiny in-air bathroom to take care of it, but not before noting the new chapter in her sometimes-messy life.