A little more than a year ago, TODAY co-anchor Hoda Kotb had one of those days.
She was up at 2 a.m. with her baby, Haley Joy. Her partner, Joel Schiffrin, was out of town; her dog, Blake, pooped on the floor and then ran into a wall, breaking a picture frame. Glass shattered all over the floor, she was in bare feet, the dog was barking and the baby was crying.
"You're just, like, sitting there and the world's exploding," she said.
A few words put everything into perspective.
Never miss a parenting story with the TODAY Parenting newsletter! Sign up here.
"I remember having a short conversation with God," Hoda said. "And I remember saying, 'I would have begged you for this day.'"
Hoda said she thought about how, in the days before she became a mother at age 52 by adopting Haley Joy in 2017, she would have longed for even the most challenging day with a daughter of her own. She and Joel adopted a second baby girl, Hope Catherine, in April.
"Like, this terrible day, I would have begged on my knees for. So I remember I just literally took one breath, put her in the playpen, cleaned up ... but I remembered, for a second, having that awareness," Hoda told her TODAY co-anchor Savannah Guthrie, in a wide-ranging conversation about motherhood at New York's Central Park Boathouse.
That awareness doesn't make every second with young kids all sunshine and roses, but it has stayed with her on the hard days of new motherhood.
"I try to check myself on those rough days," she told Savannah. "And say, 'Remember when you were on your knees asking and begging for this moment? Take it.'"
Savannah, who had her first baby at age 42, said she completely related to those flashes of perspective, thinking to herself: "I'm overwhelmed. I have two kids. Wait, what?! I have two kids. Are you kidding? Oh, my gosh, when did that dream come true? In my 40s and I'm so lucky."
Hoda said she'll always remember the first time baby Haley Joy was put in her arms.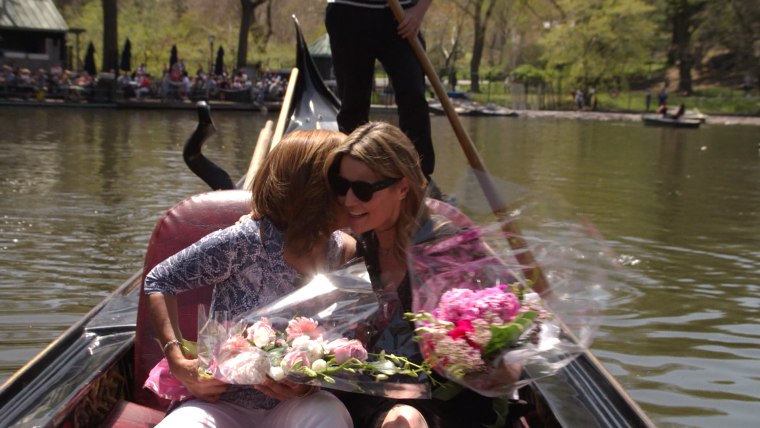 "And I remember she fit," she said. "That's all I remember. I remember thinking, 'I can't believe this fits like this.' It's like a puzzle piece that snapped in and now I'm me."
She has high hopes for each daughter, but like any mother, worries about what the world has in store.
"I want her to be two things at once," she said. "I want her to be brave and strong but kind and gentle. I want her to be someone who doesn't get rolled over, but also someone who's polite and deferential to people. I'm like, 'How do those all get together?'"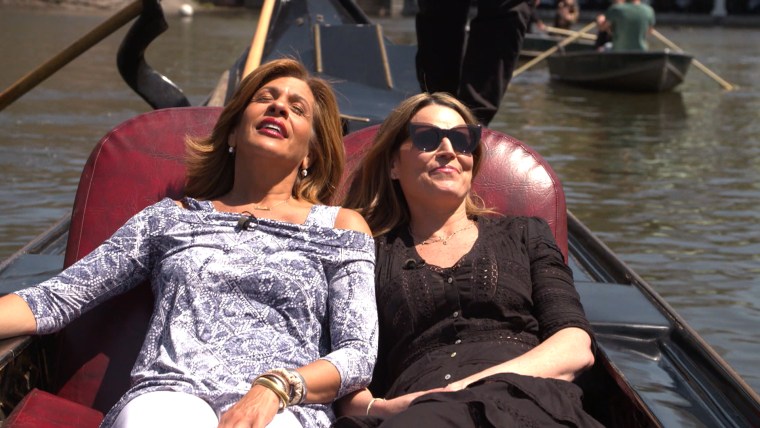 And as Mother's Day approaches, Hoda gives thanks for her own mother, Sami Kotb, who has always been her cheerleader. Growing up, Hoda said she always felt out of place in school. Her teachers were always telling her to "use her playground voice" because she was so shy and quiet.
"I sat in the back and just prayed no one called on me. Like, that's how I lived," Hoda recalled. But her mother saw a different girl, and always had confidence in her.
"I remember my mom always telling me, 'You're so beautiful. You're so smart.'" she said, following up with a joke. "I'm like, 'If I'm so beautiful, explain the seventh-grade dance.'"
Haley Joy and Hope Catherine have taught their mother a few important lessons as well.
"Number one, it's not too late," Hoda said. "If you believe in something, it may actually come true. ...
"No dream's too big."
This story has been updated since it was originally published in May 2018.