The doting aunt in her tight-knit family and the Pied Piper on TODAY segments with kids, Hoda Kotb never let on to friends just how much she wanted a child of her own.
So when she met her adopted daughter on Valentine's Day, "I was exploding in tears," she tells People magazine, where she appears on the cover with her "dream baby," Haley Joy.
"It was like a puzzle piece that just snapped in. I felt it," she said about holding Haley for the first time. "It was as if she had been with me forever."
RELATED: It's a girl! Hoda Kotb announces she's adopted a baby
Hoda, 52, revealed she had nearly given up on the idea of becoming a mom after her treatment a decade ago for breast cancer left her unable to conceive. She then got divorced less than a year after her recovery.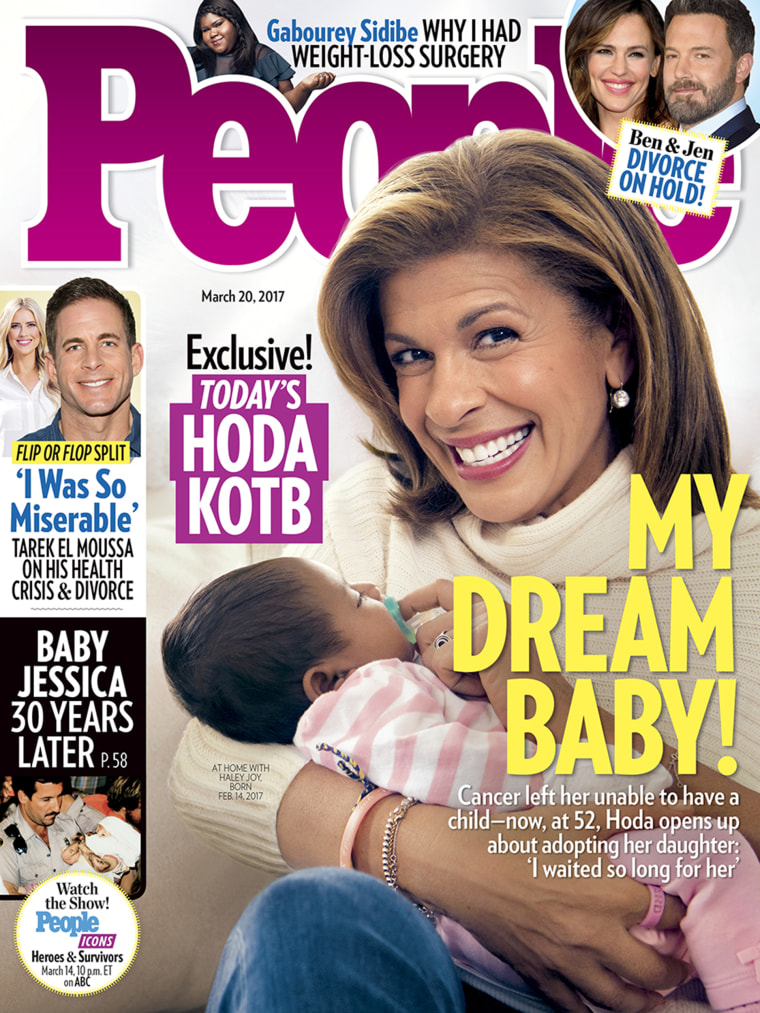 While she had her family and close circle of friends, privately, "there was a hole," she told the magazine.
"One of the things in my life I've always wanted was to be a mom," she said. She eventually realized it wasn't likely to happen, "but it was really hard to come to terms with it."
It didn't help that people often asked her if she had children.
"I'd feel like, 'Ouch.' I knew inside it was supposed to be for me," she said.
Hoda said she decided to change her fate last year.
"'Finally I said to myself one day, 'Why can't I? Why not me? I had this ache in me that I couldn't push away anymore,'" she said.
RELATED: Al Roker visited Hoda Kotb's new baby girl and 'fell in love'
She started the adoption journey last year shortly after she prepared to move in with her boyfriend of nearly four years, Joel Schiffman, 58. When she broached the topic with Schiffman, who has a grown daughter from a previous marriage, she advised him to take some time to think about it.
"And he said, 'I don't need a day. Let's get this journey going.' At that point I blubbered like a baby. It was like the dam burst," she said.
RELATED: Jenna Bush Hager meets Hoda Kotb's baby, sheds 'tears of pure, uninhibited JOY'
Hoda said she applied for the adoption without Schiffman's name to simplify the process, but was firm that, "Haley will call him Dad."
Hoda is currently enjoying her maternity leave from TODAY. She's also getting help from a babysitter with whom she has an unconventional arrangement.
"I said, 'Can you just come here and watch, and if I need to go to the pediatrician, will you tell me?'" she said. "For now, I just really want to do the whole thing. I'm not sleeping, and I don't even care."
RELATED: What's in a name? Hoda Kotb reveals the meaning behind her new daughter's name
Hoda said she drags an air mattress into Haley's nursery every night just to be next to her daughter's bassinet.
"It's one of those things where you think you've done it all, you think you've felt it all," she said. "But I just didn't know that this kind of love existed."