Hoda Kotb and Jenna Bush Hager got emotional May 10 when they started a discussion about "brutal honesty," which brought up a tough moment in their friendship.
"There was a time when I was feeling a little sad with you," Jenna told Hoda, adding that while neither of them did anything wrong, she held in her feelings so much that she just "exploded."
"If you can't tell the truth, that would be horrible," Jenna said, reflecting on the importance of honesty.
"You're always so honest. I think it's such a good thing," Hoda replied. "I mean, I can't believe you're bringing up that thing."
After asking Hoda's permission to talk about the moment on TODAY with Hoda & Jenna, Jenna explained what had happened between the two friends.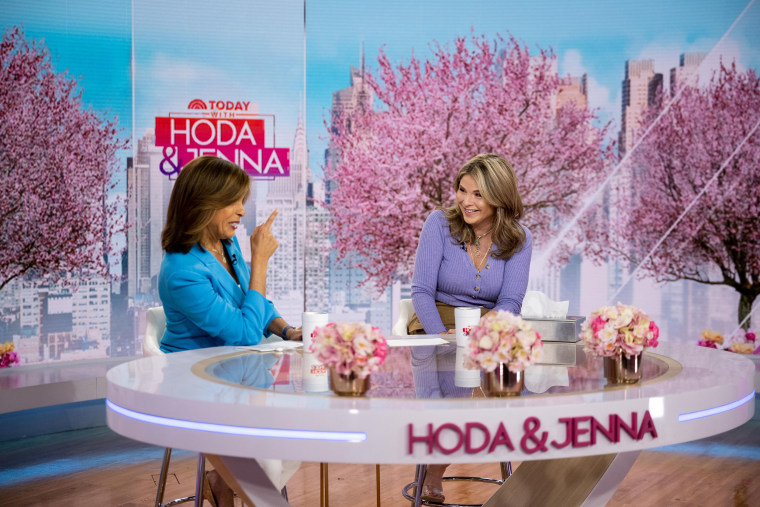 "When Hoda's daughter wasn't feeling well, I just wasn't there for her the way I wanted to be, and I didn't know how to be," Jenna shared. "And I felt terrible about it."
Jenna said she didn't know what to do about the tough feelings, so finally, she "just said it."
"I said, 'I feel like I haven't been there for you,'" Jenna recalled, as tears ran down her face.
Hoda also remembered the moment.
"It was, first of all, one of the most beautiful statements," Hoda told Jenna. "You've had so many beautiful statements, and it touched me deeply. And it meant everything to me that you said that."
After the pair started getting emotional, they took a pause to wipe away their tears.
"What is happening? We went from brutally honest to weeping," Jenna said.
A few months ago, Hoda's 3-year-old daughter, Hope, was in the ICU for several days and the hospital for more than a week due to an illness. When Hoda returned to TODAY March 6 after her absence, she shared that Hope was back home.
"We are watching her closely," Hoda told Savannah Guthrie at the time. "I'm just so happy."
After the emotional moment, Hoda and Jenna continued their discussion, unpacking other times they've experienced honesty, including when it was "brutal."
"This kind of honesty is beautiful," Hoda, motioning between herself and Jenna.
But they both pushed back against moments when strangers say they need "to be brutally honest" before issuing a critique of their physical appearance.
Hoda then talked about a time when someone came up to her and told her she shouldn't wear sleeveless clothing on air.
"I mean, who do you think you are? Michelle Obama?" Hoda recalled the person saying.
"I find that kind of honesty not cool," she added. "And I think sometimes when you're grown and mature, you don't have to say all the thoughts in your head."
However, Jenna told Hoda that she does have "great arms."
The duo eventually reached a conclusion on the matter of being brutally honest.
"We believe in honesty, but we don't believe in brutal honesty," Jenna said as Hoda nodded.