/ Source: TODAY Contributor
He's cute, he's fun and he might just have what it takes to make your kids behave for the whole month of December. Wherever your Elf on the Shelf sits, odds are the little guy is keeping a watchful eye over your little ones, vigilantly reporting every misdeed to Santa and making your kids be, well, "nice."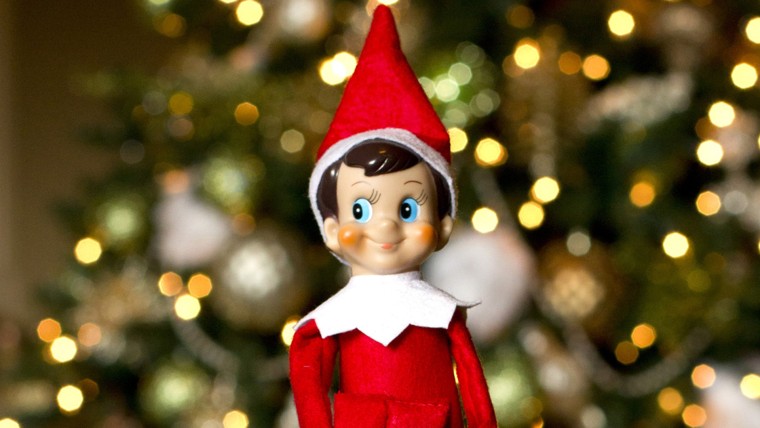 Sometimes you could kiss him, even with no mistletoe in sight. But while this magical creature on loan from the North Pole might help keep little Emma and Henry off Santa's naughty list, does he— or our constant threat that "Santa is watching!"— have the power to make the lessons stick?
Ho, ho, NO! While the Elf on the Shelf is a fun holiday tradition—and one that can seem like an easy aid to an overly-busy parent during the holidays— it takes a little more than a sprinkling of reindeer dust and the reward of Christmas presents to get true good behavior all year long. Besides, would you really deny your child her new magical pony wedding set just because your Elf saw her sneak a sugar cookie before bed?
RELATED: In defense of participation trophies: Why they really do teach the right values
The truth of the matter is that giving rewards— from Santa or otherwise— in exchange for positive behavior can actually cause kids to lose interest in playing nice, since they're only doing it to get the goods. And once your Elf leaves his shelf for a long winter's (and spring, summer, and fall) nap in the attic or basement, your kindergartner will have little reason to not put her PB&J in the DVD player. Again.
There's nothing wrong with your Elf making an appearance during the holidays. He's part of a fun story that can add a little more magic to Christmas. But you should also let your kids know that the bottom line is that you expect good behavior all year long, and you won't be using rewards and presents to get it.
RELATED: Will your kids be naughty or nice? Tips for better behavior during the holidays
Instead, rely on these tactics that promise to deliver good behavior well into the New Year, and beyond:
Be your own "Santa's helper" and lead by example. Whether or not the guy in the red suit is actually watching, your kids are— and they're less likely to follow the rules when they see Mom and Dad breaking them. If you don't allow your kids to snack in the living room, for instance, make sure you don't walk through with a handful of chips.
Deck your halls with when-then routines to help your kids prioritize family rules and chores over playtime. For example, when the table is cleared, then we can build our gingerbread house. Structure the most difficult times of the day (bedtime, mornings, homework) around a routine, so that when faces are washed, beds are made and backpacks are by the door, then kids will be welcome at the table for breakfast. Sticking to routines even during holidays will help your kids navigate all the extra activity with minimal naughtiness.
Give the gift of consequences and consistency as a way to motivate good behavior. Rather than tying an action to a reward, help your kids draw a logical connection to a potentially negative outcome. For example, warn Henry in advance that if he throws snowballs at Emma, he will have to come inside. Then, follow through. Next snow day, Henry will aim at his alien snowman instead of his sister. Keeping the rules consistent helps kids know what kind of behavior is expected of them at all times, even when there's no Elf in sight.
Slow down the season and take time to be with your kids. Plan for one-on-one quality time with each child every day. When they know they can regularly count on your full attention, they won't feel as big of a pull to act up to get it. And what better gift is there than getting into your child's world — especially with Christmas coming?
RELATED: Why my children will be getting no gifts this Hanukkah
This season, take the pressure off your Elf. Using these tips just might keep your kids on the "nice" list all year long.
Parenting expert Amy McCready is the Founder of Positive Parenting Solutions and the author of "If I Have to Tell You One More Time…The Revolutionary Program That Gets Your Kids to Listen Without Nagging, Reminding or Yelling." For simple strategies for happy families and well-behaved kids, follow Positive Parenting Solutions on Facebook.