/ Source: TODAY Contributor
Football season is under way at Chaparral High School in Scottsdale, Arizona, where players have opened their roster to a classmate who will never physically help them win.
The Firebirds don't care that senior Kevin Groeger, 17, has Duchenne muscular dystrophy. When team captains Derek Porambo and Christian Skeptaris noticed Kevin cheering from his wheelchair at every Chaparral home and away game last season, they had an idea: Why not invite him to join the Firebirds' offensive line?
"These players approached me about a guy who wasn't physically able to play football but ... should be on the team," offensive line coach Paul Germinaro told TODAY Parents. "I trusted these two guys (and) met Kevin, and he fit right in."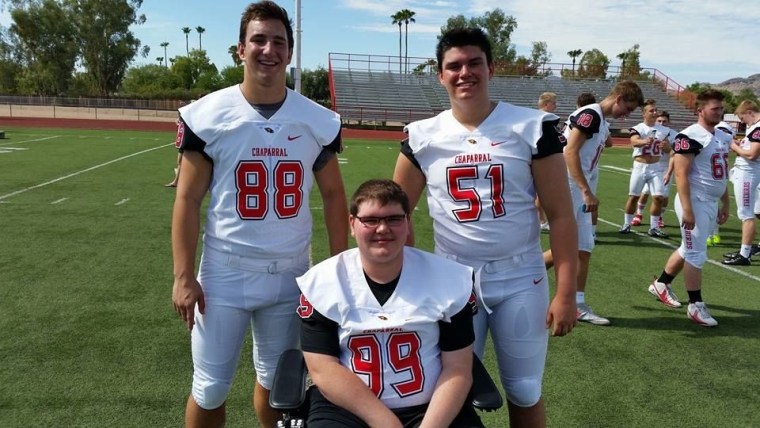 "Having Kevin on the team breaks down differences and barriers," Germinaro added. "I try my very best to keep him involved and hold him accountable as I do any athlete. It's important to me that he isn't here as a symbol and that he's just one of the guys."
RELATED: Two sons have deadly disease, but only one can get 'miracle drug'
Kevin and his older brother, Tom, were both diagnosed early in their childhood with Duchenne muscular dystrophy, a genetic disorder that primarily affects boys and results in progressive muscle weakness.
Young men with Duchenne typically experience serious heart or lung complications and live only to their late 20s (Sept. 7 marks World Duchenne Awareness Day).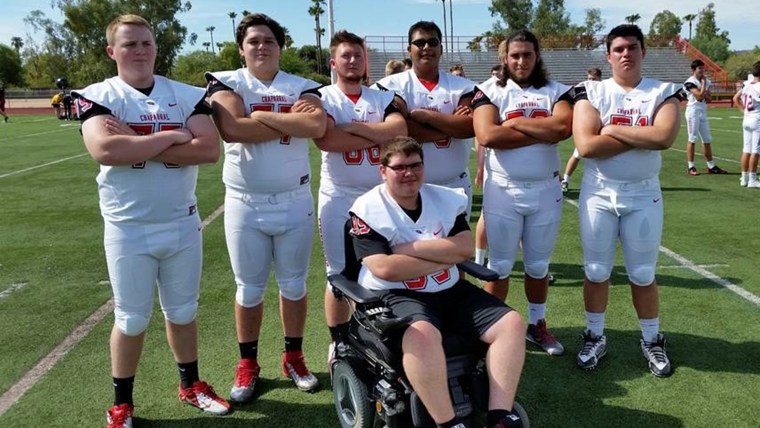 Three years ago, when his parents were divorcing, Kevin began needing to use a wheelchair full time. His mother, Lisa Groeger, moved with her sons from Tucson to Scottsdale to be closer to her family. She said she did not foresee how life-changing Kevin's new public high school would prove to be.
"Bullying has been such a talked-about issue," Kevin's mom said. "Kevin hasn't had to really endure any of that, but what he mostly has experienced is indifference — until this. I find myself overwhelmed with emotion thinking of all the amazing boys, coaches and parents who have made it possible for my son to be on this team."
RELATED: High school football team cancels season in wake of bullying allegations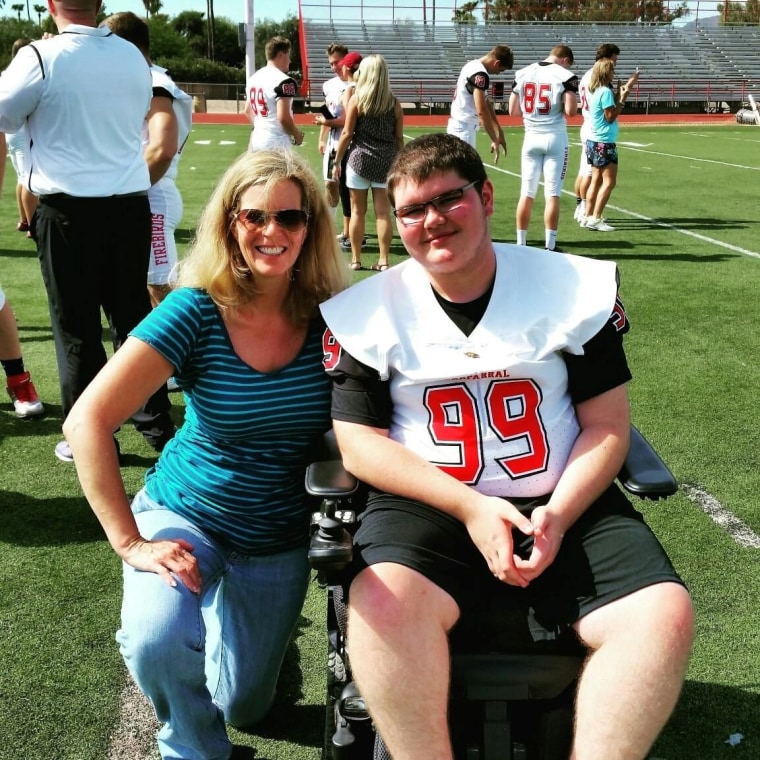 Kevin is expected to be present at every practice, drill, game and meeting. His mother juggles Kevin's football obligations while also tending to Tom's needs, in addition to her younger son, Brian, who is in the eighth grade and does not have Duchenne.
The busy mom will not need to transport Kevin to away games this season, though; Chaparral's offensive line will travel in an 18-passenger, wheelchair-accessible bus.
"It's really neat and I'm excited about that," Coach Germinaro said. "We'll be able to talk shop and prepare for the game without the distractions of the other positions for the first time. It's a benefit that I didn't even see going into this."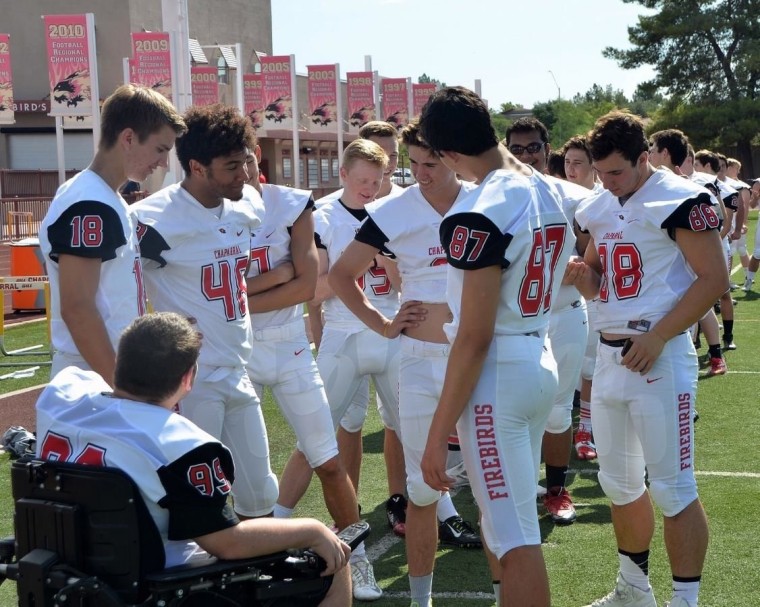 Not only is Kevin enjoying time with the guys on the field, but he has a busy social life as well. "We are all friends, not just football teammates," Kevin said. "It's been amazing."
Team captain Derek Porambo has added Kevin's #99 to the back of his helmet so his friend can be out on the field with him. The senior offensive lineman also has written "Cure DMD" on his left wristband to help raise awareness about Kevin's condition.
RELATED: Now that's teamwork! Texas football coach donates liver to fellow coach in need
"The offensive line is a brotherhood and he is a huge part of it,"Derek said. "It's just a reminder that your play on the field represents something much more than just yourself."
Team captain Christian Skeptaris agreed.
"Kevin would give his life to just make one play on the field. So when it's hot or I'm tired, he keeps me going," he said. "Kevin makes me want to do better."