/ Source: TODAY Contributor
When Israa and her mom moved to the United States, the then-12-year-old girl wondered what her new life and school would be like. Like any young girl moving to a new place, she worried she wouldn't fit in, but this was more than childhood anxiety. She feared that people would hate her because she's Muslim.
"At first I was like scared that Americans are not [accepting] of our religion and our culture, but here people are very nice and they treat us with respect and kindness," Israa says.
RELATED: When she saw the new kid eating lunch alone, she got creative to make friends
Israa was born in Basra, Iraq but when she was 5 her family moved to Damascus, Syria to avoid the war. After civil war started in Syria in 2011, ISIS bombed her school and her mom worried about her daughter's safety. That's when they decided to leave. For the past four years they have lived in Pittsburgh where Israa, now 16, attends Allderdice High School.
While Israa hasn't experienced any bullying, she often hears stereotypes about Muslims.
"It is true, I am a Muslim. It is true, I come from Iraq, but just because 10 or five people are terrorists doesn't make the whole religion terrorist. We are not related to that at all. We're running from terror," Irsaa said. "So how are we terrorists?"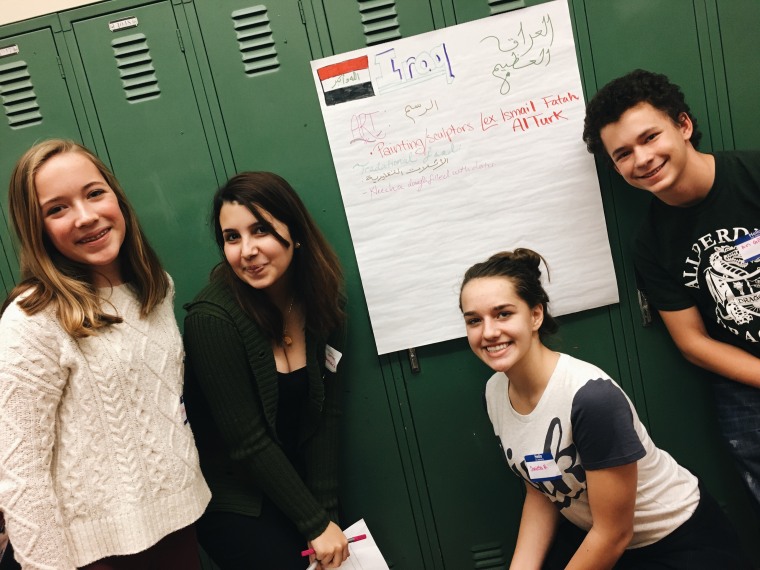 As Israa's English improved it became easier for her to make friends. Recently she's been participating in an after-school club, Global Minds, which has empowered her to stand up for herself and other immigrant and refugee students. That's exactly what founder, 15-year-old Peyton Klein, hoped it would do. She started Global Minds as a positive way to counter increasing intolerance nationwide.
"It is such a relevant and pivotal moment. As students, we can conform to what is happening or we can rise up and make our students feel welcome and understood," she tells TODAY.
Petyon and the Global Minds advisors asked TODAY not to use ESL students' last names because they feared people might harass them.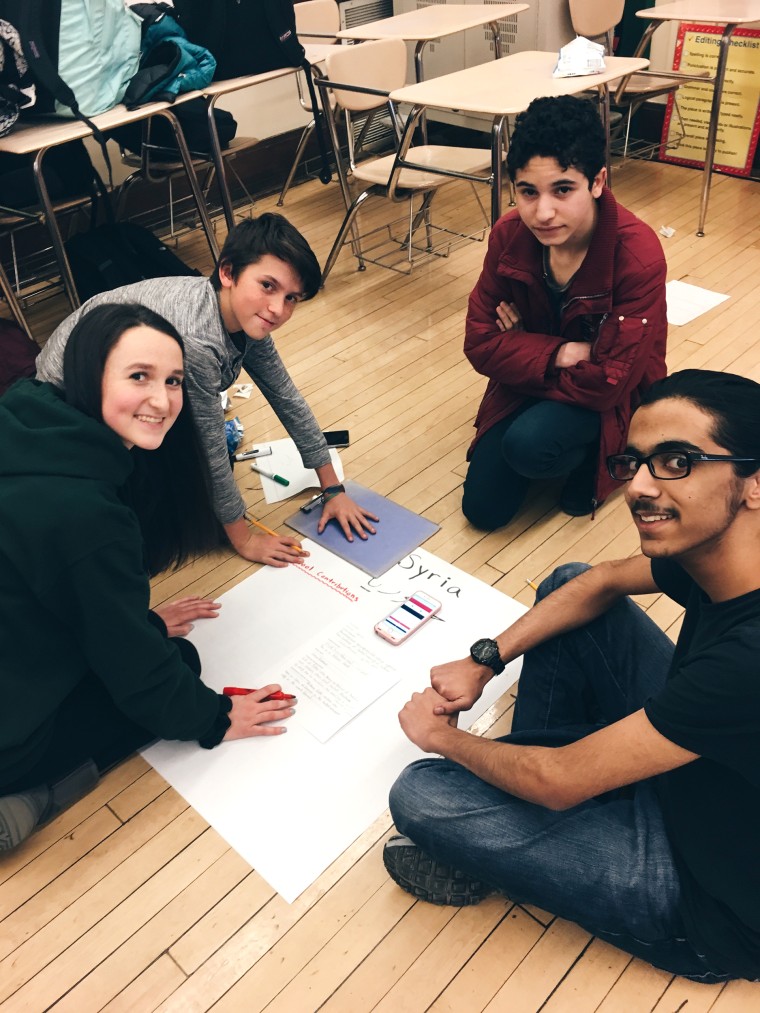 RELATED: 'Don't give up. You are loved': Americans write letters to refugee children
Staying after school makes the world a smaller place
Peyton started Global Minds in October to encourage American-born students to interact with students who speak English as a second language (ESL). They learn about human rights, diversity, sustainable development and international relations while the native English speakers help ESL students with their homework.
The meetings also help American students; they discover more about countries that they hear misinformation about, such as Syria or Mexico.
"We get to see how similar we all are," said Ali Axtman, 16, a sophomore from Pittsburgh. "When I think of Syria and Iraq, I don't just think of war-torn countries. I think of my friends."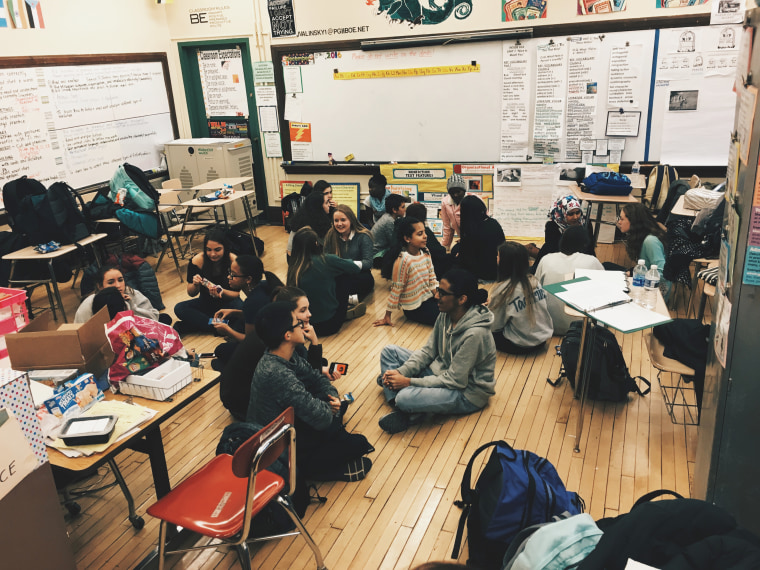 RELATED: Why these Syrian brothers call helping Seattle's homeless 'personal'
Peyton started the club after observing a conversation between a teacher and Khawla, who had recently arrived from Aleppo, Syria via Turkey. Khawla, 17, struggled to communicate; she only knows basic English.
Petyon felt that American students could be allies for the increasing number of immigrant and refugee students at her school. Of 24,000 students district-wide, 1,020 are ESL students, up from 877 in May 2016. The students come from 57 different countries, with most from Central and South America.
"I wanted to focus on the positive things and how I could make a change," Peyton said.
Every Tuesday 40 to 50 students meet. They start with ice breakers, learn about an issue, and help one another with homework.
One recent Tuesday, about eight students sit on the floor staring at an oversized sheet of paper. They're trying to figure out which human rights from the Universal Declaration of Human Rights apply to protesters at Standing Rock. They need to write the most important ones.
And, they're stuck.
To spark conversation, Klein asks the group — which includes students from Nigeria, Egypt, Iraq, and Syria, "How do you think these rights apply to your country? Do you think that everyone has all of these rights?"
"Hell no," says Israa, as the others giggle. "In my country, no, we don't have that many rights. That's why America is called the land of the free because there is so much freedom here."
"If you could add any right to your country what would it be?" Peyton says.
"Women's rights," says Israa.
Marvel, 15, from Egypt, agrees. Mogbojubol "Bola," 15, from Nigeria, says her country needs protection of property rights. The young women say they admire the United States because the government enforces laws. Israa points out that the Iraqi government couldn't focus on domestic violence, for example, because it was fighting ISIS.
Chats like this have changed students, ESL teachers Jane Valinsky and Jessica Porter say.
"Global Mind students are more comfortable," Valinsky says. "It's an empowering group."
Porter says that ESL students in the club have friends to sit with at lunch or see movies with on weekends, social opportunities that ESL students often miss.
"I think it can be trying at all ages, but it is tough in high school. It is easy for ESL students to feel very isolated," Porter says.
Taking Global Minds to every school in the country
Peyton, who hopes to be president some day, wants to expand Global Minds to other schools in the district, then nationwide.
"Peyton wants Allderdice to be an example of a school that embraces diversity," says Porter. "I'm unbelievably impressed with her."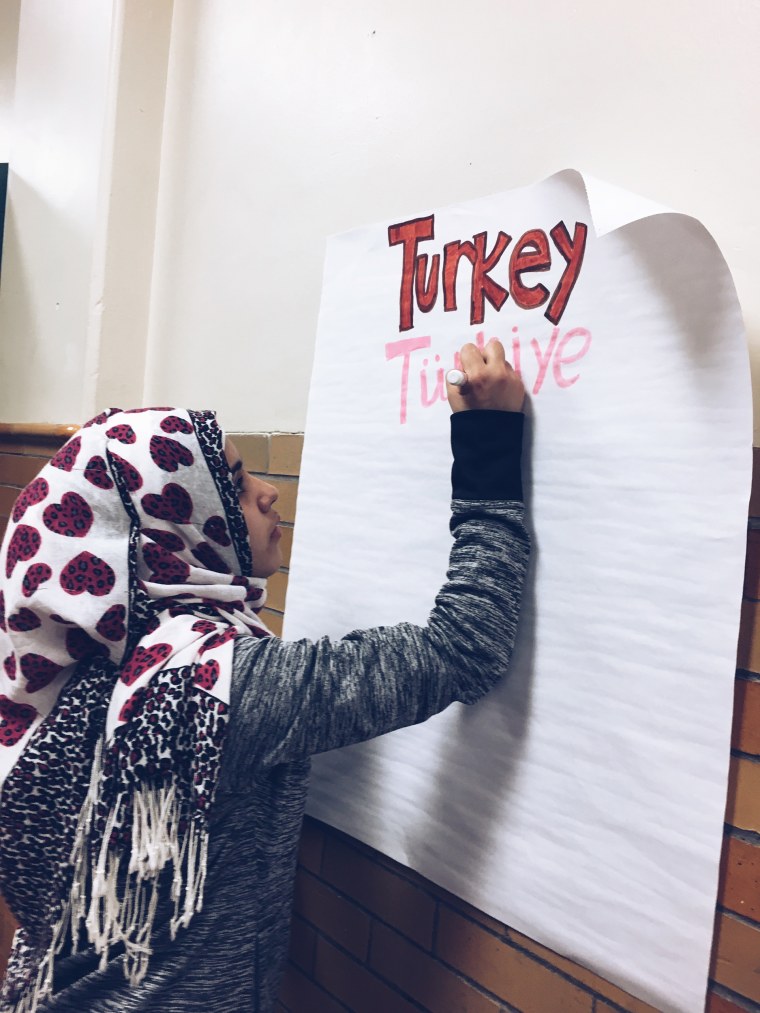 RELATED: How an unlikely friendship between 2 moms and a Syrian doctor sparked a movement
It's no wonder; the freshman's accomplished a lot. Over the summer, Petyon's writing curriculum for Global Minds with the help of a local university. And, she secured $8,000 in grant money. As a child she learned to write grants after asking her grandmother, Margie Klein — who served as a nonprofit executive director— to teach her. Petyon says Klein is her mentor, but Klein believes Peyton is the true inspiration.
"She is just so passionate; she is fearless," Klein says. "Global Minds is such an important program."
While she has ambitious plans, Peyton enjoys seeing what Global Minds accomplished already.
"Every time a student walks out the door they leave with a new friend and a better understanding of our world," she said.
Related video: