Family time takes on a whole new meaning for the sophomore class at New Trier High School.
Located just outside of Chicago, the Illinois school has 44 sets of twins and one set of triplets in its Class of 2020. And for that, it has broken two Guinness World Records.
"It's not an academic achievement, it's not a skill-type of achievement but it's an achievement nevertheless," said Luke Novosel, who along with his 15-year-old twin, Ryan, discovered the original record and then applied to set a new one. "There's something unique you share with a twin, but you also have a special bond when you meet other twins."
The brothers and their parents started the application process at the beginning of the last academic school year but didn't hear back from Guinness Book of World Records until 18 months after they submitted their paperwork.
All 91 students who helped set the new record posed for a photo at their school Wednesday. Luke said the process of tracking down his classmates and getting to know many of them has been rewarding.
"This has opened up the opportunity to have way more friendships. I met more people yesterday at my school that I didn't know were twins," he told TODAY. "It was amazing to see the grand scale of it all — 91 kids. It was astonishing."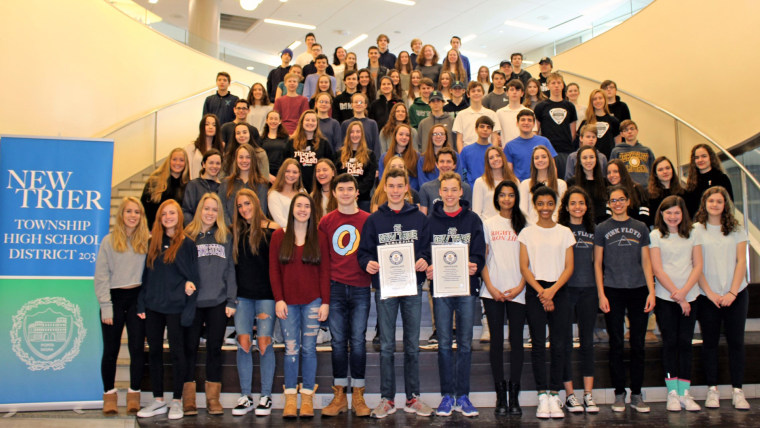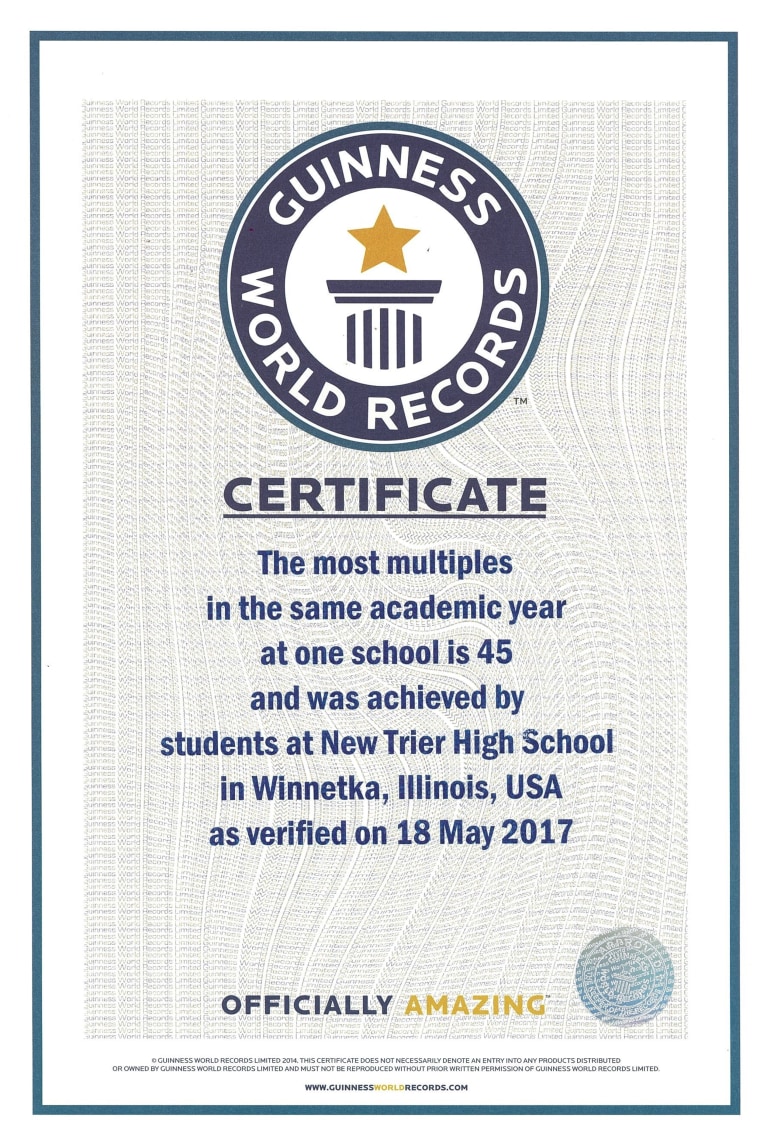 The Novosel family learned the school had received certification for two official achievements. The record for most multiples in the same academic year was previously set by 18 pairs of twins and two sets of triplets in an eighth-grade class in Connecticut in the 2010-2011 school year. Meanwhile, the previous certification for most twins in the same academic year came from the 2012-2013 class of Illinois fifth-graders that included the Novosel twins, whose work also led to that certification.
New Trier High School, located in Winnetka, Illinois, boasts a sophomore class of about 1,000 students overall. Of its sophomore twins, 19 pairs are girls, while 11 are boys. Only three pairs of twins are identical. The triplets are all girls.
Nancy Fendley, Luke's mother, called having 45 sets of multiples "statistically astounding."
"It's a fluke. It's an anomaly. It's three times the national average. Where 1 in 30 births are twins, we're one in 10, so it's incredible," she told TODAY.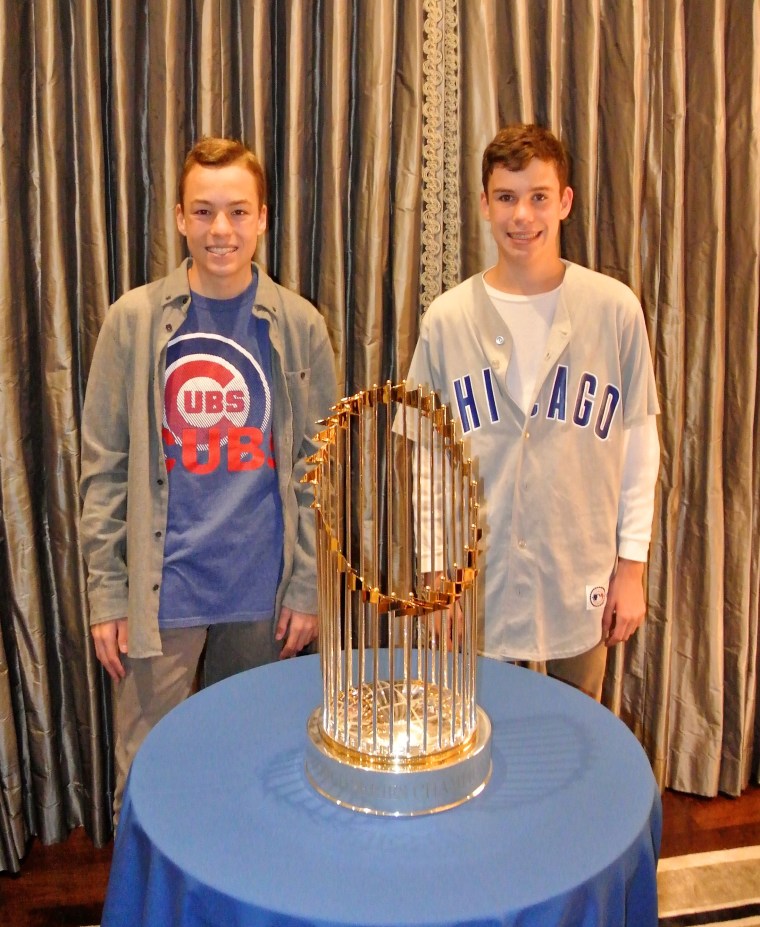 Fendley attributes the high number of multiples to several demographic factors. She said her community has a large proportion of financially secure residents, which means they have easier access to traditionally costly fertility treatment. And because many are college-educated professionals, they tend to have put off having children to establish their careers — and she said women who tend to wait until they are older to become pregnant generally have a higher chance of multiple births.
"That's part of what's in the water of our community. The demographic of this high school is a highly educated, affluent community," said Fendley, who also has two younger daughters — who are not twins.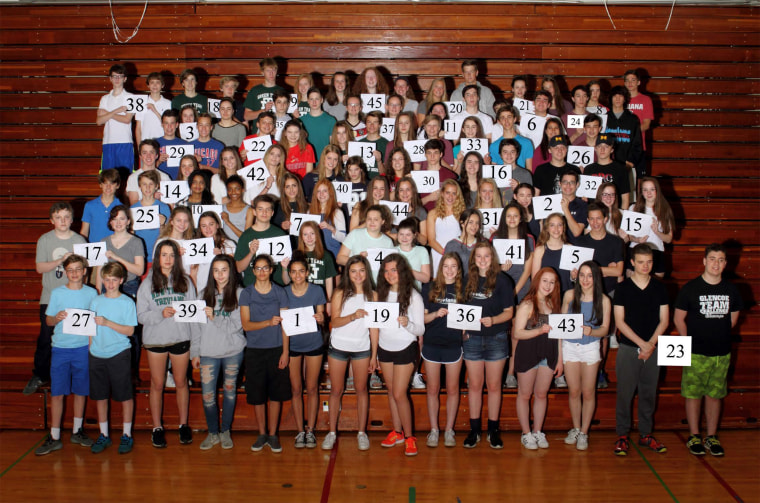 Jenna Dushman said she and her 15-year-old twin brother, Ryan, remembered their middle school having "maybe about 10" sets of twins but neither had any idea they would be starting their freshman year with such an unusual connection to many of their classmates.
"There were some people I've known in my grade that I didn't realize was a twin until we started having meetings for the world record," she said. "And the same thing happened with me. A lot of people were texting me last night going, 'You have a twin? That's crazy!'"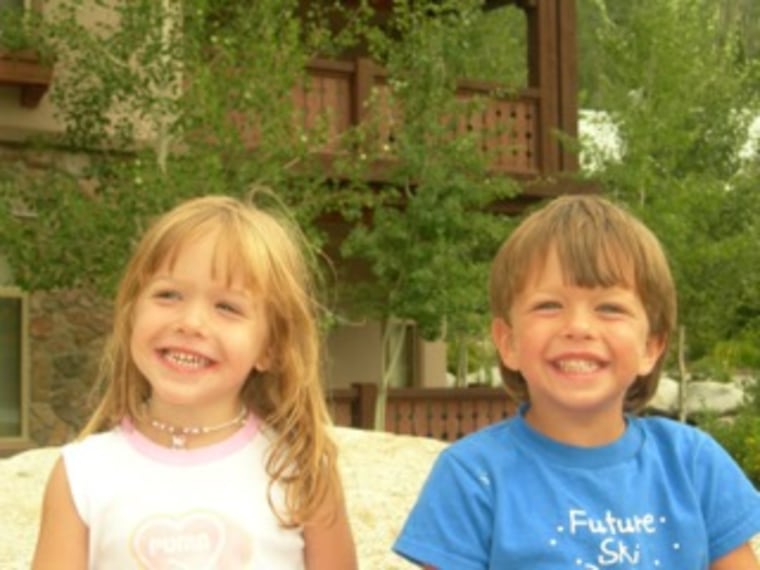 Like Luke, Jenna said she's enjoyed making new friends with whom she can relate to on a level she doesn't have to spend a lot of time explaining.
"It's kind of special to know that there are so many people who can relate back to you," she said. "I've definitely made so many new friends which is really, really cool. This has been such a great experience."
Follow Eun Kyung Kim on Twitter.