/ Source: TODAY Contributor
Doctors put the odds of conceiving quintuplets at one in 50 million — which makes Briana and Jordan Driskell very special. The first-time parents from Versailles, Kentucky, welcomed three girls and two boys on May 2, just in time for Mother's Day.
Zoey Hart, Dakota Faith, Hollyn Grace, Asher Blaze, and Gavin Lane were delivered by cesarean section at the University of Kentucky's Chandler Hospital. The smallest was Zoey, who weighed in at 1 pound, 13 ounces, while Hollyn, the largest, was born at 2 pounds, 6 ounces. Despite her size, Zoey is the feistiest baby in the bunch. "Zoey has been throwing her hospital hat around," Briana told TODAY Parents. "She's very determined."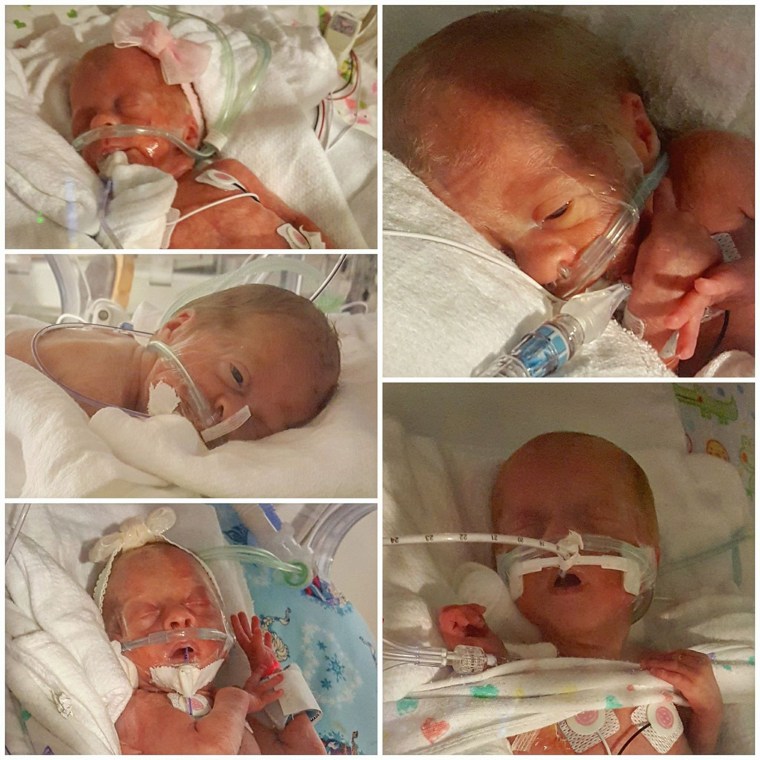 The Driskells got the surprise of their lives when they learned at their eight-week ultrasound that they were expecting quintuplets. "I almost passed out," said Jordan. Though Briana underwent a series of fertility treatments including intrauterine insemination (IUI), she was told by her doctors there was only a four to eight percent chance her pregnancy would result in triplets or more. "I was in such shock, I couldn't speak," Briana, 29, said. "I just sat there staring at the screen in disbelief. I couldn't believe there were five sacs."
Briana, a patient relations assistant at the University of Kentucky hospital, felt her pregnancy symptoms right away. "From day one, the only thing I could eat without throwing up was cold cereal with bananas," she said. Briana was soon diagnosed with hyperemesis gravidarum, a condition characterized by severe nausea and vomiting.
Never miss a parenting story from TODAY.com! Sign up for our newsletter here.
"I lost 10 pounds and was hospitalized for extreme dehydration," Briana said. "It was pretty awful." Then at 22 weeks, just when Briana was starting to feel better, she received scary news: her cervix was shortening, which can lead to preterm labor. Briana was immediately admitted into the hospital, where she spent the remainder of her pregnancy on bedrest.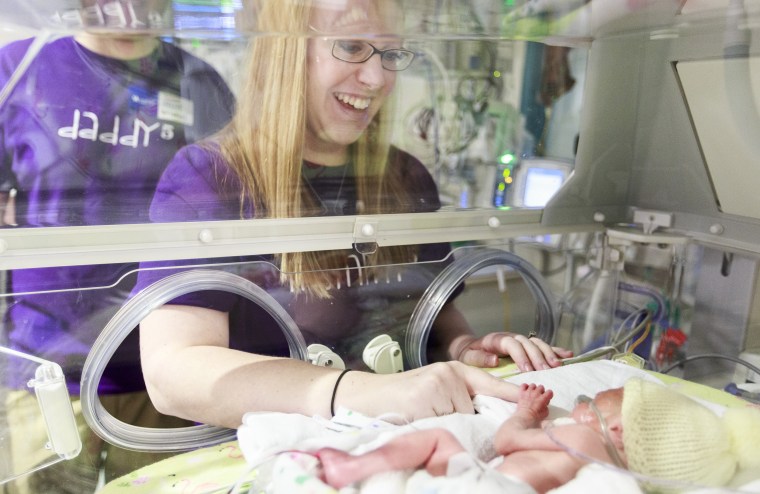 "I wanted to keep the babies inside of me until 30 weeks," Briana said. But due to concerns related to preeclampsia, a dangerous condition marked by high blood pressure, the quintuplets were delivered at 28 weeks into Briana's pregnancy.
Though the babies were out in just four minutes, complications from the preeclampsia prevented Briana from meeting her children until the following day. "When I finally saw them, I was crying so hard I couldn't breathe," she said. "I still can't believe I am finally a mom. It's unreal."
Indeed, Briana and Jordan, 26, struggled for more than two years to conceive. "It was the worst emotional rollercoaster I've ever been on in my life," Briana tells TODAY. "We'd start the month out trying to be optimistic, like, 'This is it! It's going to happen this time,' then it would come time to test and, once again, it would be negative."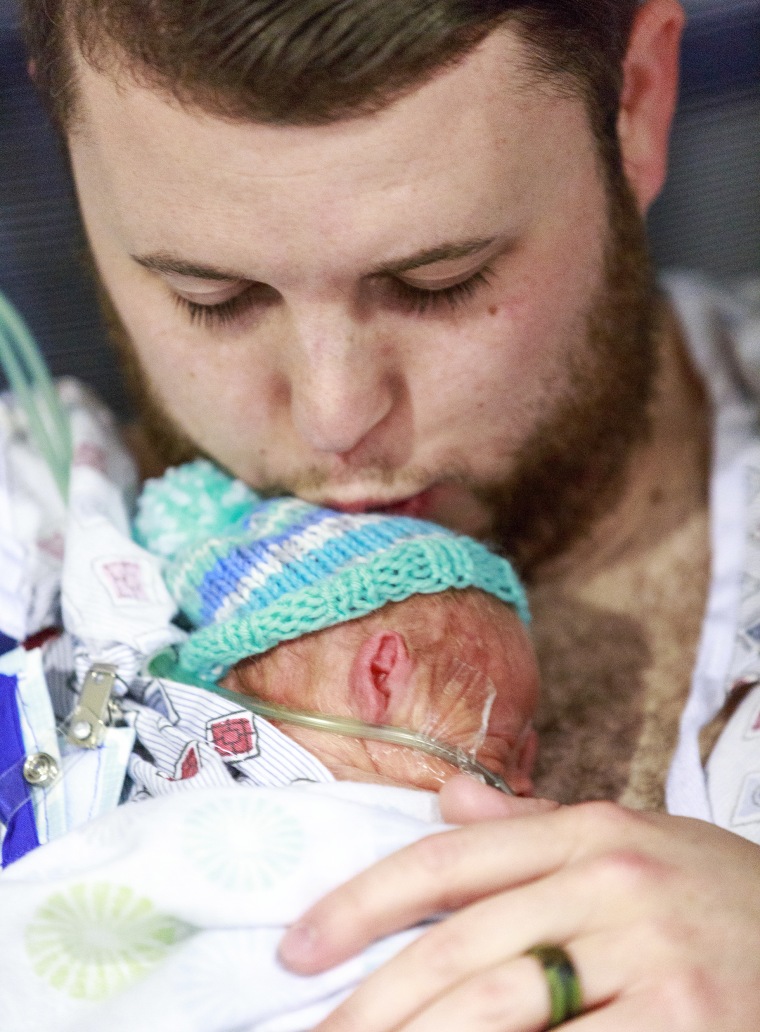 Finally, after their fifth fertility treatment, the Driskells saw two pink lines. Jokes Briana, "We got a baby for each time we tried!"
Though the Driskell babies are currently in the neonatal intensive care unit (NICU), all five are growing and have reached their 2-pound marks. Briana and Jordan are hoping all the quints will be discharged by their July 22 due date. "It's funny," said Briana, who came home on May 9, "I felt so bad during my entire pregnancy, this soreness from the C-section is nothing. I finally feel like a human again!"
A family friend has set up a GoFundMe account to help the Driskells with childcare expenses and medical bills.
RELATED: Couple celebrates twin pregnancy after fertility struggle: 'We prayed for 953 days'.
RELATED: You are not alone: 7 thing to know about infertility