Instead of enjoying Father's Day with his daughter, Nick Struck spent the day thinking about the little girl he held in his arms, moments after she lost her dad in a car accident.
The Brighton, Colorado, police officer was called into action Thursday when he arrived at the scene of a car accident, which left one man dead and a woman and four children injured.
One of the children, a hysterical 2-year-old girl, was handed off to Struck by another first-responder in hopes of calming her down.
"My first thought was that this could've been my daughter, who is also 2 years old," Officer Struck told TODAY.com.
So he handled the situation accordingly.
"Whenever my daughter falls down or gets hurt, I scoop her up and start singing 'Twinkle, Twinkle Little Star' and by the time we get to 'up above,' she stops crying and starts singing along," Struck said.
Sure enough, it worked. The two began walking away from the scene, but were still in sight enough for a witness to capture this photo of him pointing to the flashing lights on the emergency vehicle, which happened to match the rhythm of the lullaby. The girl stroked the back of his arm as he sang — something his daughter does as well.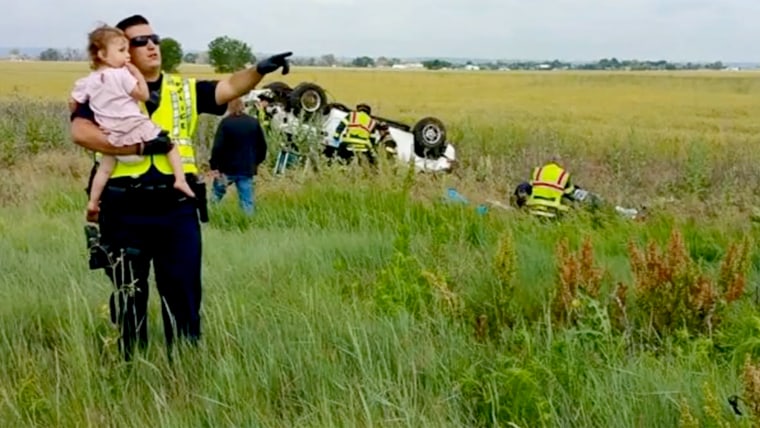 Struck is grateful that witness Jessica Matrious, who watched the car blow a tire and lose control, was able to capture the heart-wrenching moment.
"It's a rare glimpse and a good opportunity for people to see that this actually happens all over the country on a daily basis; it just doesn't always get caught on camera," Struck said.
After the ground ambulance arrived and the little girl was taken to the hospital to receive care, Struck's attention turned to determining the cause of the accident, which is still under investigation.
He told his wife he wanted to have a simple Father's Day, which also happened to be his 31st birthday.
"It's never a good time for this, but to happen on Father's Day weekend was just horrible," Struck said. "For me, the day was all about spending time with my daughter and being able to hold her."
Struck will be thinking about the little girl, who is now fatherless, as his own daughter reaches milestones, like going off to school for the first time or learning how to ride a bike.
"That moment will definitely affect me for the rest of my life," Struck said. "Every girl needs her dad, but I'm happy I was able to be there to help get her through that emotional day."