Jenny Mama could've had much worse than a broken neck if her 7-year-old nephew Mason Farr didn't come to her rescue.
While at Jolly Roger Amusement Park in Ocean City, Maryland, on May 25, Mama, Mason and Mason's mom, Karen Turner, all headed down a water slide only 15 minutes after arriving. Mama went down first and somewhere along the ride, she fell off her tube and came floating face down.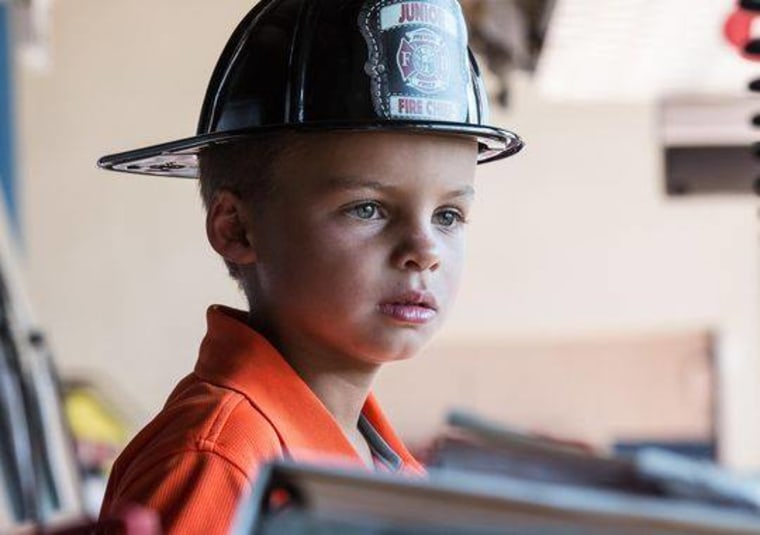 Once Mason came out right after her, he knew something was wrong, so he flipped her to her side and got her head up to where she could breath. Shortly after, the ambulance came and took her to the Shock Trauma Hospital at University of Maryland.
RELATED: Facebook helps save disabled man's life
"His instincts kicked in and he used what he learned from taking swim lessons," Turner told TODAY.com.
Mason started water babies at just 6 months old and began taking swim lessons at 2 years old. Since he grew up on the beach in Ocean City and is constantly surrounded by water, his parents thought it was important for him to be able to learn different techniques to help himself or another person.
"When 90 percent of the activities your kid takes part in involve water, they really need to be able to recognize a problem and know how to deal with it," Turner said.
RELATED: Meet the Australian blood donor who's saved more than 2 million lives
The Ocean City Fire Department honored the boy for his heroic actions on Aug. 17 by naming him fire chief for the day. He got to ride the firetrucks, talk to the firefighters and was even taken on a tour of the fire department.
RELATED: One dog gives back to the community that saved her life
Mama is now out of the rehab facility and able to recover at home, where she's gaining more and more control of her limbs every day.
"She's fortunate to be able to walk and talk and she's also fortunate that Mason did the right thing at the right time," Turner said. "We're really proud of him. He's been so humble throughout this whole process, but what he did was really life-changing."