The more famous you are, the more free stuff you get.
But that doesn't exactly fly with Matt Damon, who's raising daughters Alexia, 19, Isabella, 11, Gia, 9 and Stella, 7, with his wife Luciana Barroso. When boxes of free toys arrive at his home, the Damon kids don't even bother opening them.
"They don't need anything. So we send everything on to people who need it," he tells TODAY Parents. "When people send stuff to my kids, my kids have everything they need so we pass it right on. This is the life we're giving them. It's hard to figure out how to try to give them perspective. It's a source of tension in the family at times."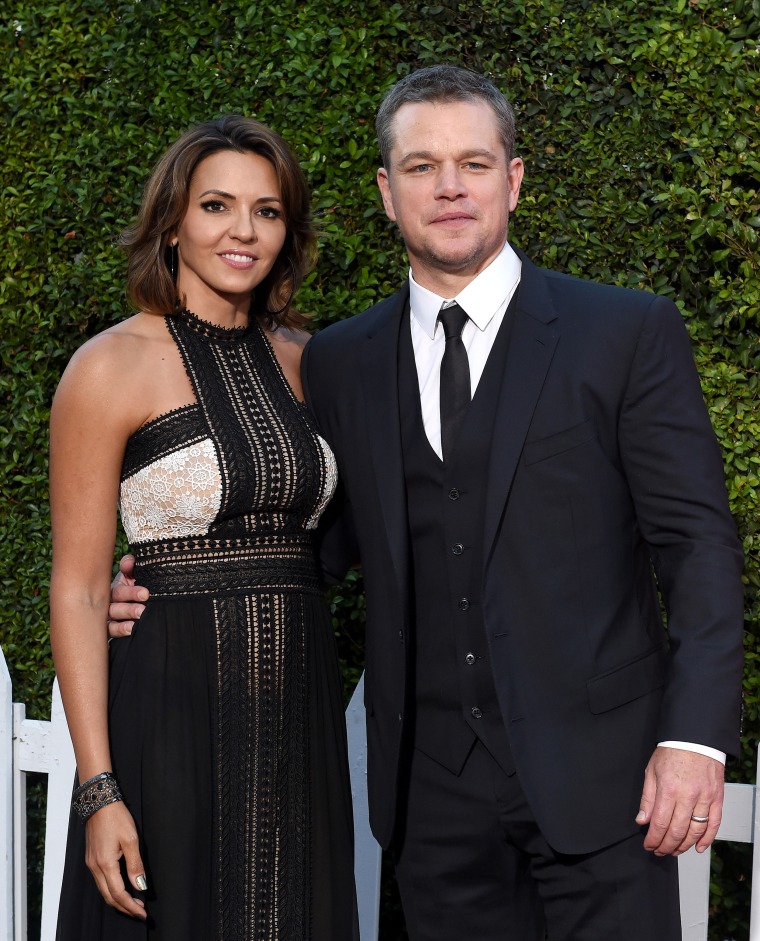 Like any parents, he and Lucy want to give their daughters the best that life can offer, while also setting limits. "What's the answer? You want your kid to have everything," he muses.
His new film, "Downsizing," deals with the concept of living a "smaller" life, one ostensibly filled with less stuff and fewer problems. If he could downsize anything, says Damon, it would be "stress." That, and the amount of stuff in his closet, which leads Damon to recall a vivid episode that illustrates just how much society showers on those who have the most and need the least.
"It was 20 years ago, when 'Good Will Hunting' came out, that people started sending me stuff. I went into Calvin Klein here, a few blocks away. My girlfriend in college bought me a pair of boxer briefs. They were my favorite pair of underwear. I remember thinking, 'if I ever make it, I'm going to have all boxer briefs.' They were like $20 for each pair," he says. "I went to Calvin Klein right after 'Good Will Hunting' came out. I walked in and picked out ten pairs. I got them in white, in black and in gray. I had these boxes. It was a moment for me."
But not so fast.
"The salesperson came running up and looked mortified. 'Do you want these? Just take them.' I had to pay for them. I wanted to pay. It was a triumphant moment for me that I could afford to pay for it. She wouldn't let me. I left there with ten free pairs of underwear, wondering, 'What kind of world is this?'" he says.
Films aside, it's been a difficult year for Damon, whose father has been battling multiple myeloma, a blood cancer. He calls it the worst, most "horrible" year of his life.
"Any question about the future, we don't know what we're doing right now," he says.