Hello again, Abigail, Mckayla, Grace and Emily Webb.
The identical quadruplet girls from Canada, who will turn 4 months old in September, are back with charming new baby photos and it's impossible to look away. Resistance is futile.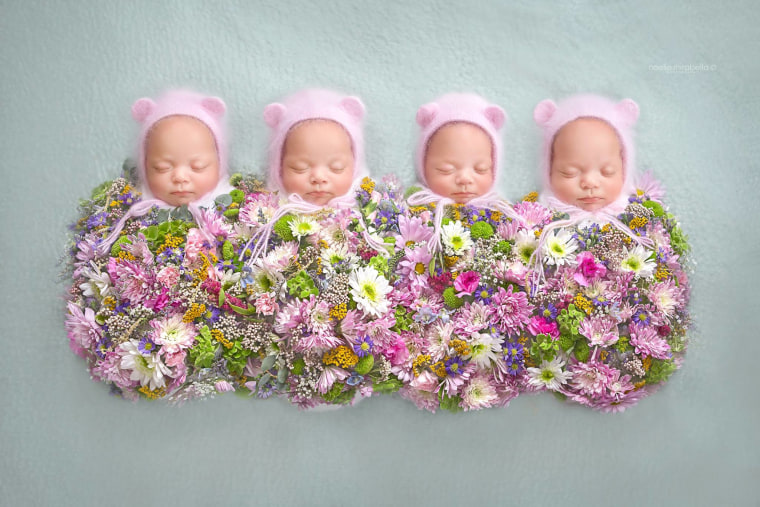 The images were taken by Cassandra Jones of Noelle Mirabella Photography in Grande Prairie, Alberta, who also took their pictures earlier this summer. The babies are definitely more of a handful now, she said.
"Oh my goodness, it was so much harder this time," Jones told TODAY.
"Three months makes a big difference. The girls were not nearly as sleepy and there was a lot more fussing, which is to be expected at a 3-month shoot."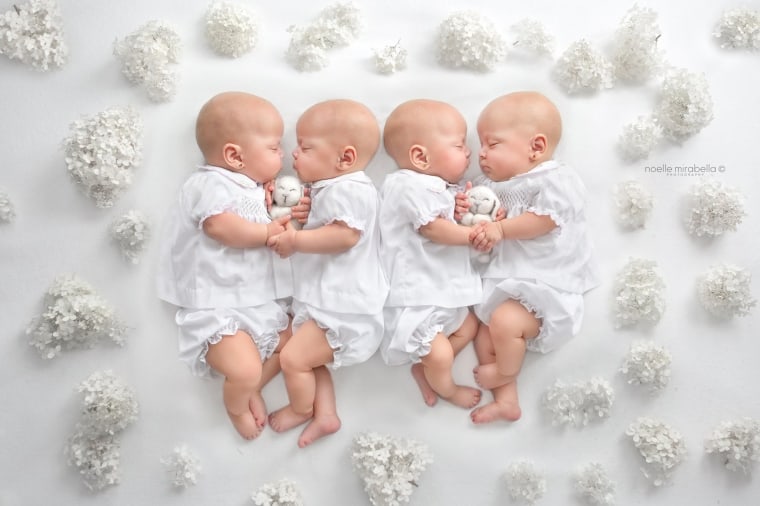 All of the girls are smiley now and some thought their photographer was funny, Jones observed. To help tell them apart, the tiny sisters have had their ears pierced with different colored sets of earrings and their toenails are painted different colors.
The only baby Jones could tell apart from the others without looking at their earrings and toes was the smallest girl, Abigail.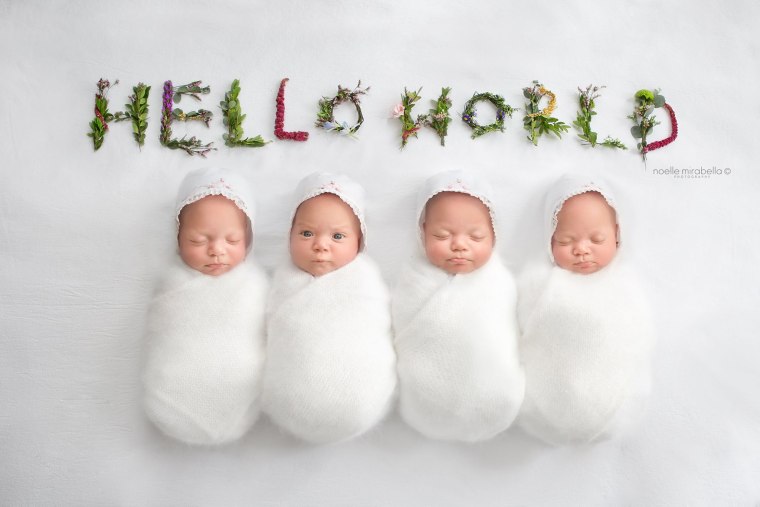 One of the photos shows one of the babies staring into the camera with furrowed brows while her sisters snooze. Jones lost track of who was who and wasn't sure which of the girls was so intense, but she only opened her eyes for about a minute and then fell back asleep without any soothing, Jones noted.
The shoot lasted about four hours, with three assistants helping Jones.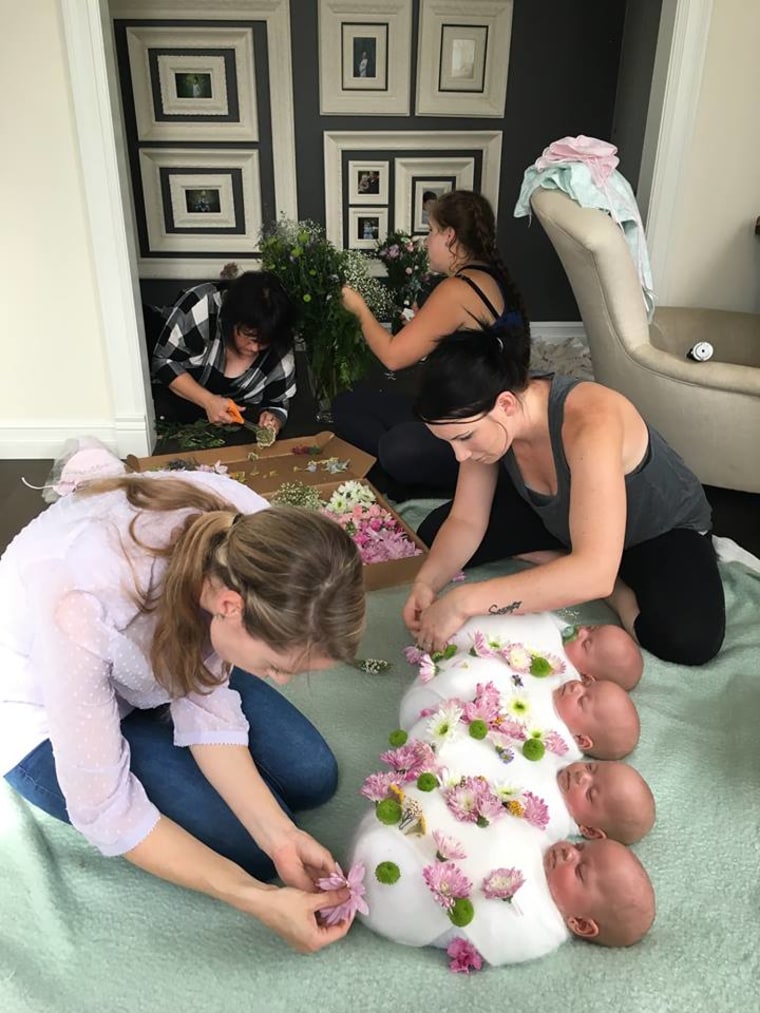 TODAY has been following the sisters' story since before they were born via C-section on May 6.
The identical quadruplets were conceived without the help of fertility drugs or any intervention from reproductive technology. Their parents, Bethani and Tim Webb of Hythe, Alberta, were shocked when a routine ultrasound revealed four babies in December.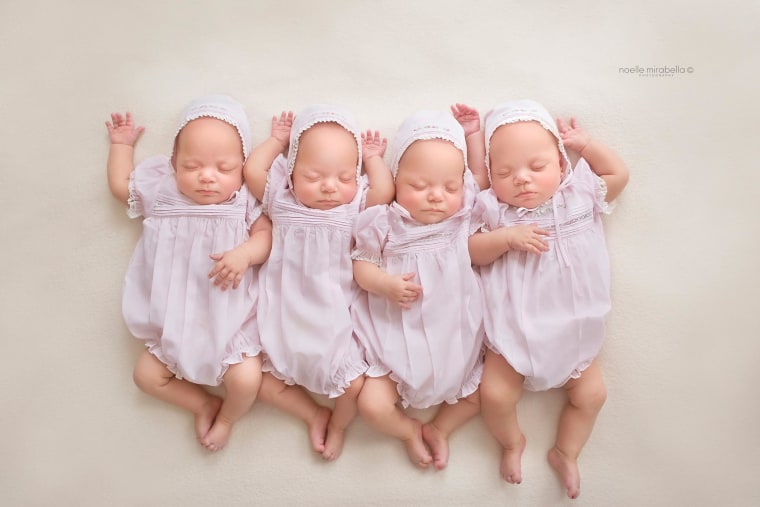 The chance of having quadruplets without fertility drugs is one in 729,000, Dr. James Bofill, a professor of maternal-fetal medicine at the University of Mississippi, told TODAY when he treated a Mississippi woman who gave birth to quadruplets in 2014.
But the odds of having identical quadruplets are about one in 15 million pregnancies, according to RaisingMultiples.org.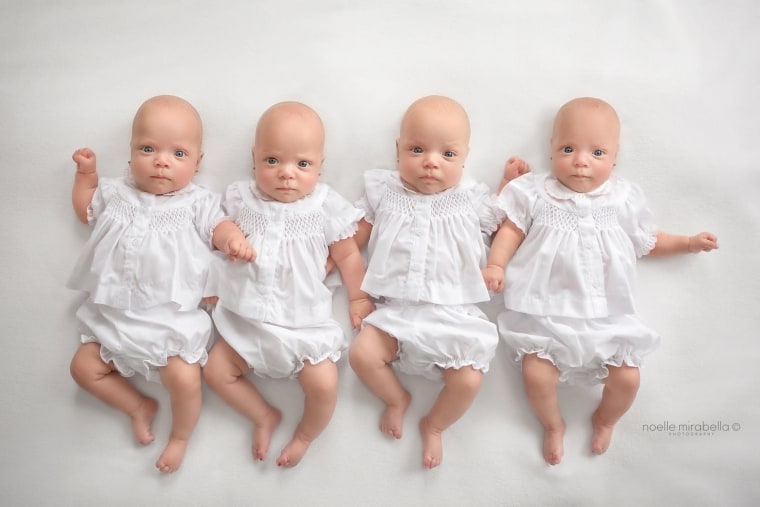 The Webbs, who celebrated their first wedding anniversary this summer, are first-time parents and have no history of multiples in their families.