Michael Ludwig was an outgoing and caring 9-year-old boy, who like many children his age loved playing sports, particularly baseball. But unfortunately, Michael was born with a congenital heart defect that neither his parents nor his doctors knew about until it was too late. Michael died unexpectedly and suddenly in a pediatric intensive care unit 15 hours after suffering a seizure while playing touch football with several friends. It was only after his death that it was discovered he was born with a congenital heart defect: an anomalous origin of the left coronary artery, which is the second leading cause of sudden death among young athletes. Michael's father Ed Ludwig is working to honor Michael's memory by educating other families about these types of heart conditions. Here he shares an excerpt of an essay he wrote for his family.
How do you say goodbye to your son? "Goodbye Michael" or was it simply "Goodnight Michael"? I cannot recall the exact words spoken that evening when we left Michael (even though there is so much else that can be vividly remembered). Does it even matter which words were said — either way it was not meant to be a "forever" goodbye.
But it was. I believe he replied "Goodnight Daddy." Those were the last words we spoke.
As I begin to write, to tell his story, it has become clear that I can never say goodbye to our 9-and-a-half-year-old son. This is a story of remembering who Michael was, what he meant to those around him, and of the signs his spirit lives on. It is said that the loss of a child is one of the worst tragedies anyone can face; how it upsets the natural order of children outliving parents; how one must choose in the wake of the unimaginable between mere existing and living.
This is also the story of a father coming to terms with death … and with life.
Why write a book? At college graduation, sitting in Memorial Chapel that morning after being up almost the entire night, I vaguely recall we were encouraged to consider entering public service (which I did) and writing a book, preferably a novel. Since then 26 years slid by with no book written and only a few dozen or so read. Perhaps I was just waiting for the right inspiration.
Living day to day it can be difficult to step back and find the time to embark on a project like writing a book. And for me this is real labor — I have never written much, whether it be articles, stories or books, and if you did the math you see I am not an avid reader — but telling this story is a labor of love. Today as I begin it is day 113; that is how many days have passed since Michael died. He did not "pass away" or "leave us" — as the bereavement books I have read make clear … he died.
While I have always wondered if I could or would write a book, there is plenty of inspiration from the work of others. This is not meant to be a book about bereavement and how to deal with it, although in 113 days I have read several such books, each helpful in different ways: "When Bad Things Happen to Good People" (including a deep connection to the "Book of Job" in the Bible); "The Bereaved Parent; Overcoming Life's Disappointments" and "How to Survive the Loss of a Child." As you will see, the books that have inspired the present story are "Tales of a Musician's Life," "The Little Prince," "The Pearl," "Just Get Me Through This," "Siddhartha"  (especially with its depiction of life as a flowing river) and "Swiss Family Robinson," not all of which I have read completely or recently or even recall all that well, but from each something has been taken, or rather, received.
A PROMISE KEPT/ THE LUCKIEST MAN / THE RIVER STYX When Michael was eight years old, I had been very busy at work all year and that summer had played golf once amounting to several holes. Michael began to follow professional baseball more closely learning the names of the players and amassing a baseball card collection. He had not begun trading with his friends, but found in his brother another source of coveted cards that he could easily persuade to be traded straight up for scrubs. Michael explained to me the special types of cards you could find such as jersey cards and cards made out of bats, things my friends never dreamed of growing up, and which sold for many times ordinary cards.
At some point Michael became interested in the all-time great baseball players — the members of the Hall of Fame. I had never been to Cooperstown, NY, the home of the Baseball Hall of Fame, but quickly realized that a road trip would be in order and promised Michael we would go without fixing a date. As the summer wore on and became fall, the promise remained unfulfilled. The two of us had never gone away; I still believed that it would happen, but just wasn't sure when.
That October, the Tigers played the Cardinals in the World Series. During the regular season, I had taken Michael and Josh along with Drew to see the Tigers play the Yankees, and the Tigers defeated the Yankees in the playoffs. Michael's favorite player outside of the Yankees was Albert Pujols of the Cardinals. Although we did not watch every game of the World Series, Michael continued to show interest. As the Cardinals went on to sweep the Tigers at the end of October I was seized with the idea of heading off to Cooperstown.
Michael was good at reminding you about what you might have promised, but all summer and fall he had not given me a hard time about his wish. Now, I surprised him, and with Mom's permission we headed off for the special largely unplanned weekend. I managed to book a hotel a half hour away from town and we left early on a Saturday morning. I recall it was snowing on the outskirts of Cooperstown and did not really feel like the baseball season had ended the week before.
For those who have not been to Cooperstown, I will not describe it too much. Simply put, it seemed to be all Michael had been hoping for — or as he described in a word: "awesome!"
We took a picture at the entrance. Michael was especially proud to wear his Yankees jacket as he walked in. The Yankees jacket has 26 logos commemorating each World Series victory. Michael saw a similar Red Sox jacket as we walked in and remarked proudly and shamelessly how many more World Series championships the Yankees had won. I informed him that some teams had far fewer championships than even the Red Sox and when we walked up to the Philadelphia Phillies exhibit (my favorite team growing up) Michael was educated on how the Phillies 1980 World Champions were extra special as that team represented the only champions in the team's more than 100 year history (note: since first writing this, the Phillies won the 2008 World Series and I sense Michael may be smiling about his second favorite team).
In the Hall of Fame, we took a few pictures including with Michael standing in front of several of his idols. One is of Cardinals shortstop Ozzie Smith — the Wizard of Oz — diving for a liner with Michael in front of the picture himself pretending to dive for a ball (this passion for fielding would be especially evident in Michael's next season). We spent a few hours that Saturday and returned the next day to the Hall of Fame.
While we did not have a game plan for the trip, Michael found an immediate connection to the town. We had a catch in the 40-degree weather next to the Hall of Fame Museum. Michael had brought money he saved and we spent time in several baseball card shops eventually picking out a few rookie cards to take home. We walked over to the baseball field in Cooperstown, which is meant to commemorate the origination of baseball, and it was fenced off for the off-season; Michael did not appear to mind.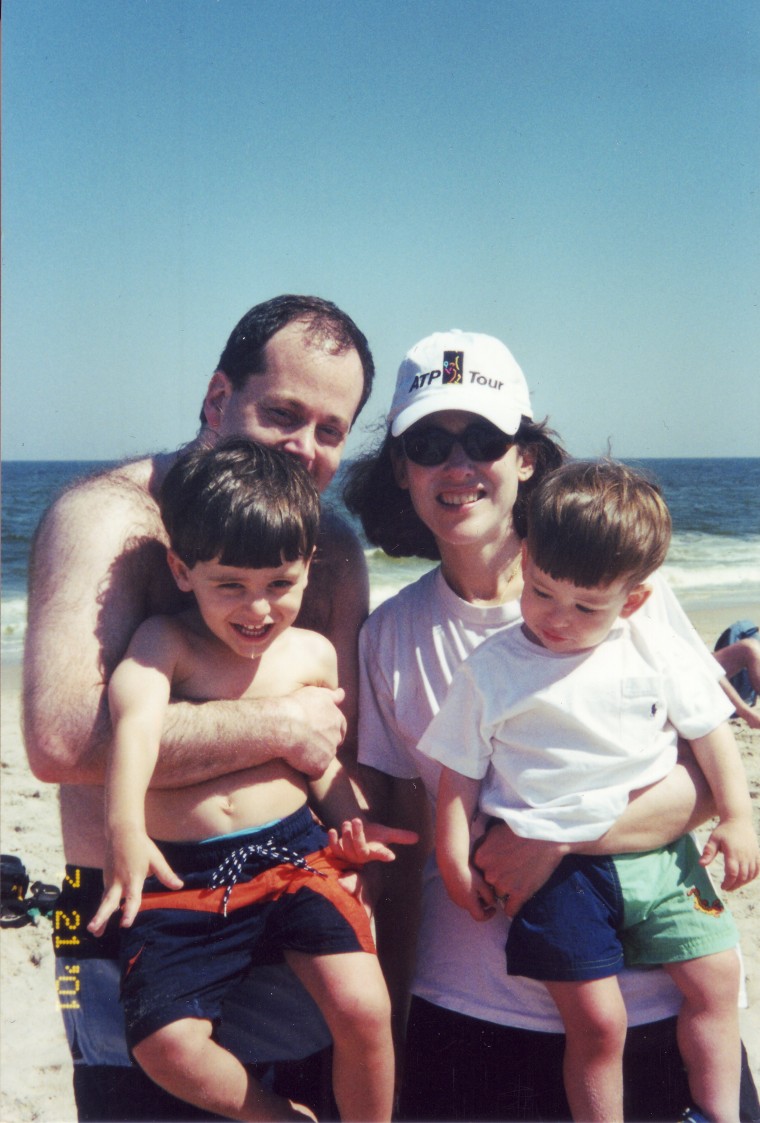 Returning to the Hall of Fame one last time that Sunday, Michael searched for souvenirs: he purchased a book on (what had been called during the time of segregation) the Negro Leagues which in part coincided with the special induction to the Hall of Fame of about a dozen Negro League players that year. Michael had a particular interest in Satchel Paige one of the few Negro League superstars to have the opportunity to play in the "major leagues", albeit not until well into his forties (with his love for the game and talent, Satchel pitched even in his fifties although no one knew his true age). As I said at his funeral, Michael had an awareness of prejudice and injustice.
In the Hall of Fame gift shop, we also rooted through a bin of pictures of all time greats to bring home to frame and hang in Michael's room. I have said I would not reveal too much about the Hall of Fame experience, but when you are there it is tough to linger in one spot even if it is not too crowded. There is much to see and a feeling of not enough time to take it all in. Well at the gift shop we found ourselves struggling a long time with what picture to select. Finally, I suggested Lou Gehrig, nicknamed the "Iron Horse" who played his entire career with the Yankees. Michael was happy with the choice, and when we returned home he had the picture framed and hung by his bed, which was the only picture that he had in his room.
I told Michael about Lou Gehrig's career and life, a story I repeated at Michael's funeral. Lou earned the Iron Horse nickname by virtue of his durability and commitment to the game: a record 2,130 games or 15 years when he did not miss a single game despite numerous injuries including broken bones — this consecutive games record stood for over 50 years. He amassed many other batting records and was an amazingly consistent performer. Yet in the spring of 1939 at age 36 Lou Gehrig's career inexplicably took a turn for the worse. For the good of the team Lou temporarily took himself out of the lineup that spring …. as it turned out never to play again. He had developed a rare degenerative disease — ALS — what later came to be known as "Lou Gehrig's disease" and despite major advances in treatment remains incurable and is eventually fatal.
I told Michael what Lou said the day he returned to Yankee Stadium to be honored by his teammates and fans. Wearing his uniform he declared to the hushed stadium, "Today I consider myself the luckiest guy on the face of the world." His life ended several months later. Michael was saddened that Lou died while young but understood that Lou Gehrig was best remembered for what he represented: his talent, his durability, and his love for the game. Lou probably did consider himself the luckiest guy, with a stadium full of adoring fans paying tribute to his accomplishments and to his character.
(By describing at Michael's funeral the story of Lou Gehrig and the richness of the Hall of Famer's abbreviated life, I had hoped to convey a sense of gratitude for the fun, happiness, vitality and love during Michael's time alive.)
Returning from Cooperstown we happened upon Howe River Caverns, which is open to the public for tours. A few weeks earlier, I had read in the New York Times about the caverns in the area but had not recalled the location and had not included it in our weekend plans. Again for those of you who have not experienced this, I will be brief. To reach the actual caverns you descend via an elevator for nearly a minute. Discovered accidentally by a farmer in the 1800s who saw his cows cooling off each day at the same spot, the cave winds its way for about a mile and even includes an underground river. Today, it is very user-friendly, with railings and guided tours.
When you first emerge from the elevator you find yourself in a large dim lit chamber. Michael turned to me and immediately asked, "Daddy is this real?" (As I said at the funeral recalling the trip, it feels like we have emerged into a dim lit cave asking ourselves the question how can this be real?)
The cavern is a wonderful, fascinating experience that I would highly recommend. But I recall an eerie feeling had come over me when Michael and I reached the part of Howe Caverns when you are given the opportunity to proceed by boat. As we made our way onto the boat and one of the tour guides began to row, I found myself reminded unsettlingly of the River Styx from Greek Mythology: the passageway to the underworld, the river of death. I recall attempting to push the image away from my thoughts.
The next year we returned as a family to Cooperstown and also visited Howe River Caverns. We had a great time, in what turned out to be our last family outing. Michael took the lead showing Josh and Lisa around the town. We had a catch on the ball field across from the Museum and Lisa took pictures including the one she put on the tee shirts for the May 18th ballgame/get-together in remembrance of Michael's birthday. With his cap on backward, it shows Michael effortlessly tossing the ball but uncharacteristically not smiling; he is looking down, and appearing deeply content.
To learn more you can visit the Web site.