Hawkeye Huey, a Seattle photographer whose work has been published in National Geographic and whose Instagram account was ranked in the top 100 by Rolling Stone, is raising funds to publish his first book of photos called "A Portrait of The American West."
And he's only 5.
The son of National Geographic photographer Aaron Huey, Hawkeye — yes, that's his real name — got his start taking pictures around a year ago while on a road trip with his dad.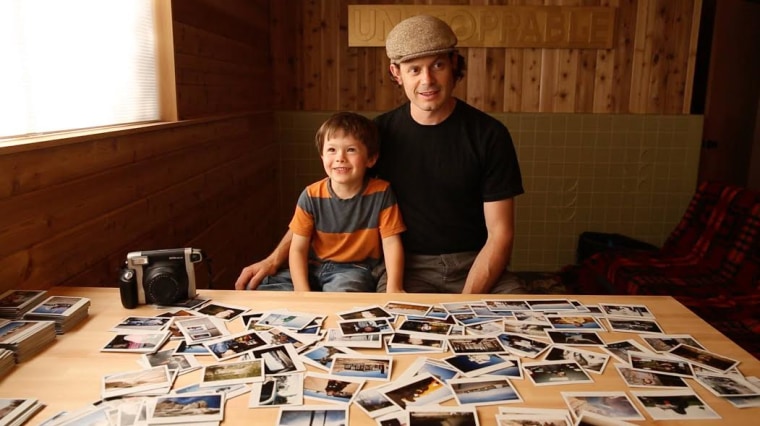 "We were just a father and son going on our first big trip away from mom, headed from Seattle to the Salton Sea in Southern California to make, and sleep in, blanket forts," Aaron Huey told TODAY.com.
"On the drive there I decided it would be fun for Hawkeye to have an camera for this journey since it's how I spend much of my time looking at the world."
The project began as a collaborative way for father and son to "take crazy trips and meet people," but it soon became clear that little Hawkeye had natural talent.
"I fell in love with Hawkeye's photos the first time I saw a set of them laid out on the ground together, with all his subjects smiling," Aaron said.
"I think I knew immediately that I liked them more than my own, and that a journey had started that I wanted to continue."
Last year, at the end of a day of shooting, Huey posted a photo of Hawkeye with his camera on National Geographic's Instagram feed.
Viewers asked to see more, so they started a new account for the kindergartner's pics.
"By the end of the first day he had 10,000 followers, and the project took off," he said.
Huey organized the photos that make up Hawkeye's book, and their Kickstarter campaign has already surpassed its goal of $35,000.
Hawkeye took every photo, but his dad picked the destinations and helped the little boy set up his shots.
"This is definitely a parent-child exercise," Huey said.
"If it were a pure hands-off approach, there would be mostly photos of blurry rockets he got for Christmas last year or really distant mountains that you can't really see."
As for the future, Huey is just happy to see his son enjoying himself, and doesn't feel he should "follow in his footsteps" at a professional photographer.
RELATED: 10 tips to shoot great family photos using autumn's backdrop
Lately, the tyke has become interested in engineering and building, and Aaron said he's content to let his son follow his heart toward whatever he's passionate about.
The book, which comes out early next year, contains about 130 photos shot over 18 months and features pictures of cowboys, Indians, hobos, gamblers, patriots, tourists and sunsets.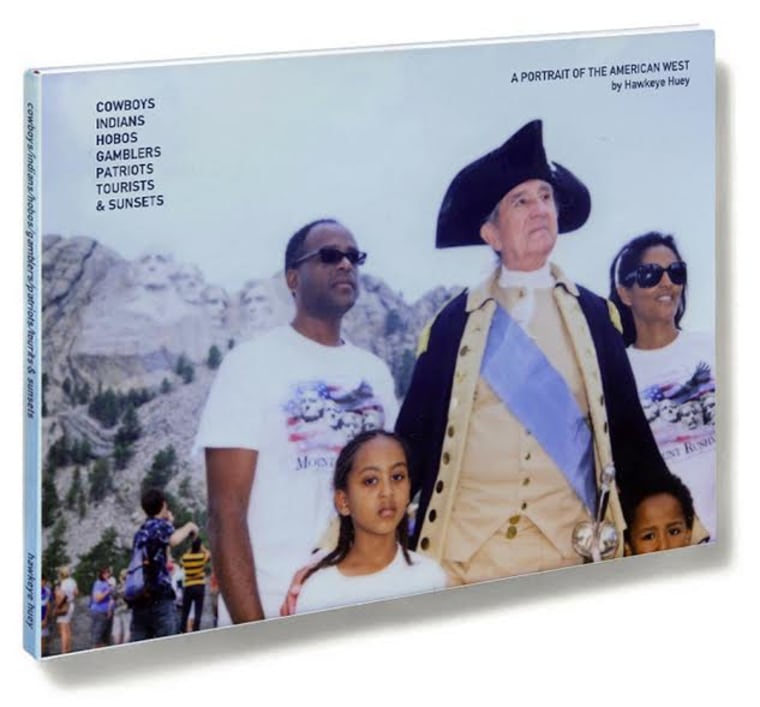 All of them were shot on film, not digital.
"We want people to be able to hold them," Aaron said. "That's what this book is all about, real things you can touch, real experiences, real interactions, not 'likes' and swipes and followers on your phone."
RELATED: 13 ways to get great photos of kids on Halloween