Becoming a dad is an eye-opening, life-changing experience that for some can make them see the world in a whole new light. And while fatherhood may have changed Simon Cowell, we're not sure it's changed him all that much!
Cowell is about to return to the American airwaves as the newest judge on "America's Got Talent" (a show he co-created and executive produces) and his caustic comments are just as tough as ever. As he told TODAY's Natalie Morales, he has to be.
"That's kinda what always happens when I do auditions," he said. "I attract the crazies."
But this time, he's back on stage with a little one — 2-year-old Eric, whose mother is Cowell's girlfriend Lauren Silverman — looking up to him for guidance. Sometimes, that's literal, as Eric has come to the set more than once.
MORE: Simon Cowell is way too good channeling Hannibal Lecter in new 'AGT' promo
"He's gonna be taking over the company," quipped Cowell. "I want him to get used to [being on set]. He sits in my chair, gets used to judging."
"He's going to start wearing the little V-necks pretty soon," joked Morales.
"He started that already!" laughed Cowell.
Still, while Cowell likes to keep his stage persona tough and uncompromising, he's certainly softened offstage thanks to Eric. As he told Morales, he loves being a dad.
"What I realized was, because I've always had dogs — when you get a puppy, they kind of respond to you," he said. "When you have a baby, for the first six months, I literally hadn't got a clue what to do. And I said to Lauren one day, 'I think he hates me.' 'Cause I'm like, there's no response. And then one day, bang, it all clicked. And we were communicating and then they become like part of you."
MORE: Simon Cowell: I won't watch my baby's birth
Sounds like Cowell now knows a bit of what it's like to be judged — and then adored. Nice work, Eric! Maybe you are ready for your own seat, even if it's a high chair.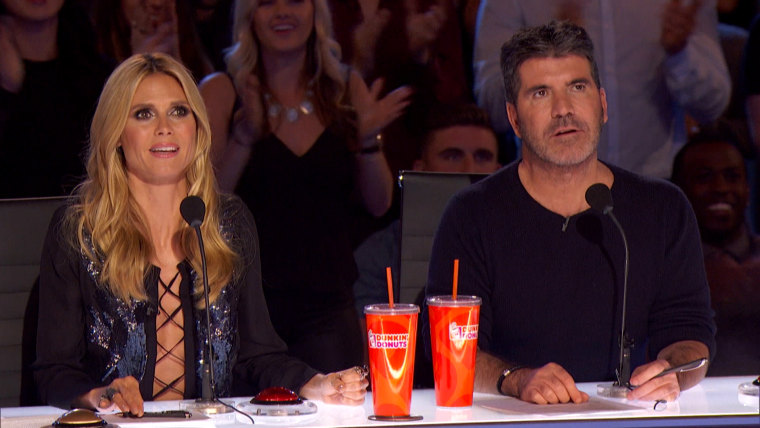 "America's Got Talent" returns to NBC on Tuesday, May 31 at 8 p.m. ET.
Follow Randee Dawn on Twitter.