/ Source: TODAY Contributor
Dads are funny — especially on Facebook!
In honor of Father's Day, we'd like to give a shout out to some of the hilarious Dads who aren't afraid to tell it like it really is. Because when the pages of Facebook overflow with pictures of BBQ Pitmasters, harmonious "family time," and cross-country road trips marked #qualitytime, it's easy to believe you're the only one who's losing their mind.
With that said, here are our picks for the Funniest Dads on Facebook!
Want to share your funniest parenting moments with TODAY? Just post them on our Facebook page at TODAY Parents, or tag us OR Sarah Maizes (our Parenting-Humorist-at-Large) in your comments. We'll pick our favorites to feature in our next installment!
1. Proud daddy moment: Jeff Vrabel
2. Birds and the bees, dad's version: Ned Hickson
3. Fatherly efficiency: The Glad Stork
Never miss a funny post with our TODAY newsletters! Sign up here
4. He's on to us: Simon Holland
5. Dare to dream: The ParentNormal
6. No but really when: Rodney Lacroix
7. Fly like an eagle, just not off the garage roof: One Funny Daddy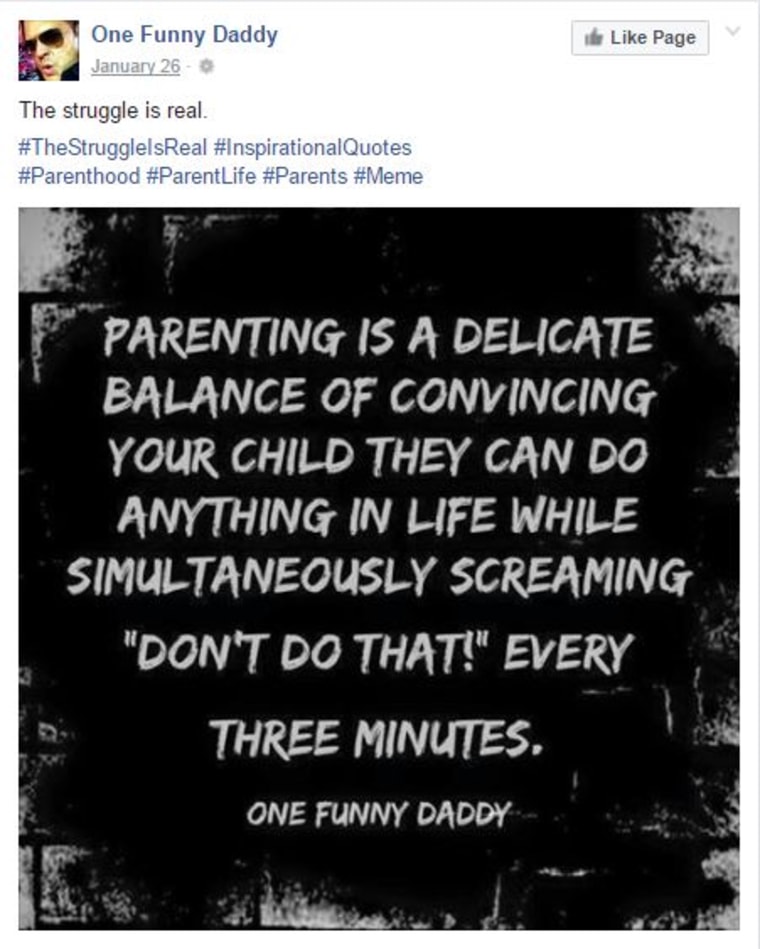 8. Daddy wuvs you! Abe Yospe's Comedy Page
9. So close with the name: The Unfit Father
Sarah Maizes is a writer, comedian, and award-winning author who's written several picture books for children, including On My Way to The Bath and On My Way to Bed. Follow her on Facebook, Twitter @SarahMaizes and Instagram.