A simple stroll down the costume aisle can get parents thinking about much more than which costume is the best bargain or which costume looks warm enough for trick-or-treating. All it takes is the glittery wings, ruffled skirts and jeweled tiaras of the princess section to make you wonder: "What are we doing here?"

The princess obsession – and all the myths that go with it, including the handsome prince and the happily ever after -- doesn't get any stronger for little girls than on a holiday such as Halloween. So how do parents survive it and find a balance between letting their daughters enjoy the fairy tales while still raising strong, independent women?
Renee Armstrong, a licensed clinical social worker in South Berwick, Maine, says she feels sensitive to the influence that pop culture princesses have on her daughter and on the kids she treats.
"I am not naïve enough to believe I can shield her from it all," says Armstrong. "As a parent, I try to be aware that the natural parts of femininity – beauty, value, success – have been limited by companies like Disney and Barbie to belong only to a fairy-tale princess type of woman."
Armstrong says parents should encourage other options for their daughters and that balance is key. For example, it's fine for a little girl to own Disney Princess dresses and books, but she should also own toys like a doctor's kit or a set of play tools.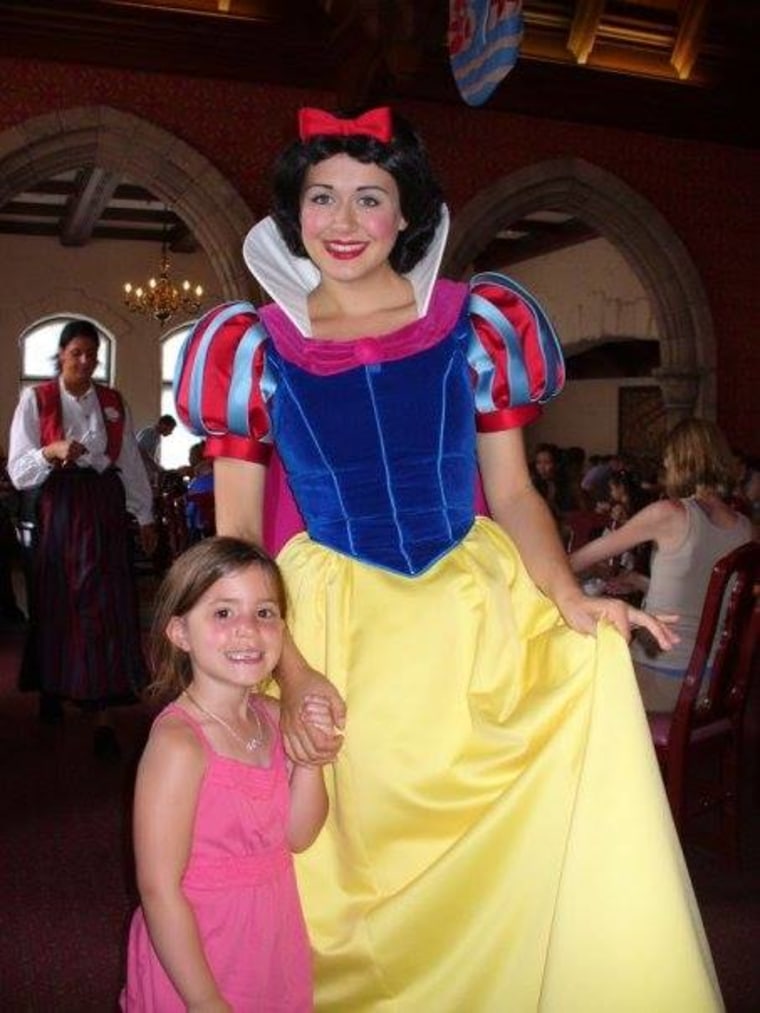 Andrea Schickling, a mom from Clearfield, Pa., has a decade of experience parenting princesses, daughters Madison, 10, and Anistyn, 2.   

Schickling says that while she loves the way Disney has romanticized fairy tales, she often struggles with letting her daughters enjoy playing make believe but at the same time teaching them to make their own decisions with confidence and courage.
"Parents play a huge role in teaching children what is real and what is pretend," says Schickling. "But I also believe that it is important for children to come up with their own ideas and thoughts about who they want to be."
Experts such as Armstrong say it's all about picking your battles.
"The key in all of this is that if we don't influence our children and take the privilege of parenting seriously, the world we live in will influence them instead," she says.
Armstrong suggests parents of princesses take time to converse with their children, discussing what they see on television or hear from their peers in a developmentally appropriate way. Be aware of the battle of values that can go on between parents and the media. Understand that children rarely know better unless you have an honest dialogue with them.
According to Armstrong, parents also must never forget the value of their influence on their own daughters.
"Until the pre-teen years, children are most greatly influenced by their parents. What they learn by hearing, seeing and feeling from their parents sets their foundation for future decision-making skills and gives them the confidence and wisdom for them to stand up for what they value."
Trisha Coy of Rancho Santa Margarita, Calif., has a difficult time with Disney's common theme of helpless princesses and rescuing princes. The mom of daughters Etame, 5, and Tosca, 3, says she can't help but be concerned that her daughters are being sent the wrong message. So she tries to steer her girls to "stronger" princesses.
"There are the movies like 'Mulan' and 'Brave' that show a female who is a warrior and a heroic character," says Coy.
Armstrong agrees that helping your child focus on activities, entertainment and relationships that promote their uniqueness and validate their independence is a crucial part of the cycle.
When it comes to the Halloween aisle, Armstrong says trick-or-treating in a princess costume is as normal a part of childhood as going to school or riding a bike. Know that you cannot shield your daughter from it all. Embrace both the femininity of fairy princesses and dress-up and the opportunities to empower your daughter to become more.
"Last year, my daughter dressed as Minnie for Halloween," says Armstrong. "This year, she'll be going as a bat. Balance, balance, balance!"
Terri Peters lives in Pasadena, MD with her husband and their two children. This year, her daughter will be trick-or-treating as a fairy princess.