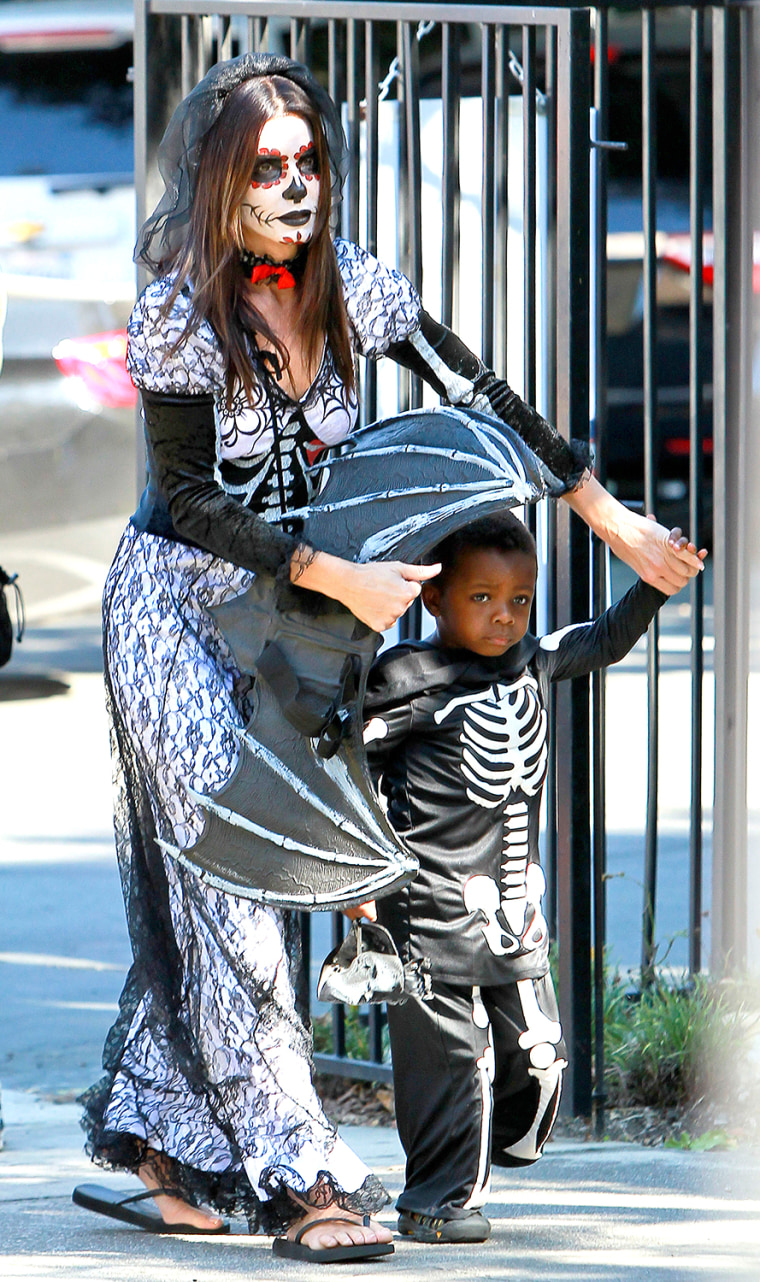 The kid is all set with the perfect Halloween costume. But parents, are you ready to go with matching costumes? Will you be the Dorothy and Scarecrow to their Lion? The Woody and Jessie to their Buzz Lightyear?

For that matter, should Halloween costumes be a family affair? Or is this another example of a generation of over-parenting adults going overboard? A pumpkin sweater or pirate's hat, maybe. But most of us probably can't recall our own parents trick-or-treating in character.
Oscar winner Sandra Bullock was recently proclaimed the "the best mum in the world" by the UK celebrity magazine, The Mirror. Bullock's feat: She stepped out in a form-fitting black and white dress with skeleton corset, and full-on skeleton make-up— a week before Halloween— along with 3-year-old son, Louis, in a matching skeleton with removable bat wings.
Some parents, however, aren't convinced that Bullock's "dedication" somehow proves she's a better mother, or that parents should feel pressured to dress up as a family. The increasing sexualization of women's Halloween costumes may be partly to blame. After all, few parents feel comfortable taking their toddler trick-or-treating, dressed as a 'Sexy Spanish pirate' a 'Sassy Jack Sparrow'.
"Halloween has just become this hyper-sexualized holiday," explains Amanda Mushro, a Gaithersburg, Md., parenting blogger. Mushro's son, 4, will be an octopus and her daughter, 2, will dress as the Little Mermaid. "I walked into the (Halloween) store and asked, 'Where are all the non-slutty adult female costumes?' and the guy literally said, 'I don't think we have any.'" At the same time, Mushro has zero interest in wearing a "frumpy costume" either.
"I stay at home with my kids in elasticized-waist pants and stickers all over my behind," Mushro describes. "So I certainly don't want to be some big Smurf or something. But there doesn't seem to be any options for mothers in between."
Pamela Druckerman, author of Bringing Up Bebe and Bebe Day By Day, both of which include advice on looking like a stylish French mother, says, dressing elegantly and dressing in costume aren't mutually exclusive.
She describes a French Halloween party she went to where many of the mothers "were in some version of a little black dress and pointy black hat, or the ghost equivalent with white stilettos."
In fact, the only woman dressed unstylishly, Druckerman recalls, was an American mother who came as a mummy wrapped in white gauze which kept coming unrolled the entire evening (the woman had a layer of white clothes on underneath).
Other parents, like Bullock, embrace the sillier side of the holiday and don't worry about looking chic or posting the perfect Halloween family picture on Facebook.
Take the Campbells of Oakton, Va., who always dress up with their 4-year old son, Tucker. This year, Kristi Campbell says they plan to be the Super Family— "ordinary style." Tucker is Superman, while Campbell is "Super Mom," with messy hair under her tiara, and Campbell's husband, Robert, is "Super Dad" sporting a fake belly insert to make him look heavier.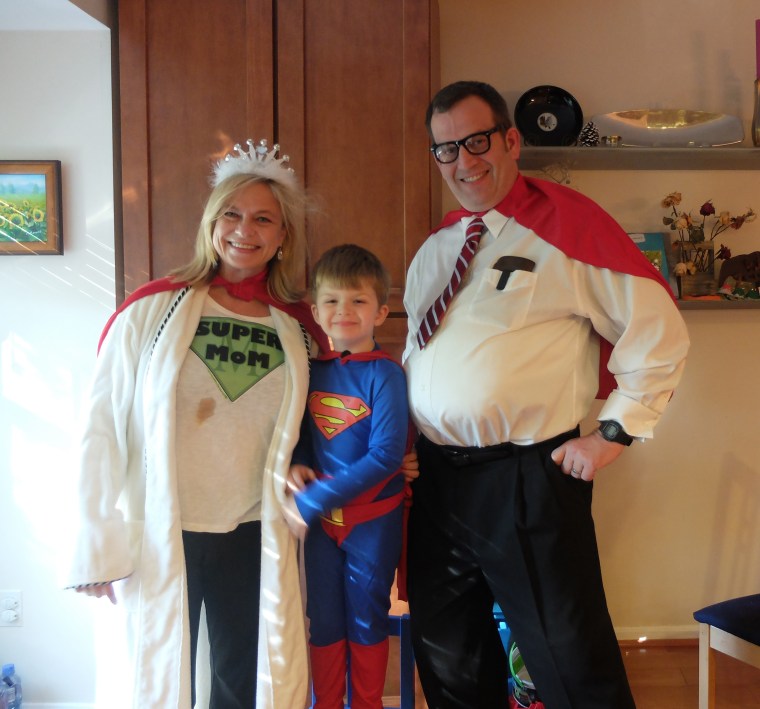 "This time in a child's life goes by so quickly," said Campbell, who blogs about raising a son with developmental delays. Campbell explains that Tucker has a "huge gap between his outgoing speech and his incoming comprehension, and often gets intimidated by loud noises and covers his ears." But she finds that his comfort and participation level is directly associated with hers, and so she dresses up, in large part, to help him enjoy the holiday.
And for all children, she asks: "Why not make Halloween, like other holidays, as magical and special as you possible, while they still want to be part of it with you?"  
Kristina Wels, a New York City mom, also likes to dress up with her 4-year-old son, who plans to be Spiderman this year, while his mom is Batman (not, she points out, Batgirl). Though, she's having trouble persuading her husband to get in on the gender-role reversal this year as Wonder Woman.
"Before we were parents, we were always really big into Halloween," describes Wels, who says she no longer chooses scary or spooky costumes so as not to frighten her preschooler. Regardless, as an adult, it takes guts to walk into a party or around your neighborhood in a costume, she admits.
"As people age and become more focused on jobs, income, mortgage payments and status, the stakes are higher and so we become less inhibited and play less," explains Columbia professor and psychiatrist Dr. Drew Ramsey. "Costumes take a commitment to something silly and funny."
The good news, he says, is that while inhibitions begin to increase in adolescence, and peak in a person's twenties and thirties, it fades a bit as we age. So you never know: you might be the grandparent in the skeleton costume.
Jacoba Urist is health and lifestyle reporter in New York City, who plans on wearing a "modified costume," as an "embedded journalist," to her 4-year-old son's soldier on Halloween. Follow her on Twitter @JacobaUrist.