/ Source: TODAY Contributor
A Texas boy was handing out treats rather than collecting them as he went door to door on Halloween last year. Dressed as a hotel manager, Hayden Hensley, now 9, activated hotel-room key cards and passed them out from his hotel's "front desk."
Looking professional in his shirt and tie, Hayden was dressed for the job he hopes to hold one day in an attention-grabbing costume his parents constructed around his wheelchair.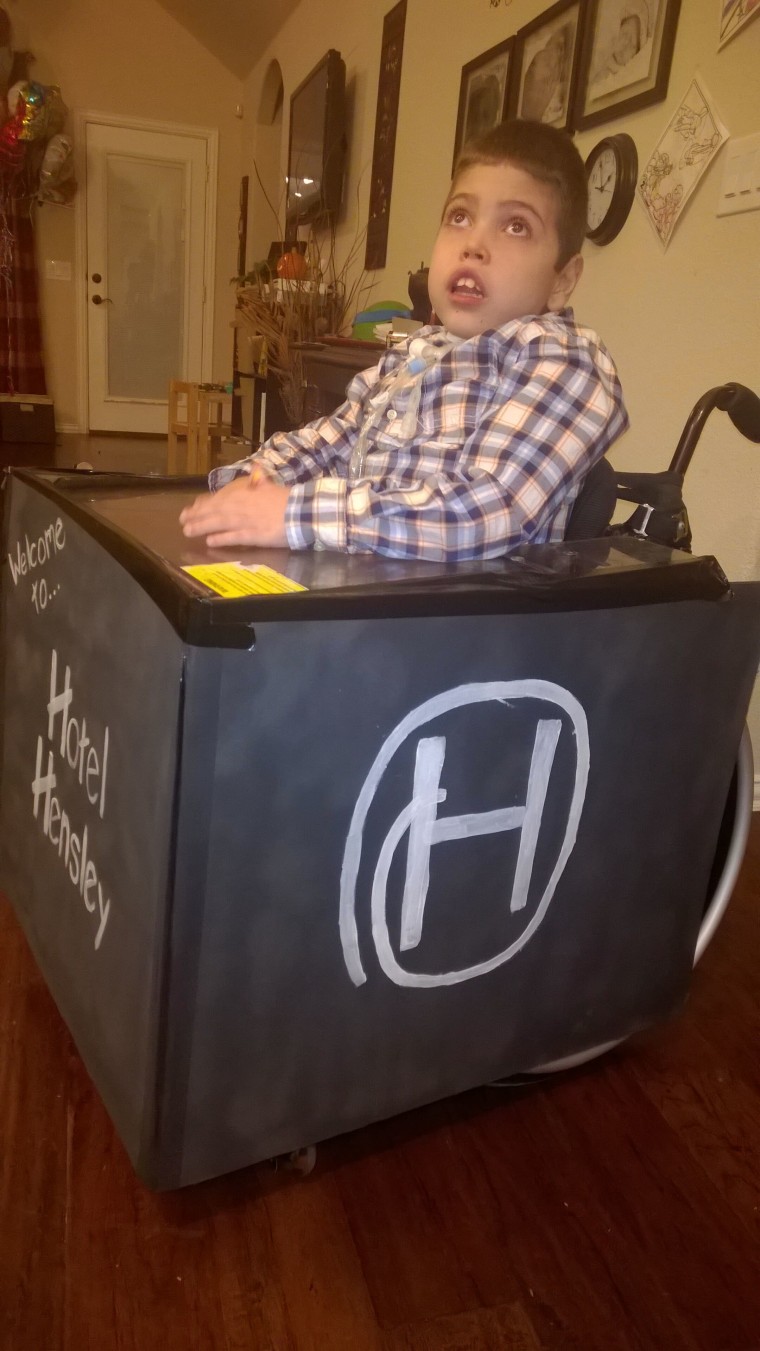 Never miss a parenting story with TODAY's newsletters! Sign up here
"He is very, very passionate about hotel key cards," says his mom, Johnna Hensley, of Prosper, Texas. "Most kids are going 'Trick or treat,' but he said, 'Here's your hotel key' and was assigning them to a room number."
While Hayden, who has spina bifida with hydrocephalus and several other medical conditions, cannot have candy, he enjoyed checking people into their rooms at the "Hotel Hensley" on Halloween night, and everyone loved his unique costume. "It was a big hit," his mom said. "He loves to get attention."
For children who use wheelchairs, it can feel natural to incorporate their chairs into their Halloween costumes, parents say. Including the wheelchair also takes costumes to a new level with room for creativity and fun.
And the elaborate costumes show that children who use wheelchairs are not ones to feel sorry for, parents say. They can also help people get to know each other.
"The costume has served as a conversation-starter that has served as a way for our neighbors to get to know Hayden and our family," said Johnna Hensley. "It's a way to bridge the gap between seeing Hayden as a person with a disability and seeing him as just a child."
Like all Halloween costumes, a getup that surrounds a wheelchair can show off a kid's interests. For several Halloweens, Hayden paid tribute to his beloved show, "Wheel of Fortune," in a costume that even sounded like the iconic game show wheel.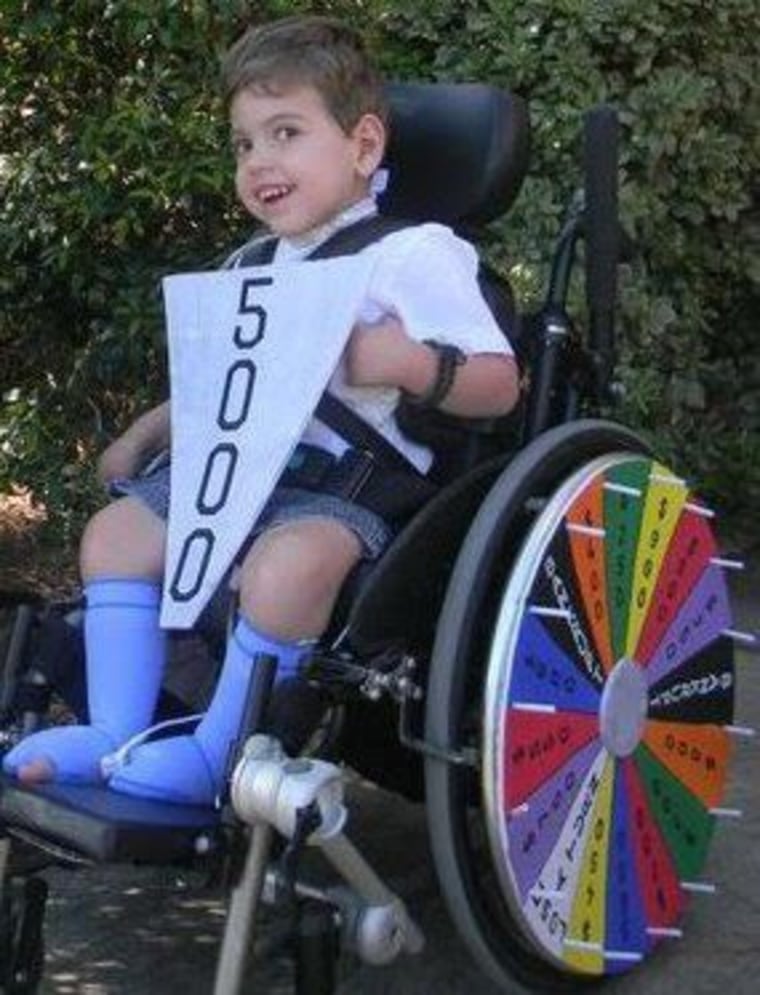 "We even put a little business card behind the spoke of the wheel and every time he pushed, the wheels went 'Click, click, click,'" Johnna Hensley said.
Stacie Edwards' sons, Cody, 10, and Hunter, 12, don't always incorporate their wheelchairs into their Halloween outfits, but when they do, the family goes all out.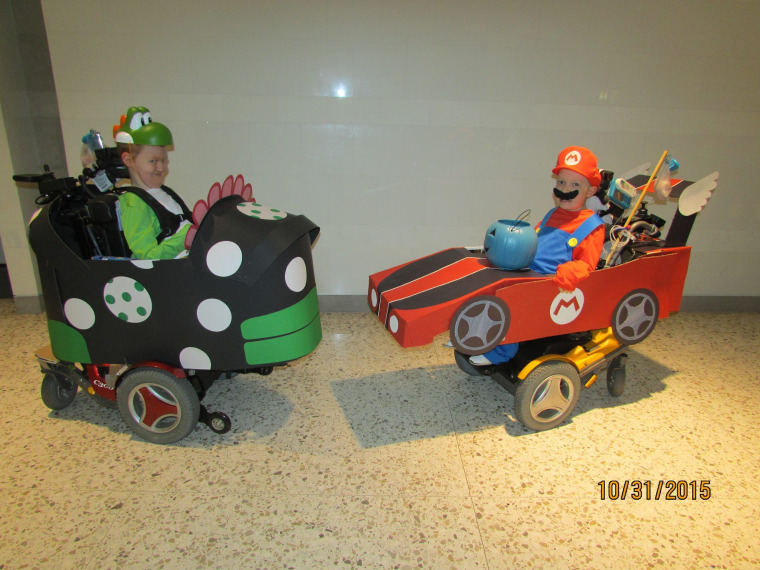 "Oftentimes, we're at a disadvantage with the chair, but on Halloween and the costumes, that's the one time out of the year where having wheels can make your trick-or-treating even better," said Edwards, of Independence, Missouri, adding that her sons have won costume contests.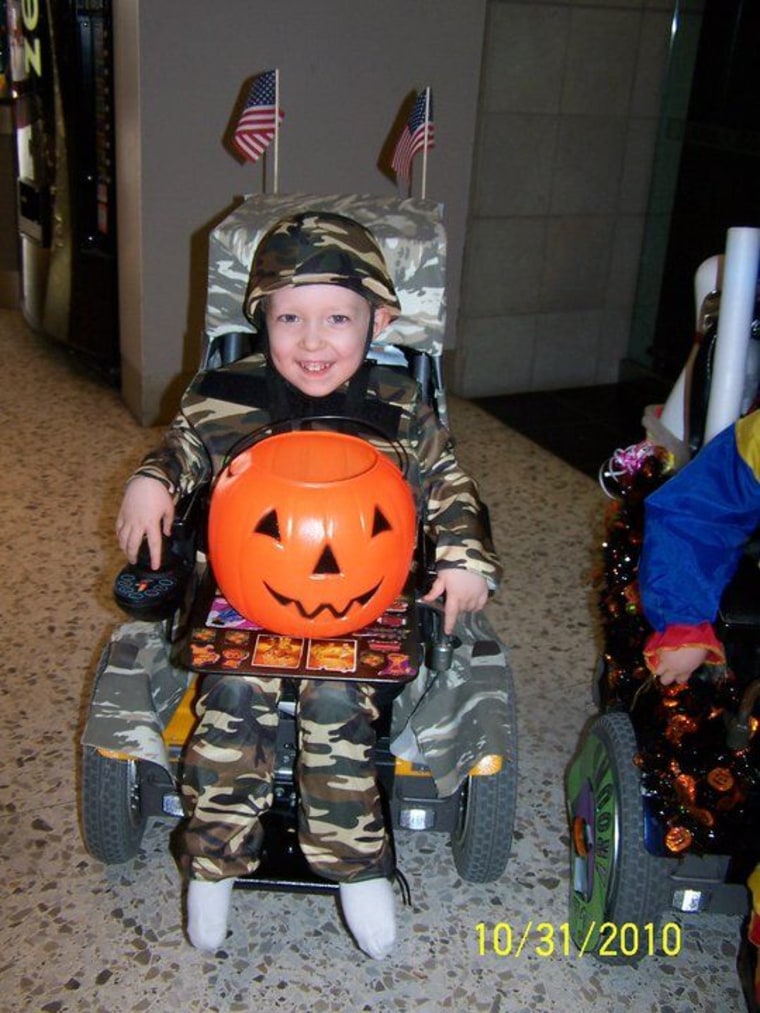 Her boys, who have spinal muscular atrophy type 2, take great pride in their costumes and the attention they get.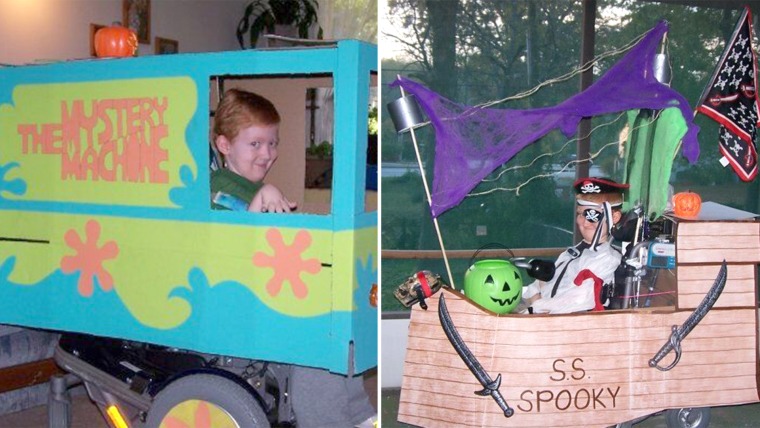 "They're excited to be the one that gets to drive the Mystery Machine or the pirate ship," she said.
Spencer Davis, 6, has also donned special costumes made by his mom and dad.
He was a knight on his horse.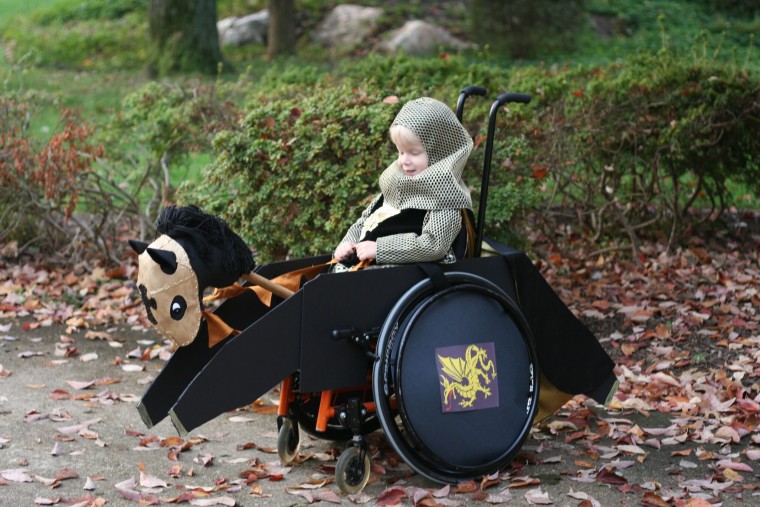 At 4, Spencer flew the Space Shuttle Discovery.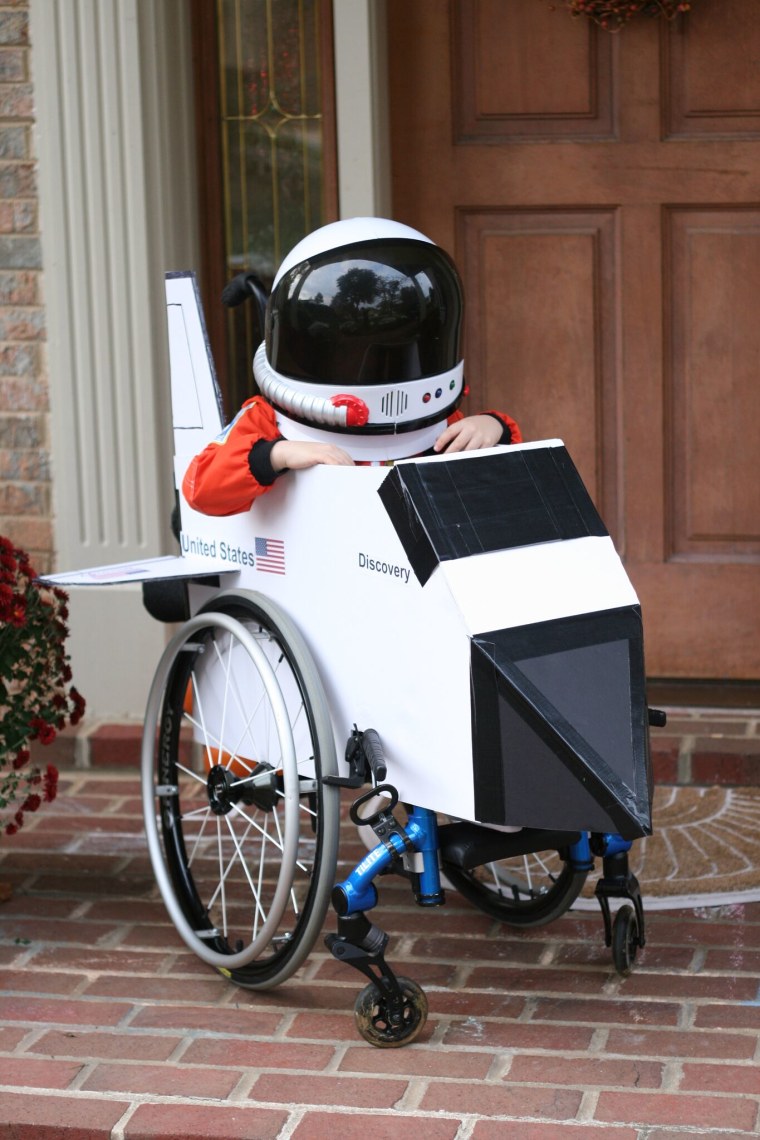 And last year, he was Captain America flying the Quinjet.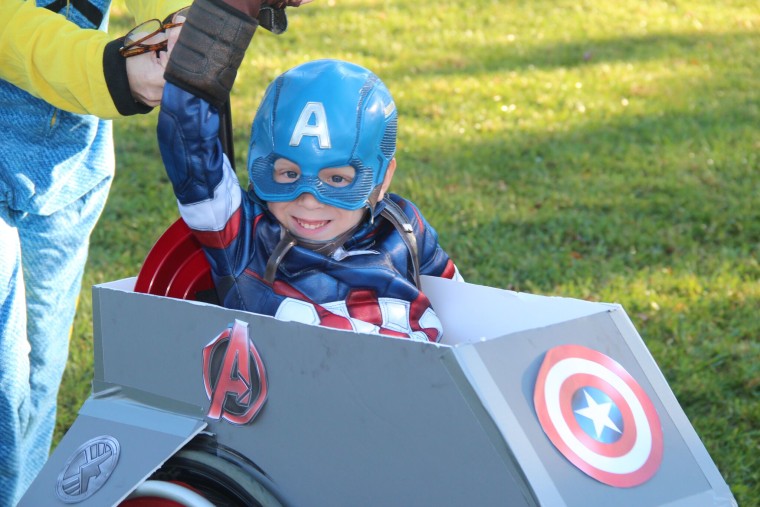 His mom, Elizabeth Davis, says she wants her son, who has spina bifida, to take pride in the fact that he uses a wheelchair because it's his "unique difference in the world." The costumes, she feels, help people learn about kids with disabilities.
"Wheelchair costumes help society better embrace disabilities by showing kids having fun in their costumes, rather than someone feeling sorry for them," said Davis, of McLean, Virginia.
Families, including Spencer's, have been inspired by Cassie McLelland, who has been making elaborate wheelchair costumes for her 11-year-old son, Caleb, since he was 3.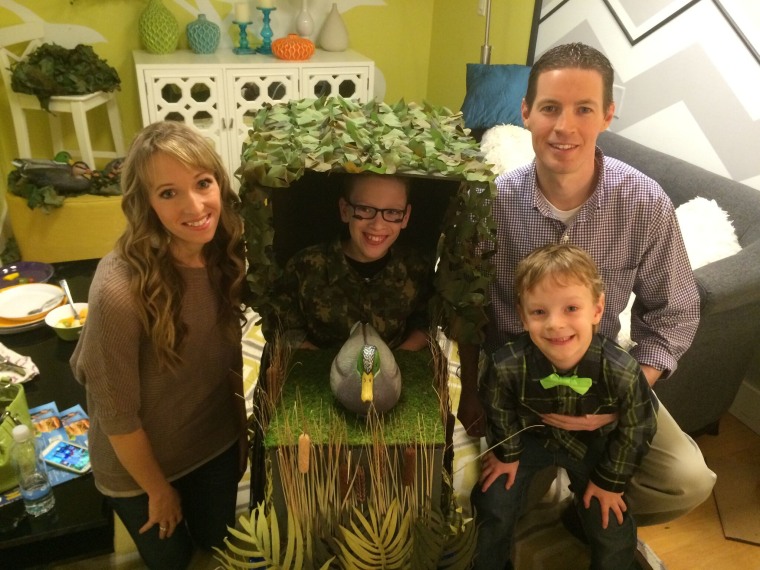 She has a wheelchair costume blog and this is her second year selling wheelchair costume kits. As wheelchair costumes have grown more popular and drawn so much positive attention, she feels they have helped change the way people view kids and their wheelchairs.
"Sometimes kids in wheelchairs stand out because they are in a wheelchair but at Halloween, if they've got this really cool costume, they stand out not so much because they're in a wheelchair but because they've taken their chair and turned it into this amazing creation, said McLelland, of Mansfield, Texas. "It gives people a view of a wheelchair that they would not normally have."
"When you see a kid smiling and having fun and living a life, it just makes the other person smile and it gives it this great positive feeling," she added. "So the next time they see someone in a chair, they're going to remember the smile of the kid and it's going to be a positive memory and not something that initially makes them feel bad."
Last year, Clara Stanfield dressed as Skye from "Paw Patrol" in her helicopter. Clara, 6, who has spina bifida, loved her homemade costume, which was made extra-special by including her wheelchair.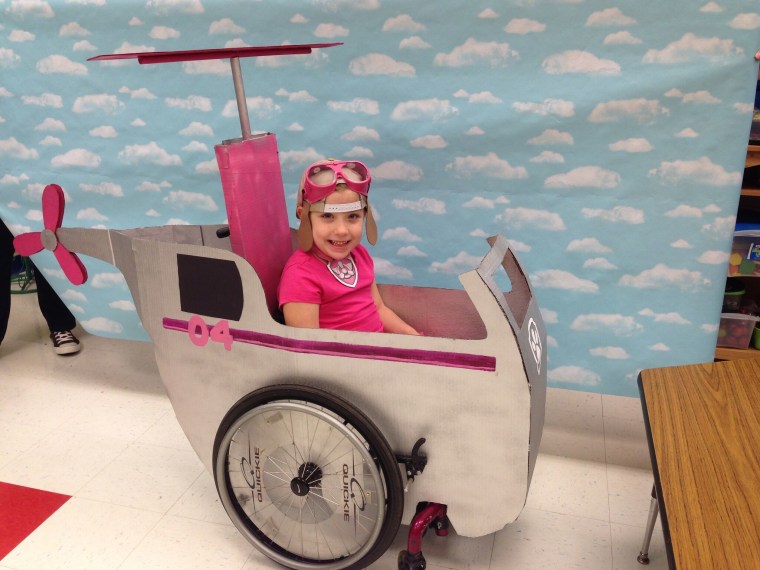 "It doesn't make her who she is, but it's a part of her," said her mother, Heather Stanfield, of Rising Fawn, Georgia. Stanfield feels that she should include the wheelchair in her daughter's costume when possible because it's like "you're dressing all of her up."
Hayden Hensley's parents enjoy brainstorming and working together to make their son's costumes because they know how much he loves them.
"Every day is a struggle for him," Johnna Hensley said. "If this is something we can do that makes him happy and gives him joy, I'm happy to do that for him."
TODAY.com contributor Lisa A. Flam is a news and lifestyles reporter in New York. Follow her on Twitter: @lisaflam
This story was first published Sept. 16, 2016.