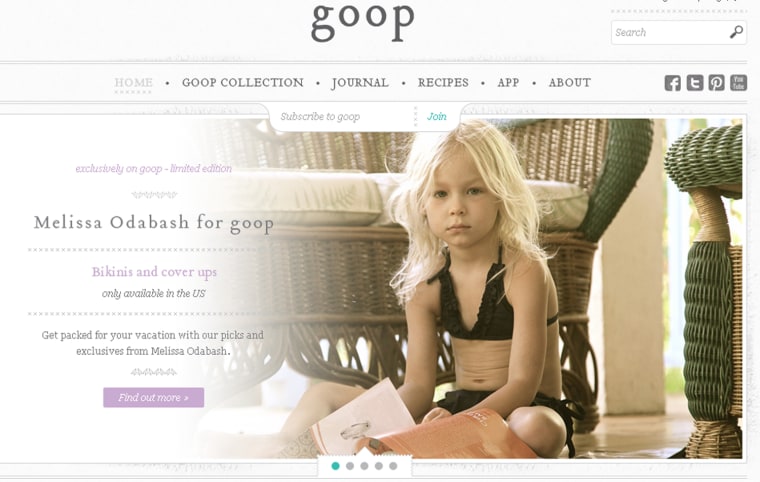 It's not even summer, but thanks to Gwyneth Paltrow, the debate about whether bikinis are appropriate for little girls is heating up already.

Many moms are split on the issue, with some who ban skimpy swimwear because they feel it sexualizes girls and others who think bikinis are just a cute fashion statement causing adults to make much ado about nothing. Yet most agree: Choosing a suitable bathing suit for one's daughter is part of the fashion-and-beauty gauntlet that affects girls' self image.
In her online newsletter, GOOP, Paltrow (recently named "World's Most Beautiful Woman" by People magazine) features a bikini line for little girls ages 4 to 8 created by swimsuit designer Melissa Odabash. The $45 black suits, called the "Kids' New York bikini set" are sold exclusively on the GOOP website and resemble a similar style offered for adult women.

With ruffles, string ties and tiny bottoms, the suits have been slammed by critics such as Claude Knight of Kidscape, a British foundation set up to prevent child abuse. Knight told the Daily Mail, "We remain very opposed to the sexualization of children and child hood. The dangers have been discussed at length, so it is a great pity that such trends continue and they carry celebrity endorsement."
Meanwhile, E! Online, reports that Paltrow, who is mom to Apple, 8, and Moses, 6, doesn't see the problem. Her spokesperson called the criticism "absurd," adding, "Two-piece bathing suits have been worn by young girls for decades."
The same debate came up last year when Jessica Simpson showed a photo of daughter Maxwell in a yellow crocheted bikini. And the year before that, when the paparazzi snapped Suri Cruise in a tiny two-piece.
So what's wrong with those itsy bitsy bathing suits when the wearers are itsy bitsy kids?
Linda Cameron, a mom of three in Ridgefield, Conn., is among those who have a complete bikini ban for her daughters, ages 12 and 10. "I think bikinis ask for eyes (attention) to go to exposed areas. And I think young girls should be more modest about the parts they are exposing," says Cameron, adding that it's "creepy" to have older guys look at her 12-year-old's body in a sexual way. "I definitely think bikinis are more sexy so draw that attention."
Laura Tressel of Burbank, Calif., says she never bought bikinis for her two daughters when they were younger, but only because they never asked to wear them, instead preferring the comfort of one-pieces.
"I don't know if it's because I never wore [a bikini] myself, but they never asked and I was fine with that," said Tressel, who says she has nothing against bikinis made of good fabric with enough coverage. What she wouldn't have allowed: "adult-style" suits with string bikini bottoms and deep cut tops. "You really don't want to see a kid's butt cheeks or cleavage," she said.
She adds that it has only been in the last year or two that her girls, now ages 14 and 13, have become comfortable and confident enough to wear bikinis.
Dr. Robyn Silverman, body image expert and author of "Good Girls Don't Get Fat: How Weight Obsession is Messing Up Our Girls & How We Can Help Them Thrive Despite It," says that there's more to the issue than the amount of fabric in a bathing suit and how many pieces it comes in. Much has to do with the healthy example a mom sets, which ultimately influences a girl's body image.
Silverman has seen mothers who pat little their girls wearing bikinis on the beach and say, "I wish I had your flat tummy. Mommy doesn't have it any more." Moms, she says, should try to refrain from making comments like that about their daughter's appearance and their own.
"You think you are giving a positive comment, but it can feed poor body image. Because girls will keep those comments in their minds for years to come," says Silverman. "It's the same thing as a negative comment, such as 'Your belly is sticking out.'"
"It may be no big deal when a child is 1 year old and looks as cute as can be in a baby bikini. But as girls grow up, even at ages 3 and 4 and 5, they are getting the 'fat is bad' – 'thin is good' message. Those types of comments can be detrimental," says Silverman. "And when you put a girl in a bathing suit that's more revealing, it tends to invite more comments."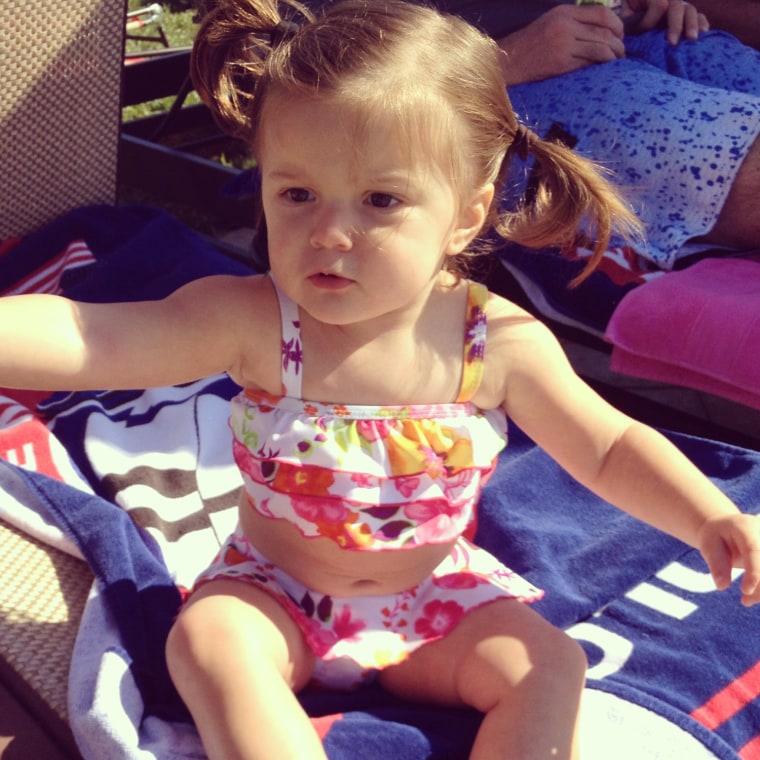 Silverman believes bikinis can be age-appropriate, but she suggests it's best to find a bathing suit that your child is most comfortable in.

Fort Lauderdale, Fla., mom Jennifer Brafmen Staffen follows that advice with 20-month-old Bella, who is in the pool often. Staffen bases her daughter's bathing suit selection on what her activity. Playing around? A bikini is fine. For swim school, a one-piece offers more functionality.
Staffen says the kid bikinis Paltrow is selling are adorable and doesn't think they are too revealing. "I don't feel showing skin on a child makes them more sexualized. They wear tank tops, dresses with bloomers. The stomach skin is no different than leg skin or arm skin."
Having grown up in California, Staffen said she has been wearing a bikini for as long as she can remember. "It's what I'm most comfortable in. After having my baby, my body is no means perfect. But I'm comfortable in my own skin. There is too much body consciousness these days," she said. "I just want my daughter to be comfortable in her own skin."