Kelly Farley dreamed of being a dad. But after his dreams of fatherhood ended in two agonizing pregnancy losses, he buried his grief deep down and tried to be strong for his wife.
That worked — until it all came crashing down.
"I found myself not being able to get out of bed," Farley says, his voice deep and scratchy over the phone. "I kind of went into a tailspin. I was not able to run from it anymore."
Since then, for more than 10 years, Farley has dedicated himself to letting other dads know that it's OK to grieve. In fact, it just might save your life.
"I thought I needed to be a pillar of strength, to help my wife. 'Don't cry, that's a sign of weakness.' You're taught that as a kid and you believe it," Farley said. "The loss of a child is the most profound thing. People will say, 'How's your wife doing?' No one asks your wife how you are doing."
"It can eat you alive," he added. Farley created a website called GrievingDads.com, where he's created a safe space for men to pour out their hearts and get support. He also wrote a book, "Grieving Dads: To the Brink and Back."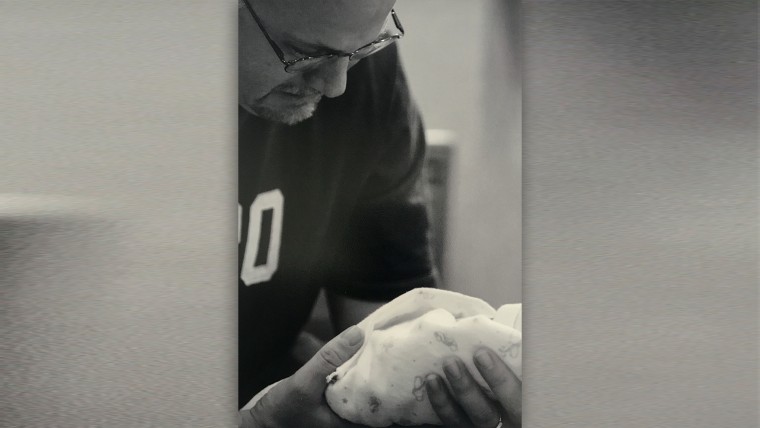 What brought Farley back from the brink was a casual remark from a lay leader at his church. Farley spoke to the man about his grief after losing both his son and his daughter in pregnancy, and the man replied, "That's a heavy load, brother."
Those five words meant the world to Farley. It was the first time someone he really respected acknowledged his pain and loss, and indicated to him that it was OK to mourn. As Farley notes, men often feel like they need permission to show emotion and vulnerability.
"I know that sounds so simple, but for me it was confirmation that it was OK for a guy to tell another guy about the pain he was feeling," Farley said. He started going to support groups. He started talking about his pain. And only then did he start to feel better.
"I made a commitment to myself that I was going to do something to help other guys," Farley said. He publishes his personal phone number on his website, and he still gets calls in the middle of the night from anguished fathers — sometimes, he can only hear sobs on the other end of the line. He tells them it's OK to cry.
"I don't say things like, 'Things will get better,'" Farley said. "I say, 'Things CAN get better.'"
Farley notes that there's not much difference in the way moms and dads feel when they lose a child — for any parent, the grief is a black hole. But there's a big difference in the way men and women are expected to handle that emotion. "We're taught to be the protectors of the family. So you feel, 'I let them down.' There's this shame and guilt."
Father's Day is hard, just like any significant anniversary or holiday. For Farley, who has no surviving children, seeing happy posts from friends on social media can hurt. It's a challenging day, and he just tries to get through it.
Yet, over time and through his work to help other fathers, Farley has seen a glimmer of hope. Ten years ago, he says, he might have felt only pain on Father's Day. But now when he thinks of his children — daughter Katie and son Noah — it also brings him joy, along with the pain.
"The darkness is so profound. Everything I do every single day is to make sure my children are proud of me," Farley said. "Now, when I think of them, I smile."
This story was originally published on June 15, 2017.
Related video: For the grieving mother