/ Source: TODAY Contributor
Ed Moseley, an 86-year-old grandfather in Acworth, Georgia, says he doesn't believe you are ever too old to learn something new.
That's why, when he discovered that his assisted living community was going to be involved in a challenge to knit caps for premature babies at a local hospital, he refused to be left out of the effort — even though he didn't actually know how to knit.
The former engineer told his daughter he wanted to try to learn, and she went to a craft store and bought him a kit with a loom, needles, and yarn. Moseley took it from there. "I had instructions," he told TODAY Parents. "I mean, I can read, and I can follow directions. There was a little trial and error there at the beginning, but eventually, I got the hang of it."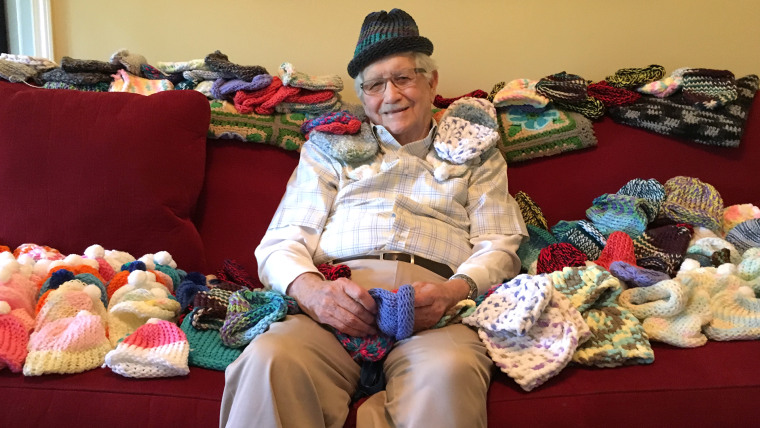 And once he did, Moseley was unstoppable. Not only did he knit 55 caps for preemies himself, but his enthusiasm quickly drew others around him into the effort, including one of his care managers — who knit 100 caps herself — and a local high school student, who donated 100 caps as well after hearing about Moseley's commitment from his oldest granddaughter. Moseley kept putting the finished caps on his couch until there was no room for him to sit anymore.
Last Thursday, for World Prematurity Day, Moseley delivered 300 caps to Northside Hospital Atlanta. Northside delivers more babies than any hospital in the nation and sees 2,000 babies in its neonatal intensive care unit (NICU) every year, according to hospital spokesperson Aldo Nahed.
Never miss a parenting story with TODAY's newsletters! Sign up here
Linda Kelly, RN, the clinical manager at Northside Hospital's NICU, said, "It's great to receive these wonderful gifts. Many times, our families don't expect to be introduced to the special care nursery, so to have a gift left at the bedside or a nurse put the hat on the little baby's head makes it all seem less like a hospital.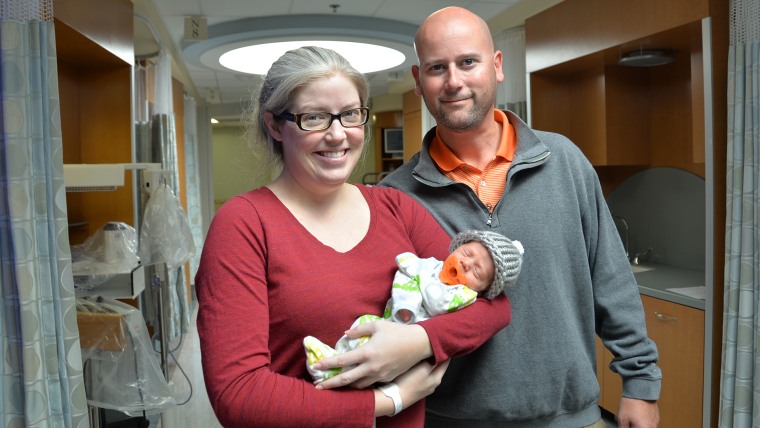 "It's important for families to see their baby as a baby and not as a patient. This will help to get the families to that spot," Kelly said.
Moseley said he wanted the project to have true value to other families. "It's really nice to make a product that somebody really needs and has a purpose," he said.
"It's amazing to think about how many lives his caps will touch," said JoAn Hobbs, executive director of Dogwood Forest at Acworth, the assisted living community where Moseley lives. "There is something special about seniors giving to preemies."
Moseley, originally from Texas, is a widower, father of four, grandfather of five, and great-grandfather of eight children. He moved to Georgia to be close to one of his sons and his daughter. He says that he likes to keep busy, and he is now learning to paint by numbers when he is not fulfilling the custom knitting orders that are now rolling in regularly.
RELATED: Babies in tiny red caps help raise awareness for heart disease in February
Since his story went viral, Moseley says he has been touched by strangers who are sending him skeins of yarn, sometimes anonymously, to help him continue his work. The hospital has already asked him to consider a new project for babies: to make red caps for newborn cardiac patients for February's "heart month."
Time to make some room on the couch.