Just as Debbie Holt was about to become a grandmother for the first time, one of her friends approached her with a party idea she'd never heard of before.
How would she like to be the guest of honor at a grandmother baby shower?
"I was just a little hesitant because I didn't want to have such a fuss made," Holt, who lives in Granite Bay, Calif., told TODAY Moms.
"(But) it's a fun stage of life and I think all stages of life you need to celebrate, especially when there's a birth of a child."
So Holt, 53, and 10 other ladies gathered for lunch at a friend's house, where they sipped drinks from baby bottles, admired "Grandma Debbie" and "Cutest grandma ever" signs made especially for the occasion, and presented her with gifts like baby clothes, books and stuffed animals.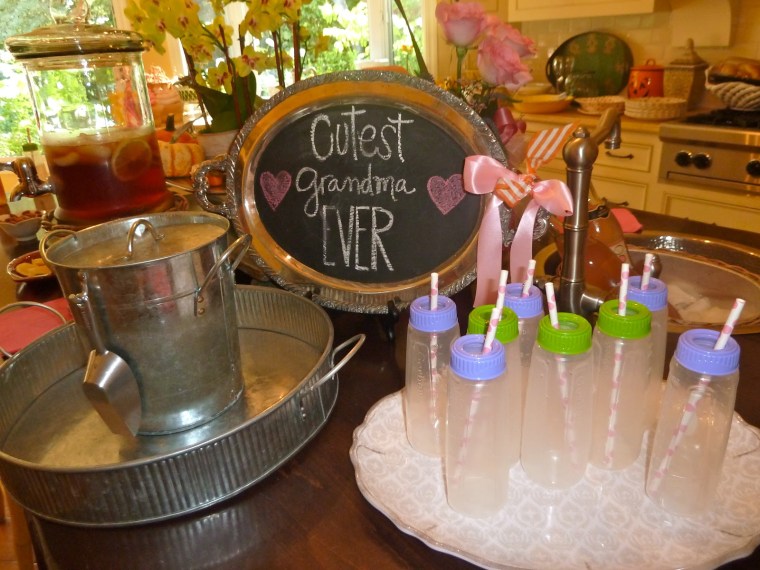 Holt also received an umbrella stroller and a car seat for her to use when taking care of her granddaughter.

"There's a lot of gear you have to have with a baby and when you're a grandma, sometimes you don't have it," Holt said. "(The grandmother shower) is a great idea… it's really fun."
All around the country, many women aren't just attending their pregnant daughters' showers, but enjoying grandmother showers designed especially for them.
It's a relatively new trend that serves both a practical purpose — setting up a first-time grandmother with baby gear she'll use when the infant is in her care — and a more spiritual aspect, with friends cheering her new family role.
"It's a recognition of the fact that we're entering into a new phase of our lives and it's really, really cool in that aspect," said Susan Adcox, who writes an online Guide to Grandparents and is a grandmother of seven.
"We're not quite prepared for what a change that's going to be in our lives. And to have some close friends who you discuss that and celebrate with is really wonderful."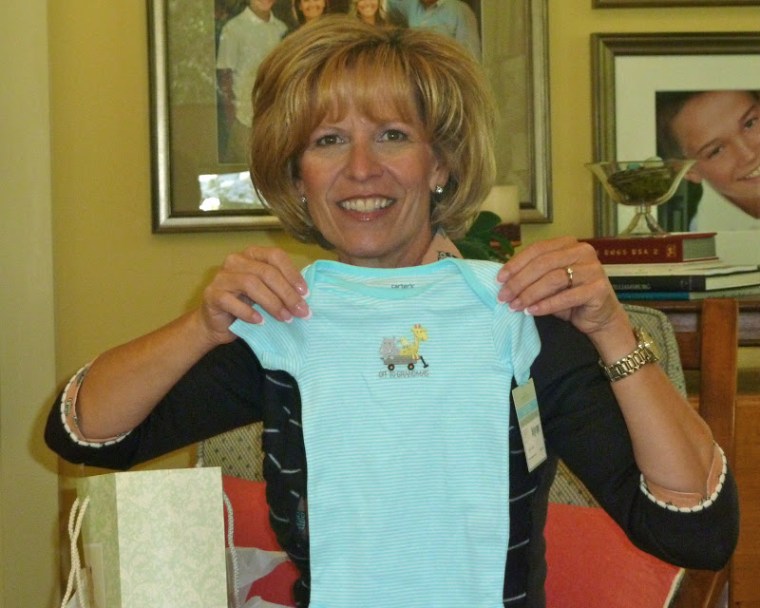 The showers are a great opportunity for the grandma-to-be to learn some wisdom from women who have already been there, said Donne Davis, who runs The GaGa Sisterhood, a social network for grandmothers. 
She noted that one reason why the events are growing in popularity is that many grandparents are providing the child care in households where both parents work. Some are even taking grandparenting classes.

Still, where there's a social occasion, there's bound to be controversy. A recent reference to grandmother showers on EtiquetteHell.com prompted a flurry of criticism for such parties and accusations of "gift grabs."

"For heaven's sake Grandma, buy your own stuff to equip your home for future grandbaby visits," one commenter wrote. "I would be embarrassed beyond belief if someone hosted a 'grandmom shower' for me as I am quite able to provide for myself."

But etiquette expert Lizzie Post said many grandparents spend a lot of time with a new baby so equipping them with supplies is a good idea.
She noted the party shouldn't be thrown by the grandma-to-be herself or even the couple expecting the baby. Instead, it should be her peers, colleagues or co-workers organizing the event, Post said, adding that a registry shouldn't be a part of the occasion.
"It's much more a sweet gesture from friends to say, 'We know you're going to be doing a lot with this little baby and we know you're really excited so we want to get you set up,'" said Post, a spokeswoman for the Emily Post Institute.
The gifts should be basic supplies and practical items — anything you might want to have on hand if you were babysitting for a whole day or for the baby's first overnight stay — such as wipes and onesies, Post advised.
Adcox is a fan of the "book shower," where everyone brings the guest of honor a book to read to her grandchild. She also noted car seats and cribs are popular presents to give.
Then, there's the issue of mother-daughter tension when it comes to baby showers, which have traditionally been all about the pregnant woman. Holt said her daughter was excited about the party and there was "no tension whatsoever," but it may be different in some families.
"Test the waters because you certainly don't want to have a competition," Davis cautioned grandmothers-to-be. "Some moms will be very cool with it, others probably not."
Be careful about stepping on toes and take the mom's personality into account, Post added. She recommended talking about the grandmother shower with the couple expecting the baby and inviting them to the event.
"It's really important for mothers to realize that this baby is sometimes the best thing to happen to a grandmother in years," Post said.
"But it's also important… for a grandma and everyone else to recognize if this is a first-time mom —she might really want to own that role of it being first-time and having it be about her."